Posts: 204
Joined: Sun Apr 08, 2018 4:28 pm
Location: Rochester mn
Grass Type: Nomix
Lawn Size: 42k
Mower: John Deere x540
With my large yard, spreading granular, I usually just go by the closest number. My 50# bags cover roughly 16k. So I go just a hair over 1lb with my 43k yard. Soil amendments I use my kitchen scale. I buy in bulk. I can get very large heavy duty 4gal ziplock bags from work. I store all my solubles in them.
---
Posts: 80
Joined: Mon Jan 28, 2019 7:53 am
Location: Central VA
Grass Type: TTTF
Lawn Size: ~6000sq ft
Mower: Honda HRR216K9VYA
For my granular, I use a fishing scale I won at a fishing tournament and a 5 gallon bucket then I weigh what I need for 2k and then I spread over the area I know is 2k. See how much I have left in the hopper and make a small adjustment. Then I measure out what I need for the other 4k and throw it down. I really need to start writing down my spreader settings, but I'm hard headed like that. LOL
---
Posts: 700
Joined: Tue Apr 03, 2018 7:39 am
Location: Elgin, SC
Grass Type: Tahoma 31 and Princess 77
Lawn Size: 10,000sq/ft
Mower: JD 220E
---
Posts: 203
Joined: Thu May 03, 2018 10:06 am
Location: Maryland
Grass Type: TTTF/KBG (10%)
Lawn Size: 7000
Mower: TimeMaster and Honda HRX
Contact:
Once I've calculated the spreader with the product, it doesn't matter the square footage of the lawn, other than needing to know size of the lawn to get the right amount of product. For example, I know setting 14 on my spreader gives me the required lbs on the ground for 46-0-0, so no matter if I am doing my 7k lawn, my parents 12k lawn or the lawn down the street, setting 14 will give the proper application. Also, it doesn't matter how much product I put in the spreader, because setting 14 is going to give me what I need. For example, if I put 15lbs in the spreader, but the lawn only requires 12lbs, it doesn't matter as I will have 3lbs let over. For me, it's just too time consuming to sit and measure the exact weight of fertilizer to apply, as I said, once calibrated it doesn't matter. Calibrate your spreader with the product you use and free yourself from all of that misery.

For those that use Scotts and have a Scotts spreader, their suggested setting should be ok.
Last edited by
Methodical
on Thu Nov 14, 2019 1:07 pm, edited 3 times in total.
"Never be afraid to try something new. Remember, amateurs built the Ark, professionals built the Titanic"
---
Posts: 1
Joined: Sat Apr 04, 2020 5:24 pm
Location: NoVA
Grass Type: tall fescue
Lawn Size: 1.5 acres
Mower: Cub cadet XT1 GT50
Try an empty 28oz UTZ Pretzel container--the large clear plastic jug. Pic attached. It weighs 5oz (with lid) and full to brim holds exactly 10lbs of Lesco fert. (10lbs, 5oz total weight)
I filled, ran spreader over 10'x100' section of lawn, poured remaining fert into UTZ jug, estimated amount used, and adjusted spreader accordingly. You could re-weigh, but that seemed like over kill.
Hope this helps.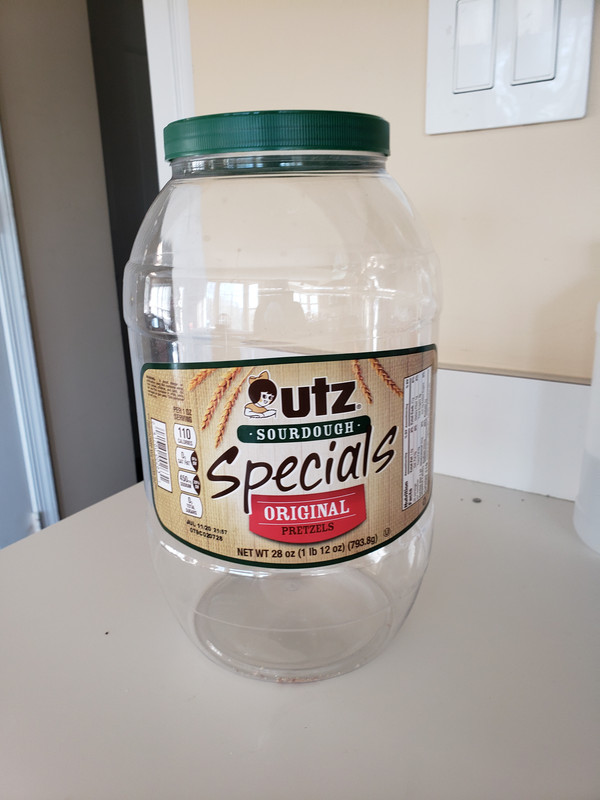 ---