I purchased a house in Georgia in December of 2017 from a lady who used a string trimmer to cut the grass. She had bushes, flowers, and trees all over the lawn, nearly pushing down the fence row and vines growing up the sides of the house into the soffits. I knew it was going to be a lot of work. I bargained to reduce the purchase price because I knew no one wanted to buy into the mess of a yard this lady had so graciously cultivated.
In 2018, I spent most of a year just clipping branches, pulling weeds and finding buried bricks (most often with my mower). I attempted to merely maintain the disaster so as not to imply that I was the neighborhood degenerate. In November 2018, after spending $600 in plumber visits to snake roots out of my waste pipes, one of my neighbors actually helped me cut down the tree in my front yard.
In 2019, I started clearing away the brush, pruning bushes, and pulling out any plants that weren't rooted around my irrigation system. Around August, I used Compare-N-Save 42% glyphosate in 2 applications to kill all the weeds and centipede grass. That same month, I rented a large stump grinder to grind down about 20 medium to large stumps throughout the yard. Additionally, my wife and I picked up 3-4 ton of rocks, bricks and old fertilizer bags that were buried in the lawn.
In September, I rented a Toro Dingo, along with a soil cultivator and a harley rake, to completely flatten the entire yard. Not sure how it happened, I ended up with less dirt than I started with and realized I would will now need to top dress and level. After essentially tilling everything, I created a makeshift drag mat out of an old wire dog crate I had. I then rolled the soil and used a landscape rake to knock down the ridges and high spots. I did a soil test and it was worse than I thought. There was absolutely no nutrients in the soil and it was quite acidic.
I knew I wanted to get something established before winter but was quickly running out of time, so I ordered 10lbs of Blackjack Bermuda seed from Seed Ranch. I put down 3 bags of Milorganite and 2 bags of Stagreen starter or something similar. I sowed only about 6-7lbs of the Blackjack in fear that I would lose it all to the cold. In retrospect, I should have bought more and sowed it all. But that's a mistake I will only make once. I replaced all my sprinkler heads and began watering 3 times a day. Germination was great and I had a nice thin lawn in about 3 weeks.
Fast forward to late January 2020, I put down Anderson Barricade but it was too late. I had a ton of oxalis/clover already. It appeared that the crabgrass, plantain, and dandelions were already rooted as well. So in February, I sprayed 2-4D (a little too heavily) which unfortunately killed off most of my front lawn but seemed to be just right for the side. I'm not really sure what happened in the back, it's almost as if I killed all the Bermuda and encouraged the weeds. In March, I started mowing as low as my rotary would go (1.25"). I've mowed almost twice a week since then.
In early April, I purchased another 25lbs of Blackjack from Seed Ranch. I was a little upset when the box came and I pulled out a bag of Maya. I had never heard of Maya Bermuda, but it had a certification label on it and when I did a quick search, I found that others were saying it's the Blackjack 2.0. I really like Blackjack, so I thought "Wow, this should be some really good stuff and it sales for a higher price." So, I aerated heavily and scattered about 15lbs of this Maya seed. It's been about a month and a half and I'm having problems. Like someone else on here said, it's growing vertically but NOT laterally, at all. I'm more than a little disappointed after spending almost $200 on what looks like something less desirable than common Bermuda. What I'm seeing, if it's even Maya, has small thick blades, big stems, and it's the opposite of dense. I can easily see dirt. I'm almost wondering it's not torpedograss. I'm not an expert as this is my first Bermuda lawn, but at 15lbs overseeded on 8000sf, I'd expect NOT to see the ground.
I've been spraying Doc's Superjuice about 3 times every 2 months since March. I put down 2 bags of lime because I didn't know what was going on with the lawn. It seemed to help, but I haven't done a soil test since last year. I'm probably going to get some high nitrogen fertilizer this weekend and spread that. One of the members here is helping me out with a Trucut reel mower. Other than that, I'm just watching it to see what happens. I will probably do a soil test here in the next few days to get a better idea of nutritional needs. Any advice would be very helpful. I'm not opposed to overseeding again, however I was going to wait until I top dress and level to seed again.
Apparently in Georgia, gutters aren't included in the building code. So, I need to get gutters installed before I put down the sandy topsoil or the rain will just wash it away.
I could really use some help with increasing the density of the grass. I'm naturally impatient, but my first round with blackjack has set my expectations and the Maya is a poor performer in comparison. Maybe my opinion will change over time, yet if I could do it all over again I'd stay far away from it.
Next Steps:
-Mow Lower
-Order Celsius WG and Certainty
October 2017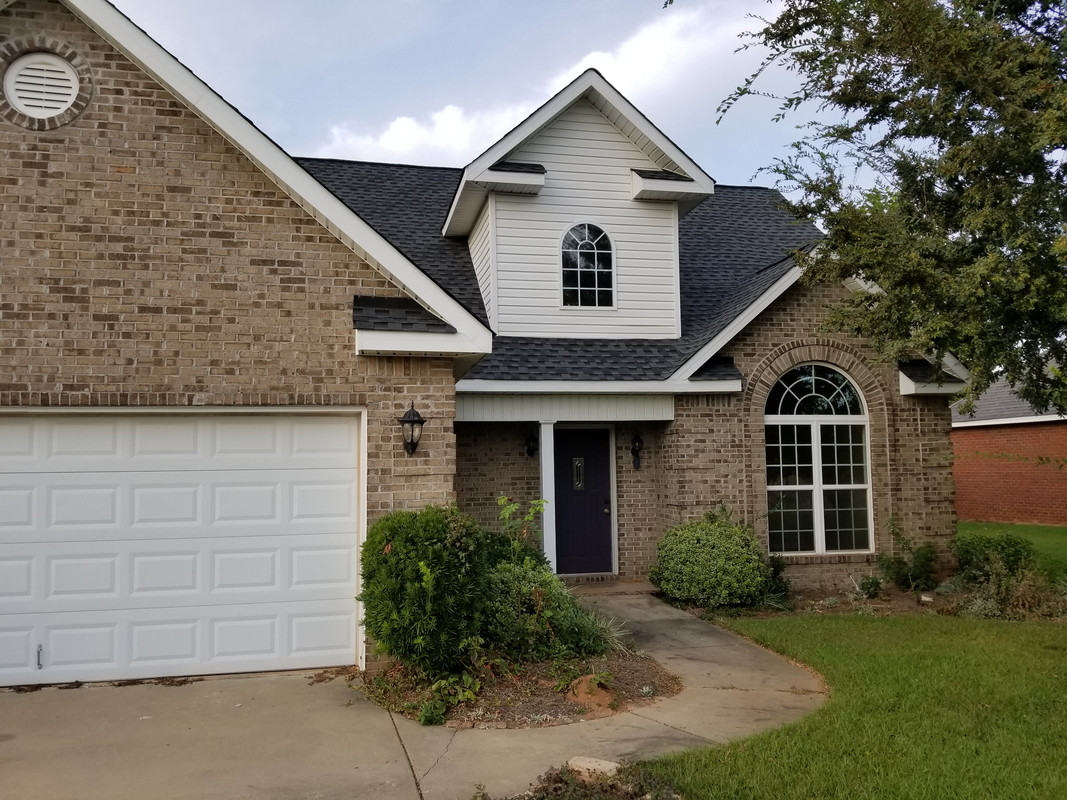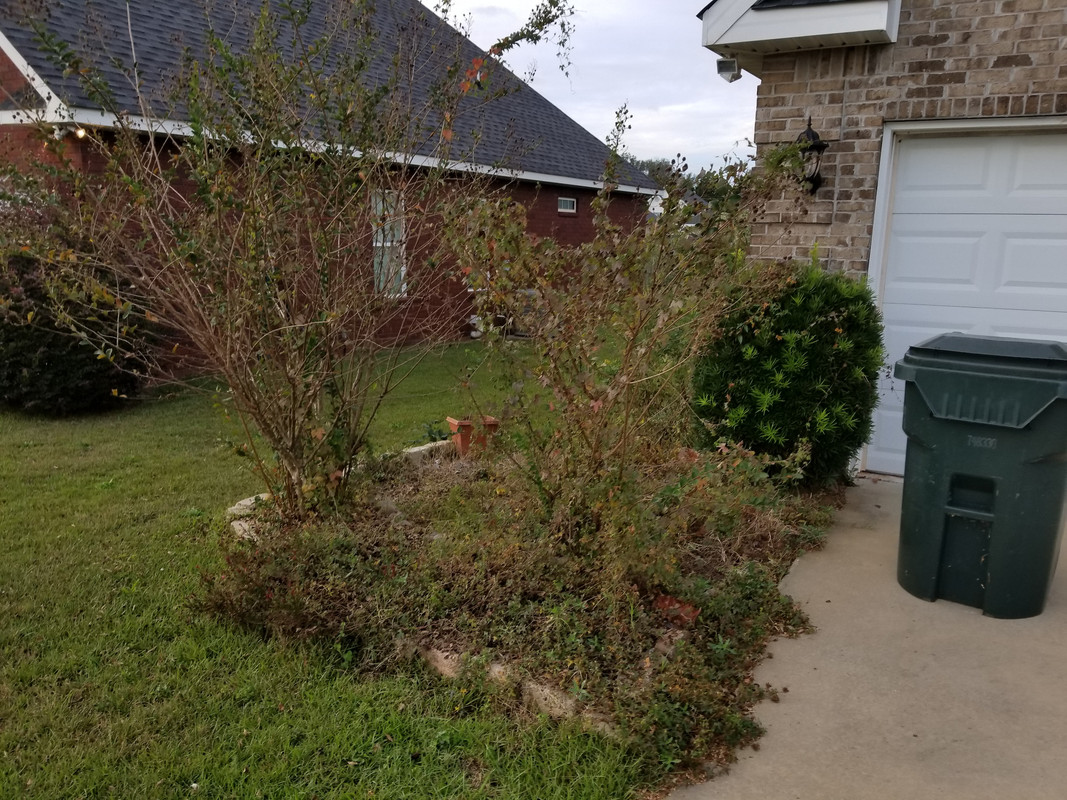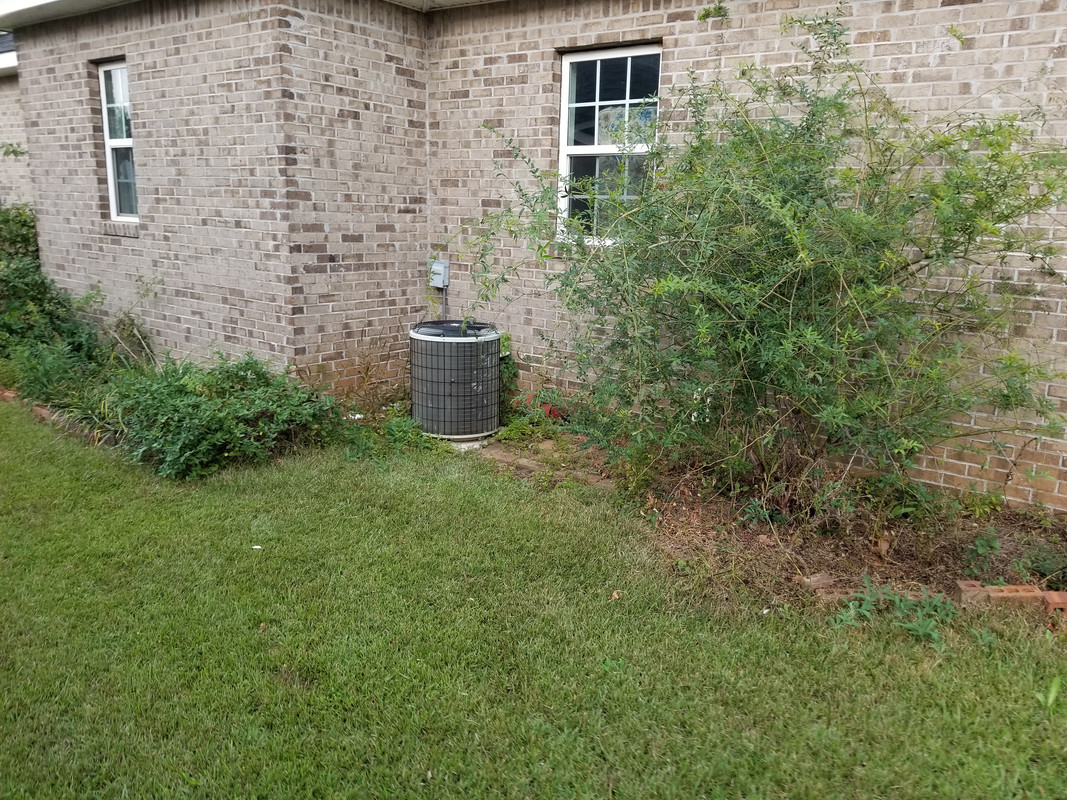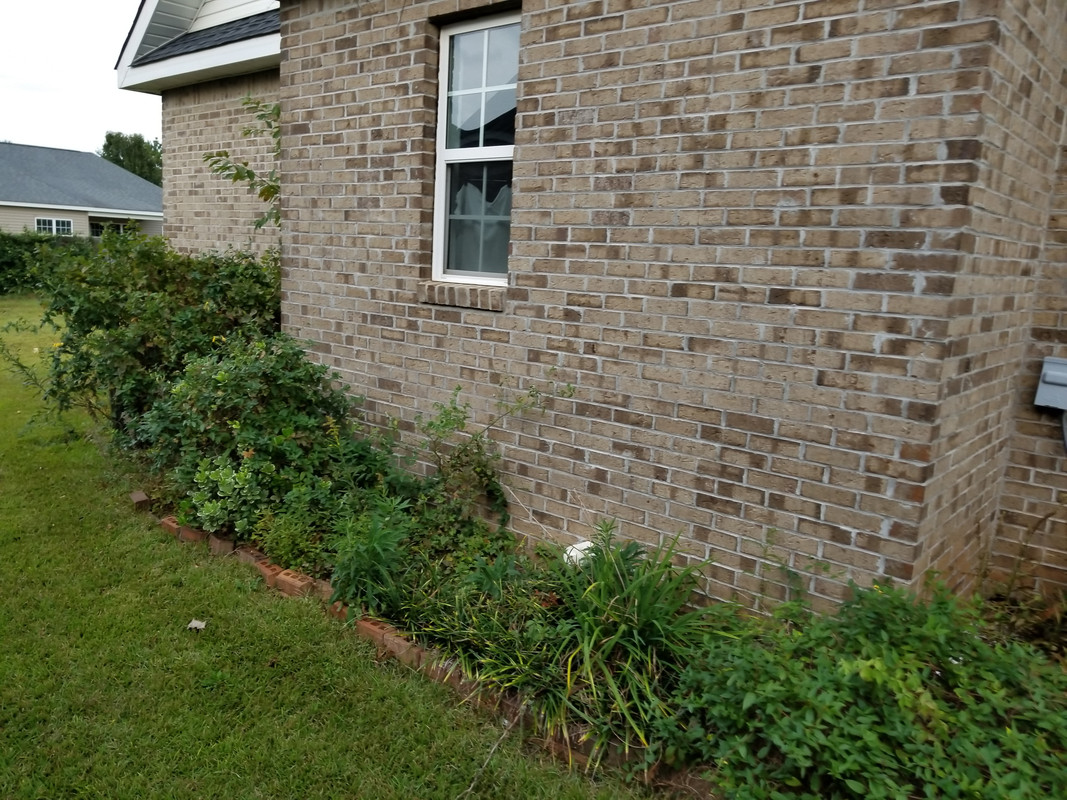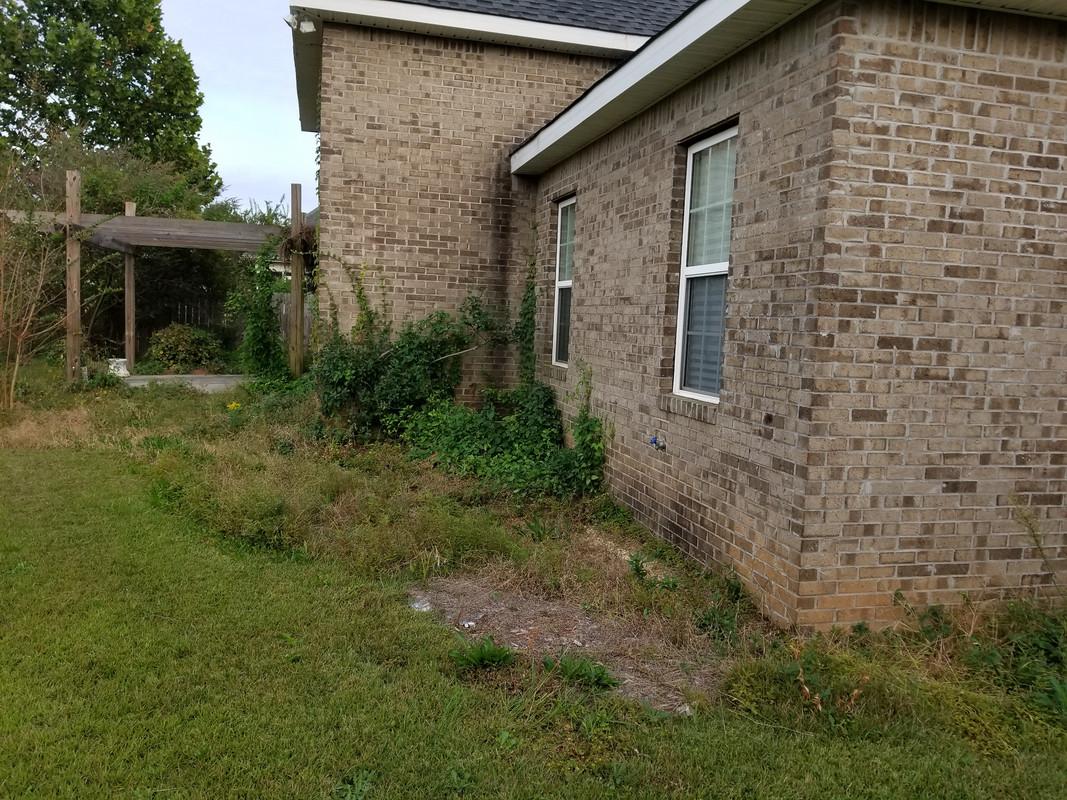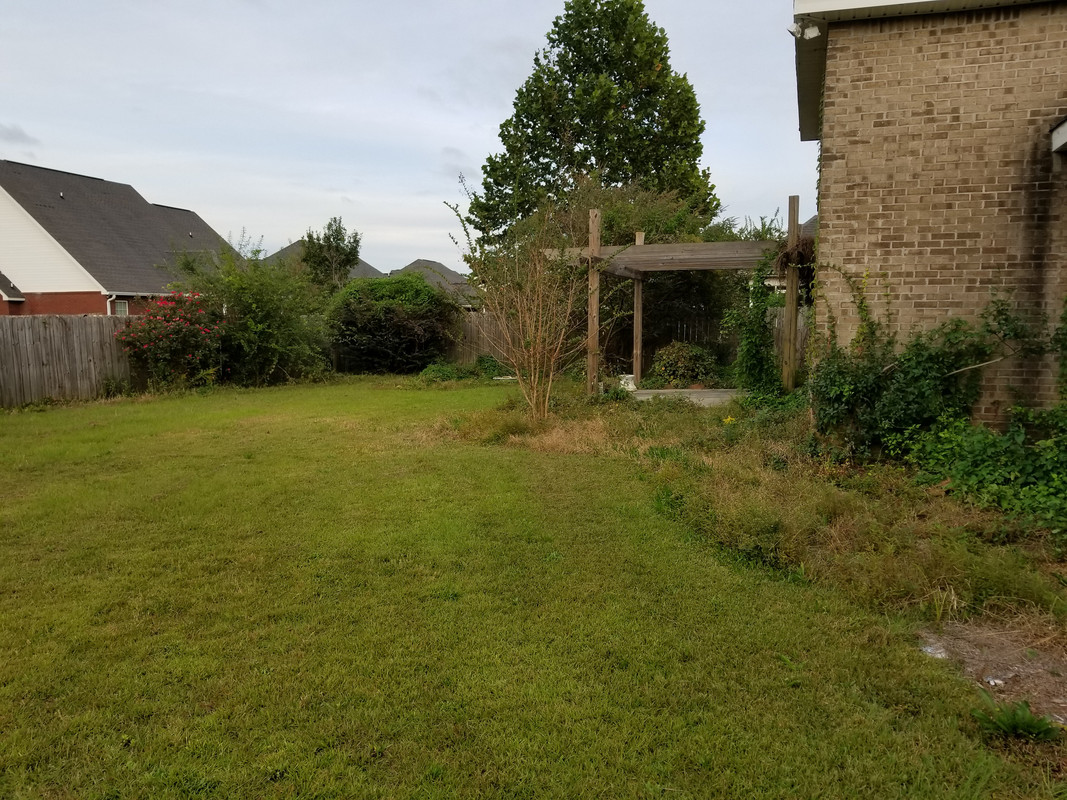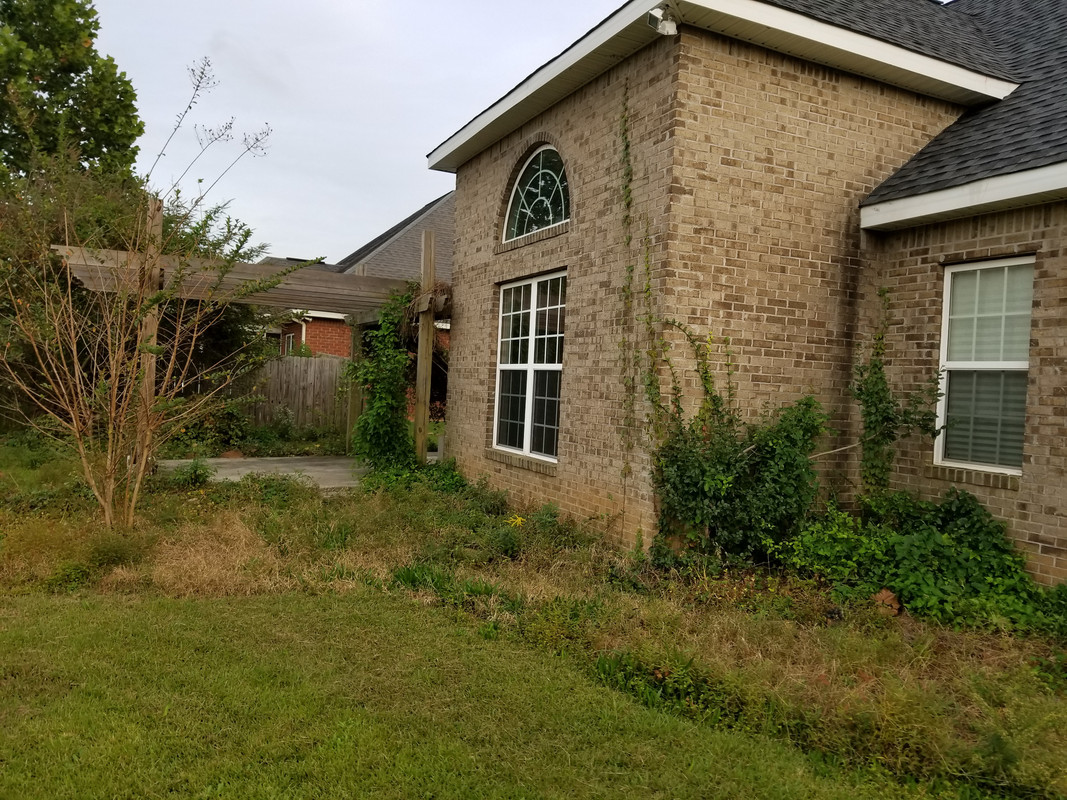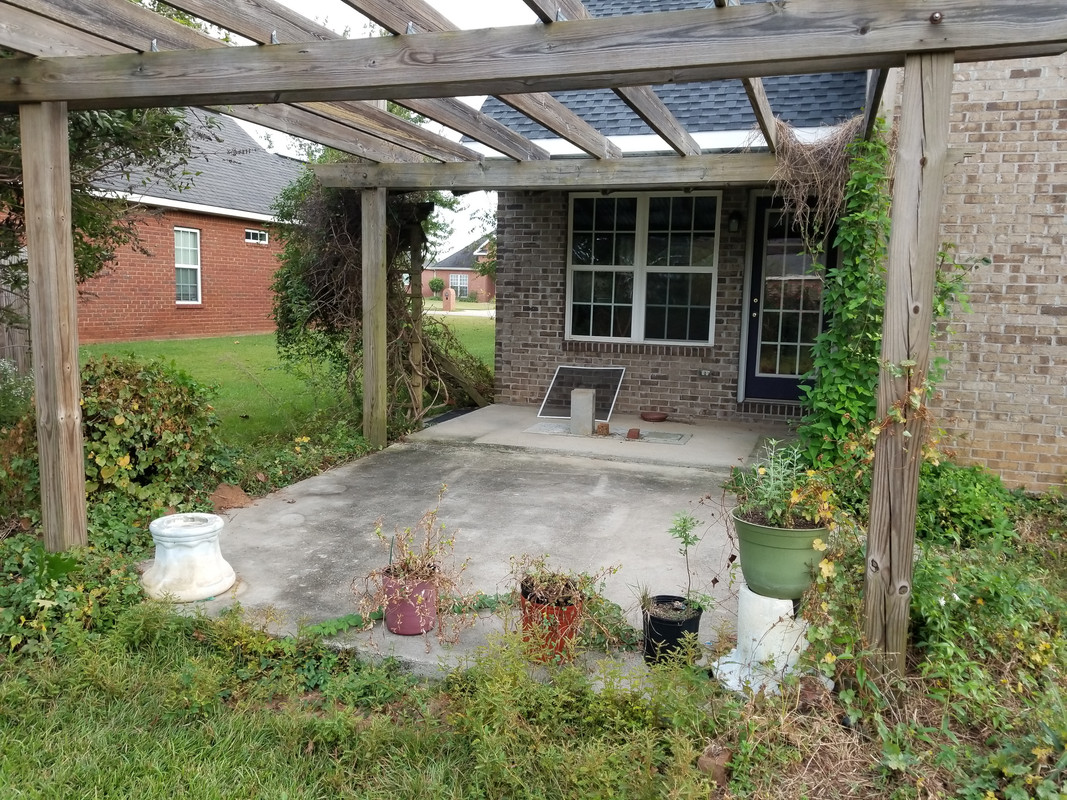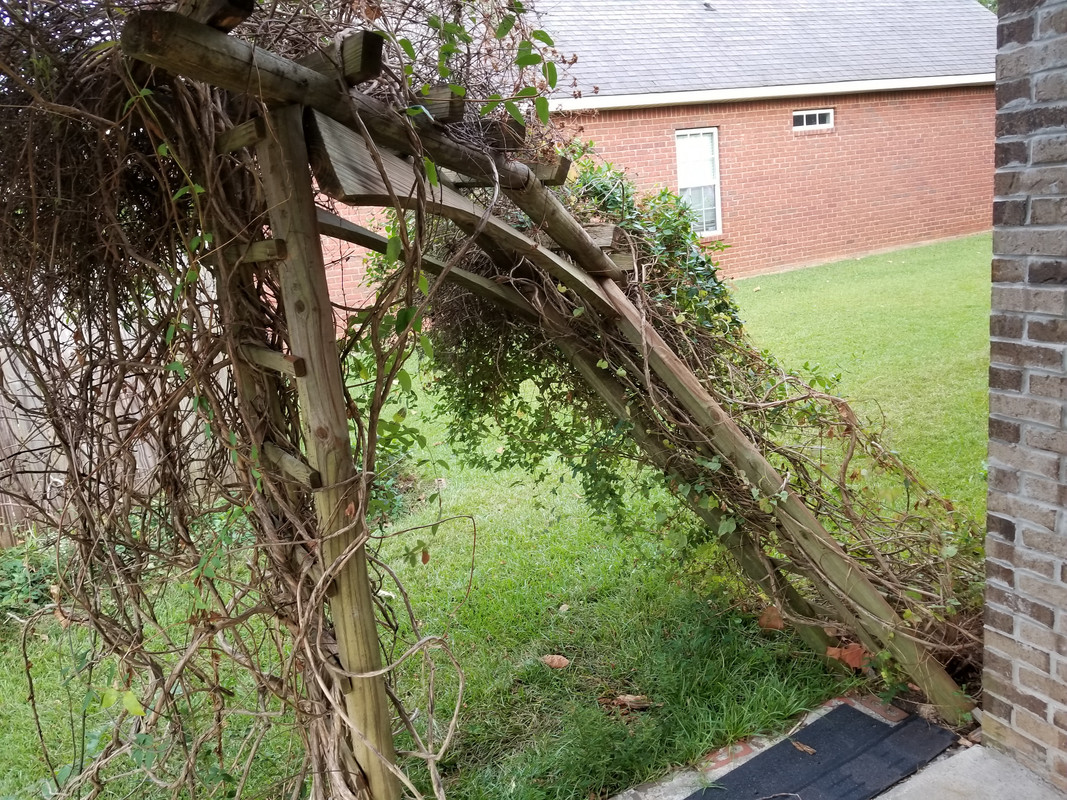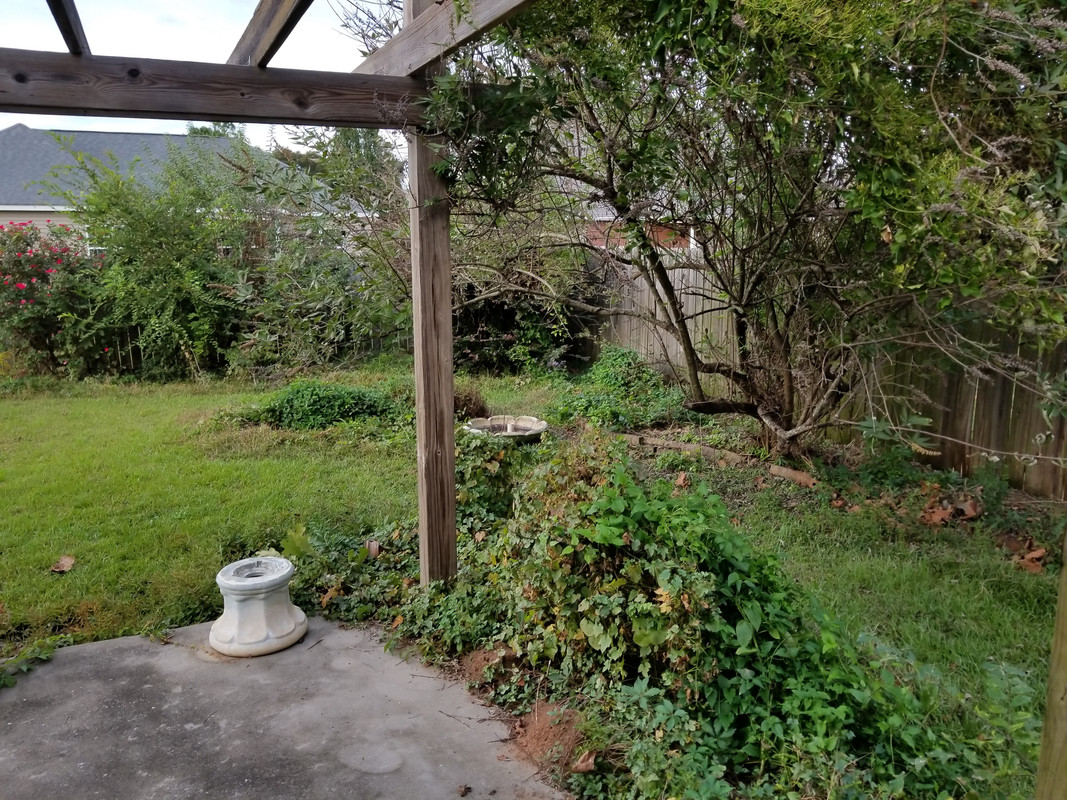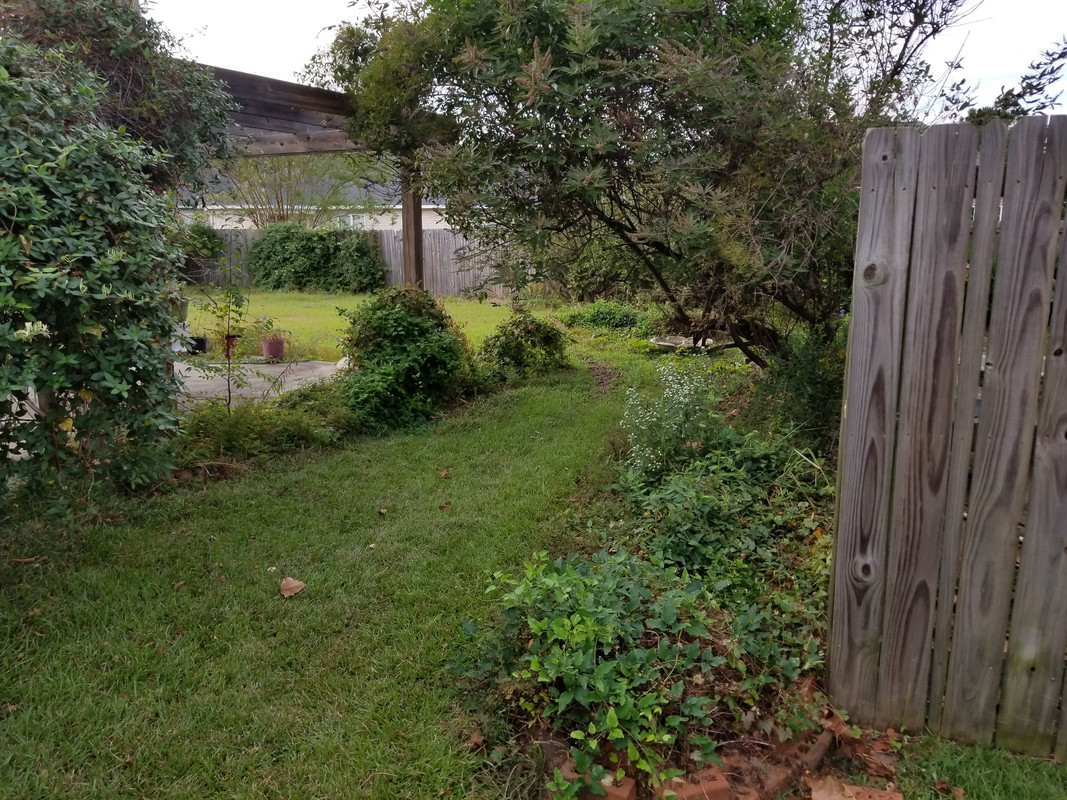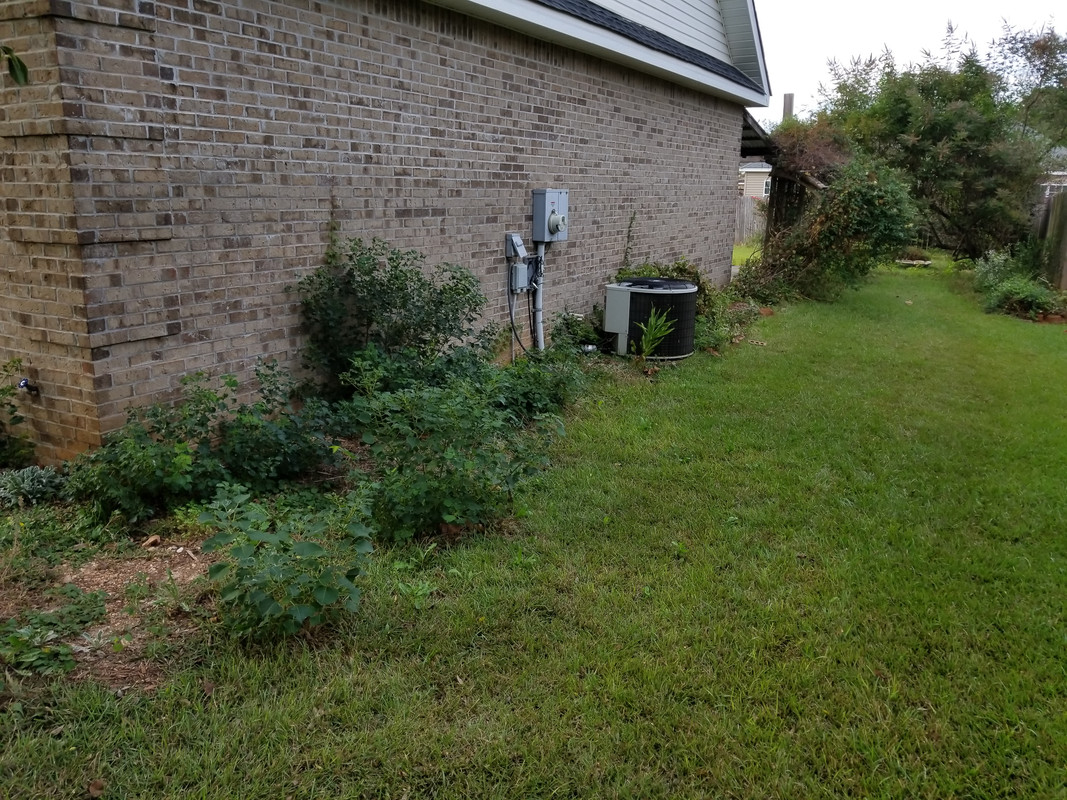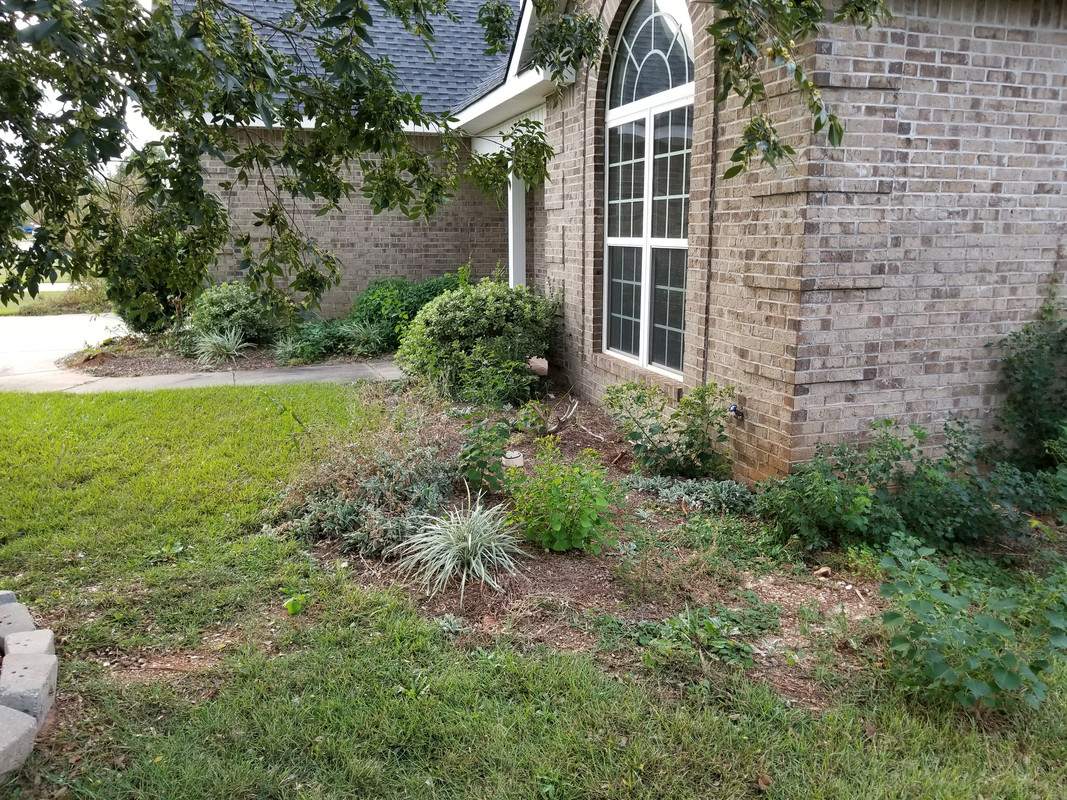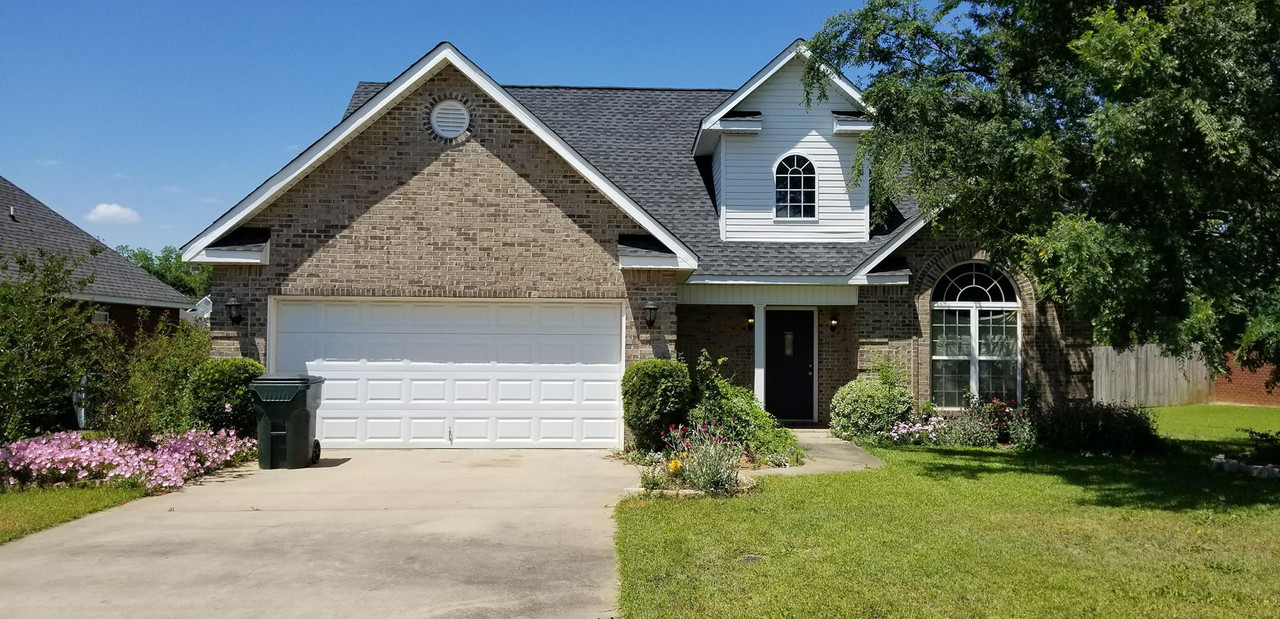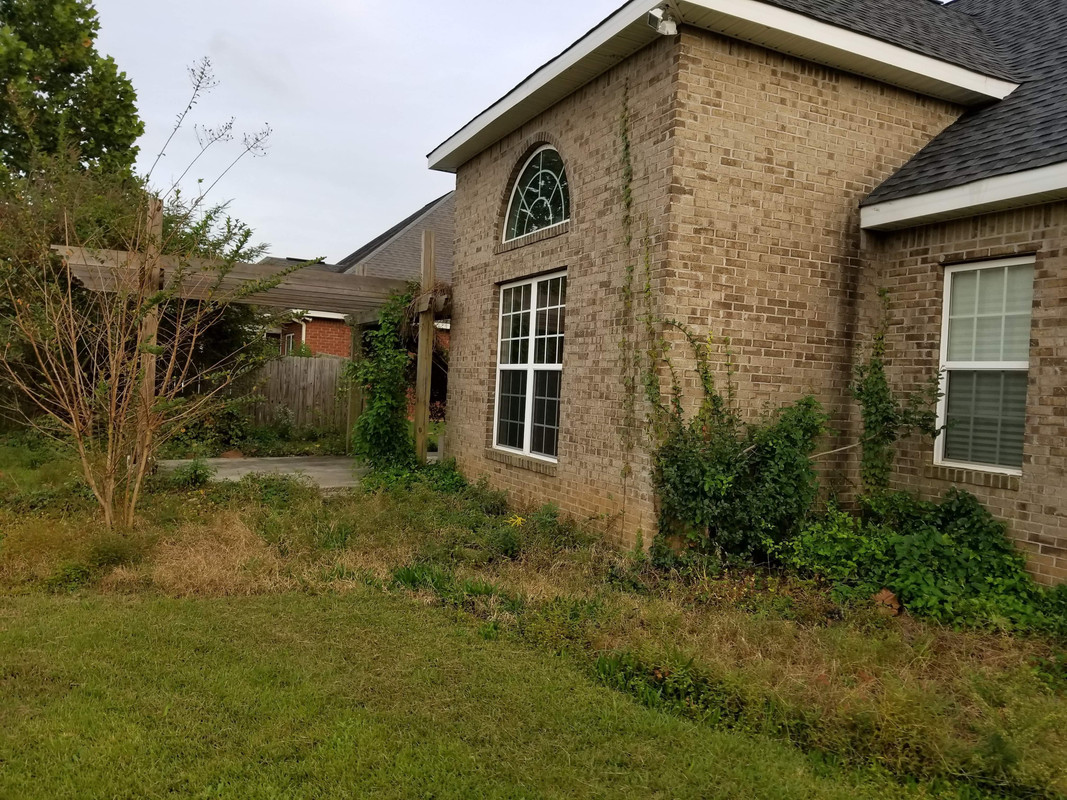 Some Google images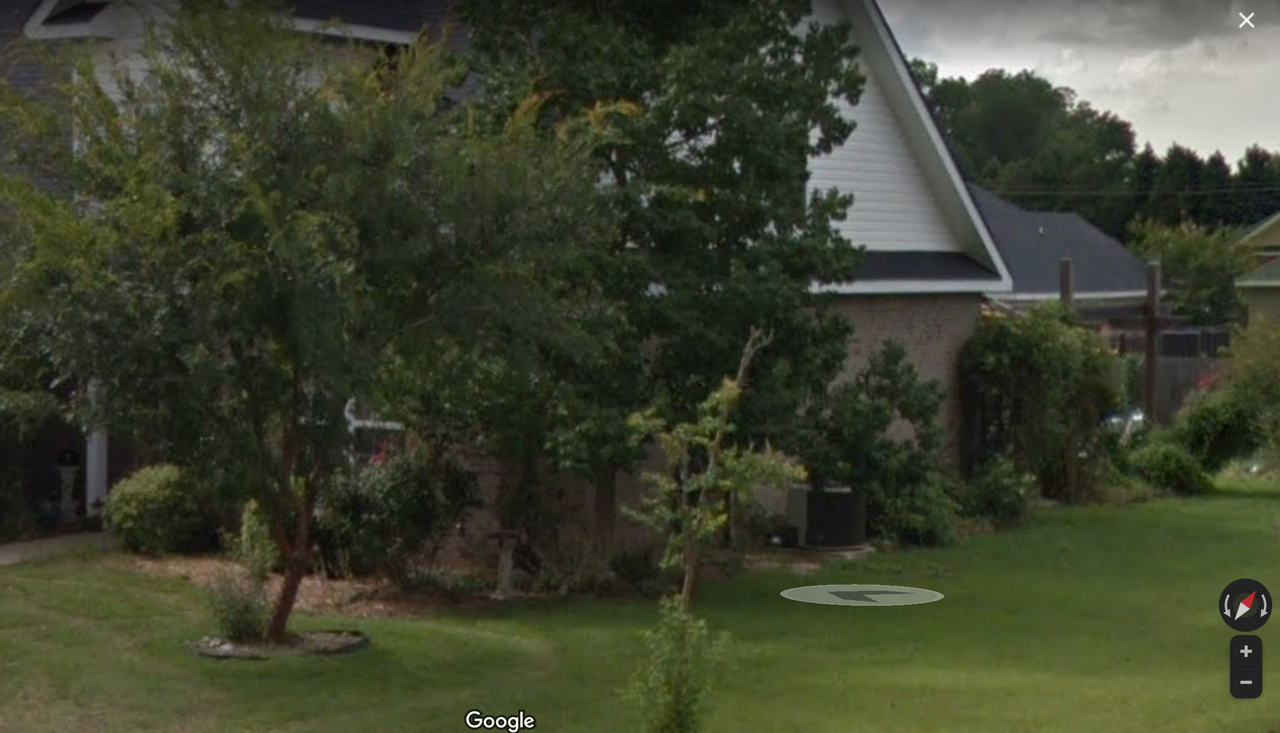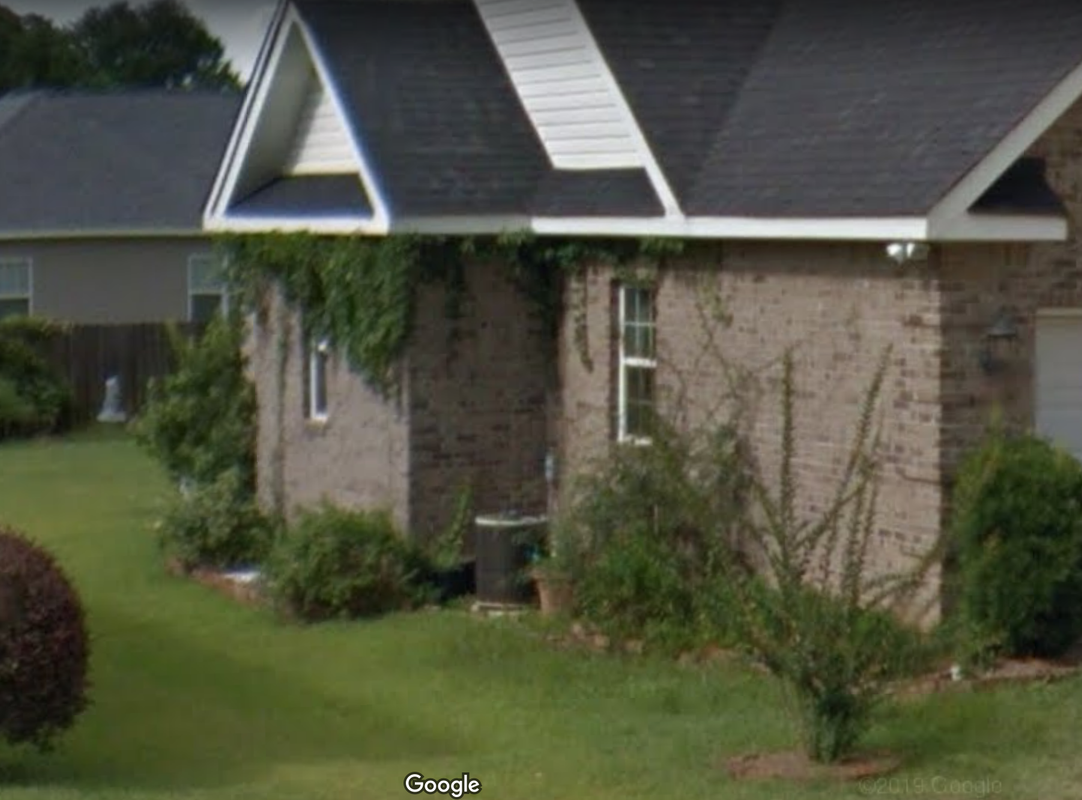 Fall 2018, right before my neighbor helped me cut the tree down on the right.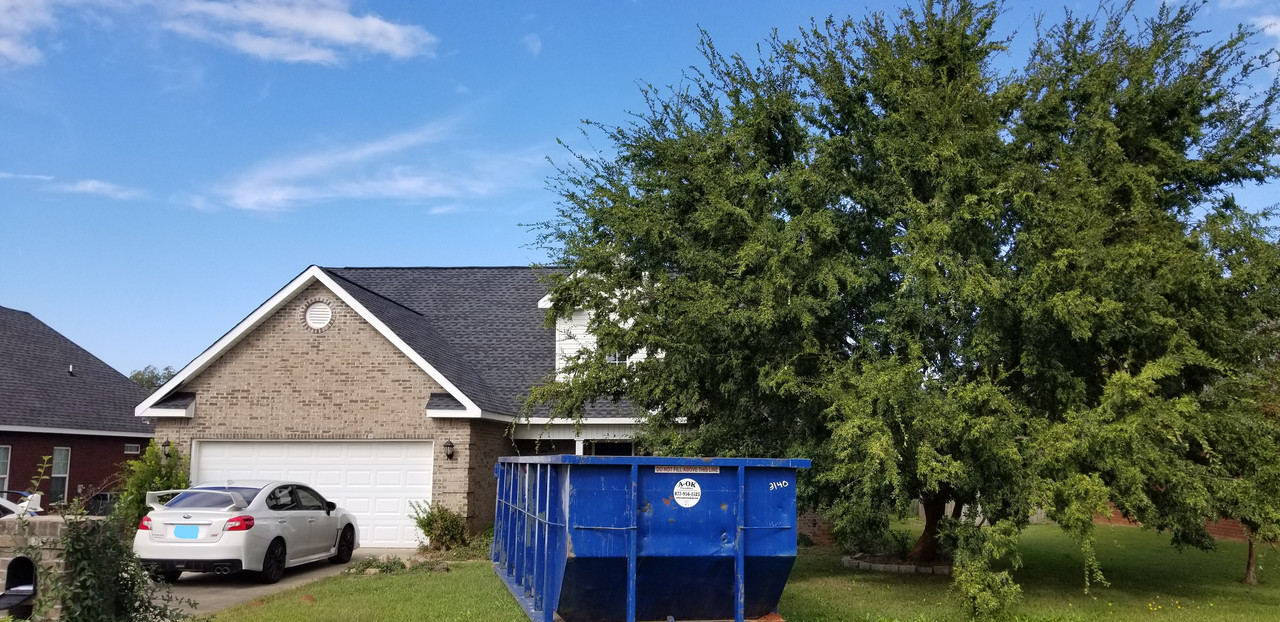 The stump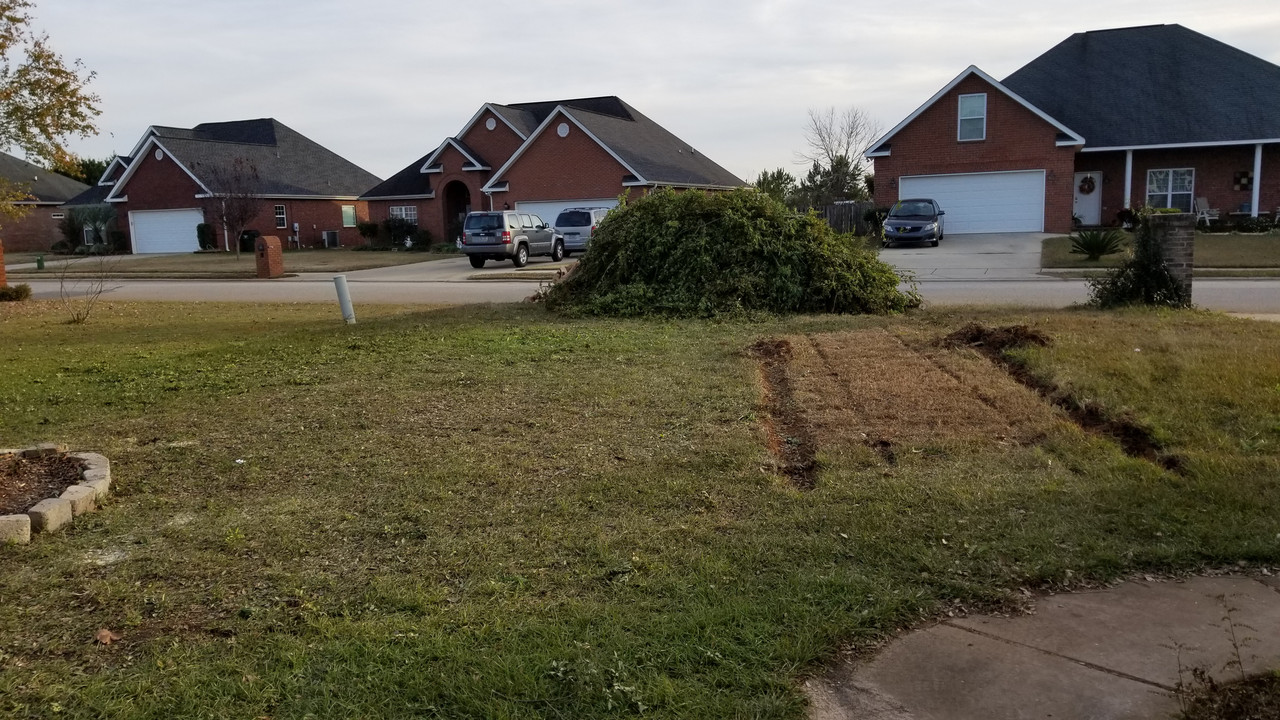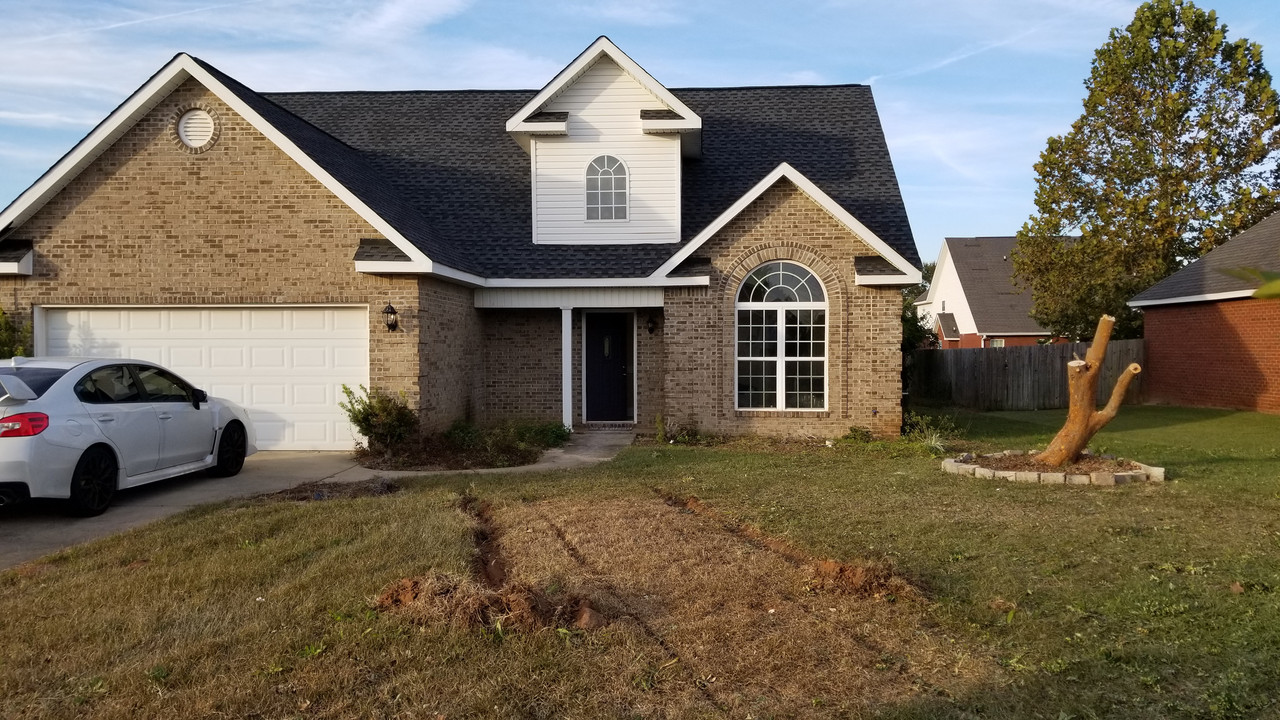 April 2019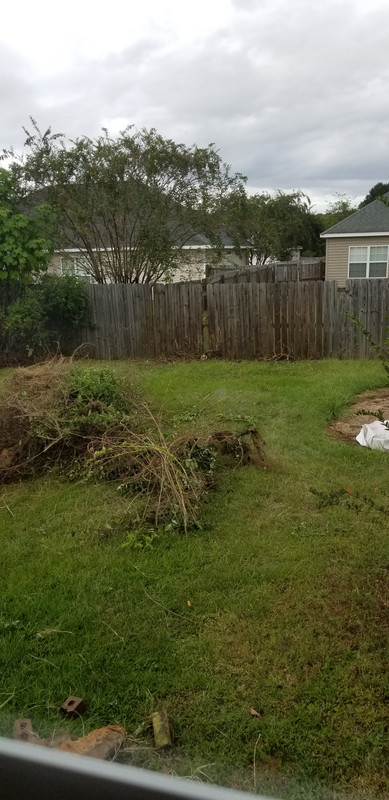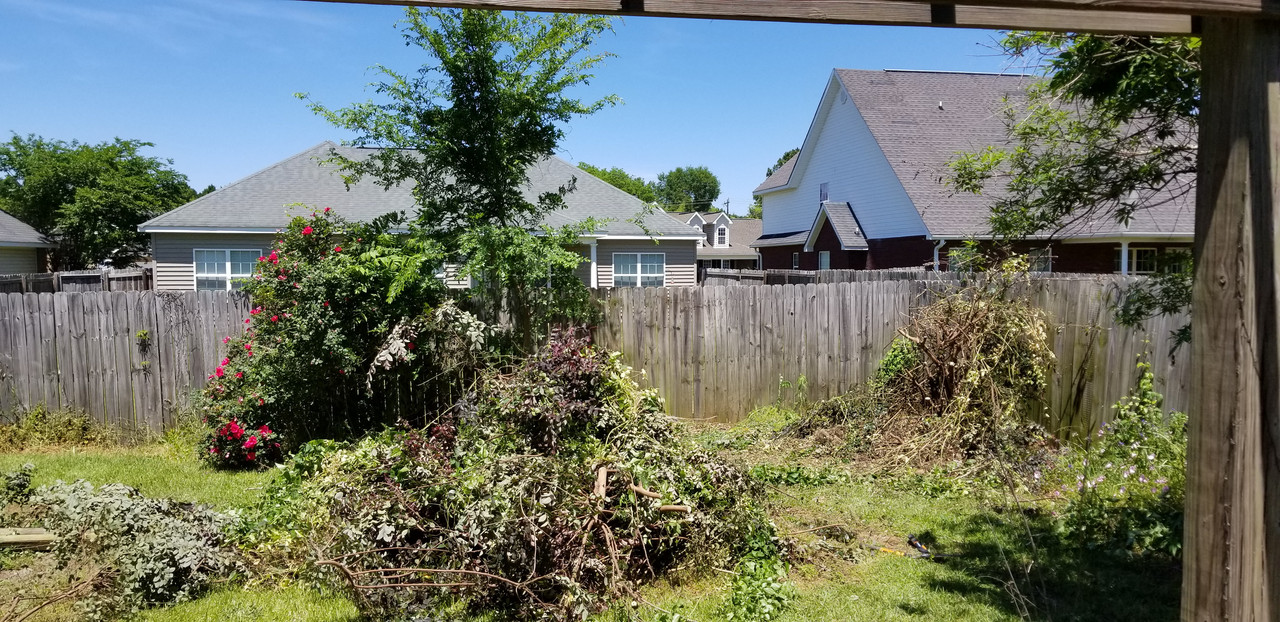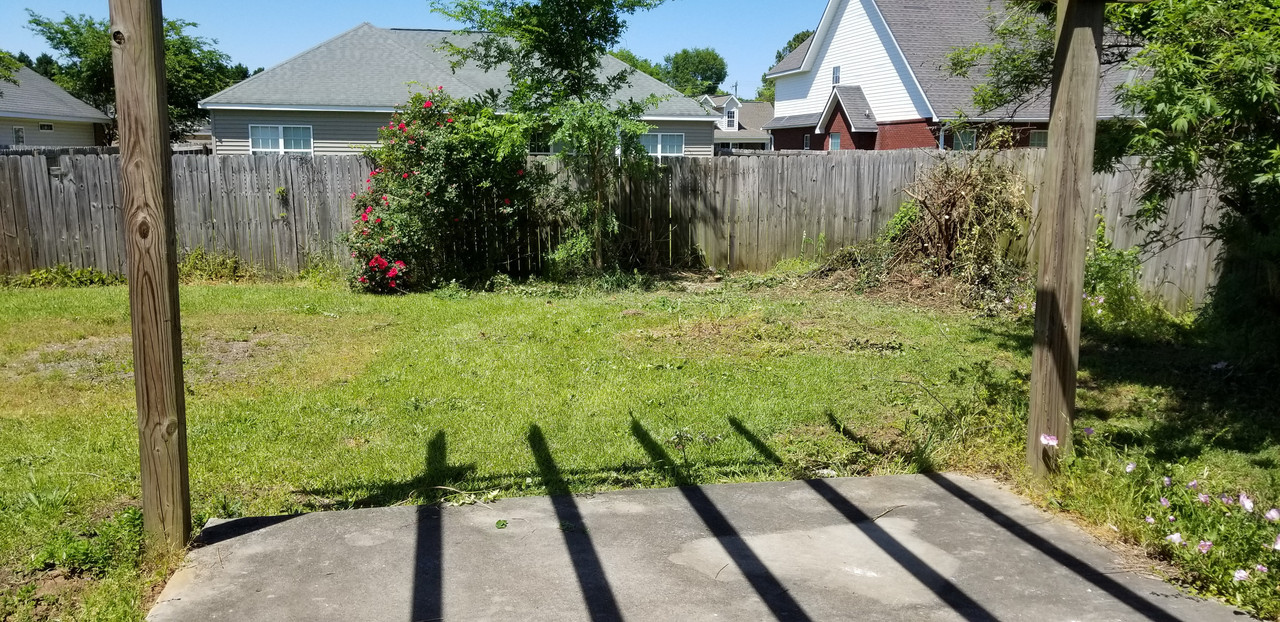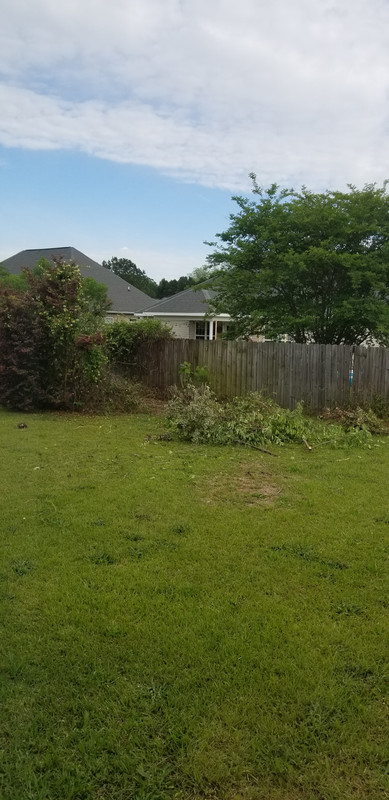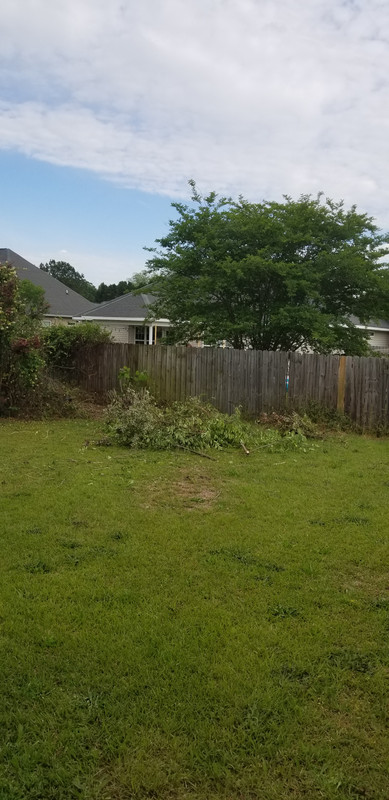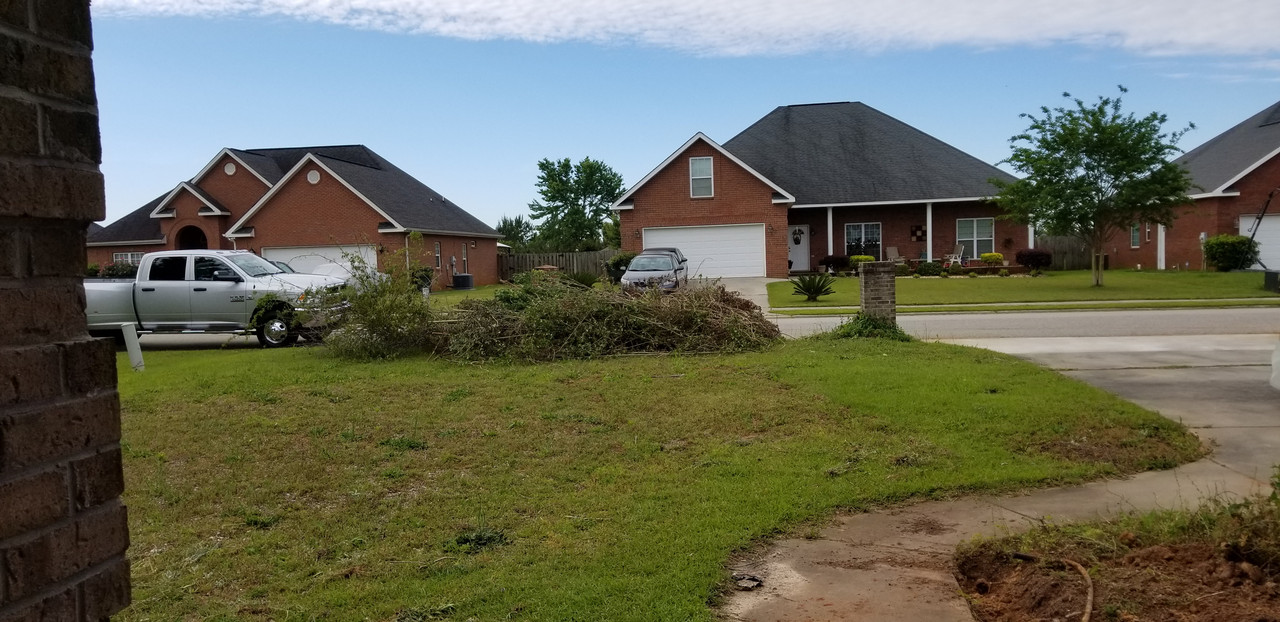 May 2019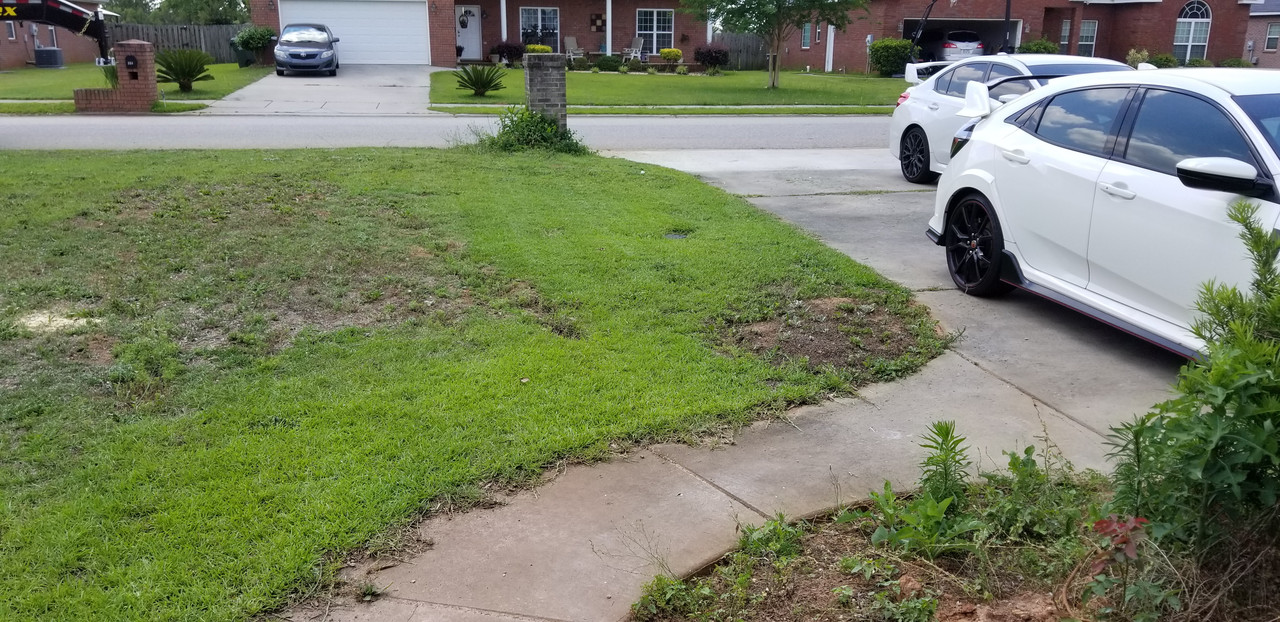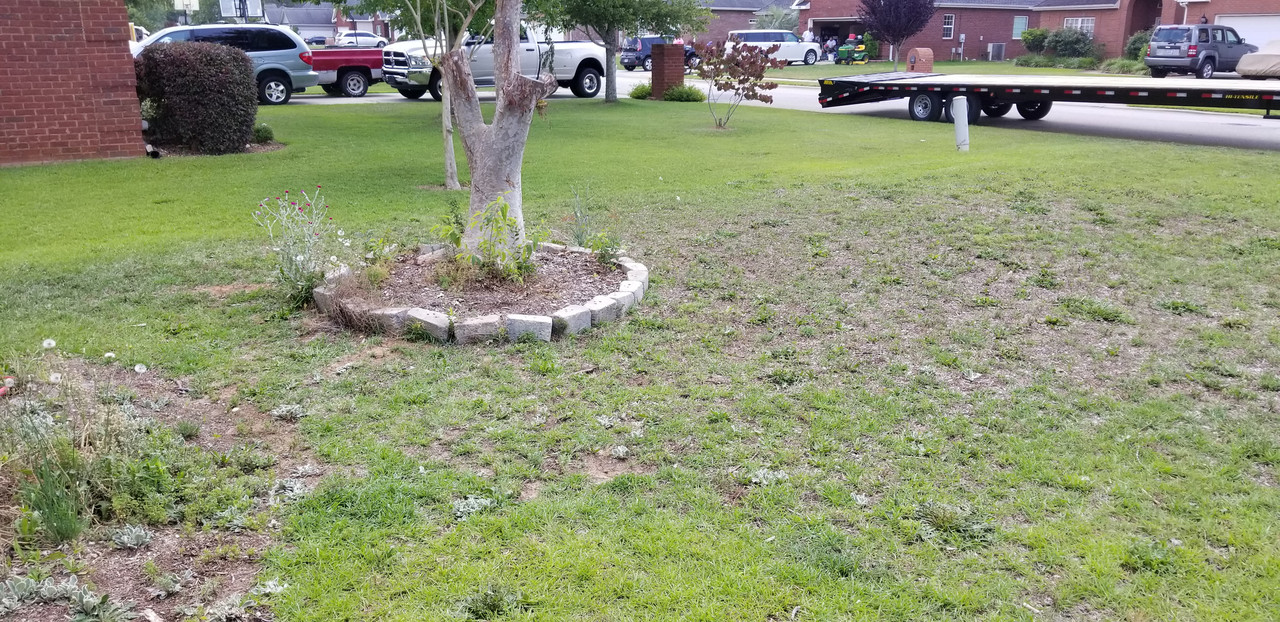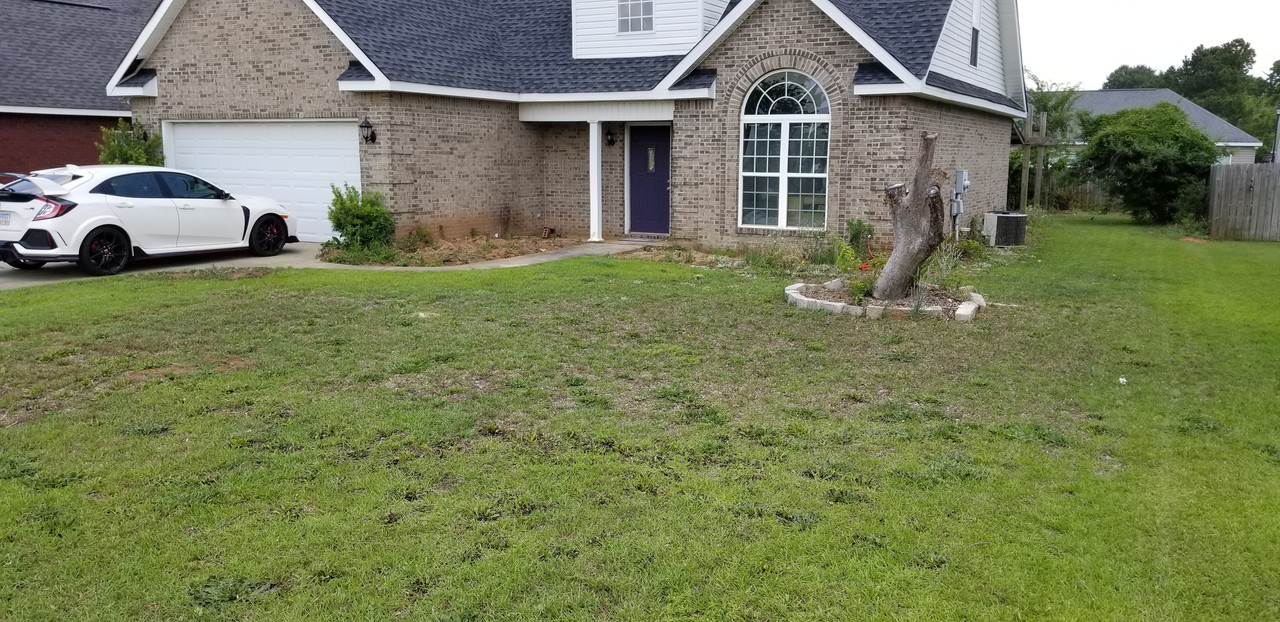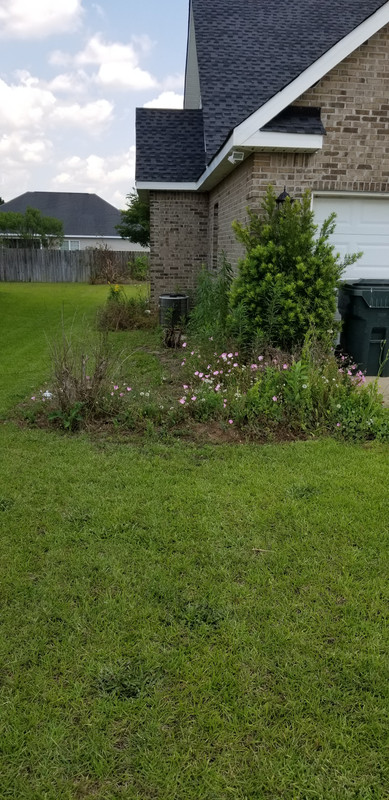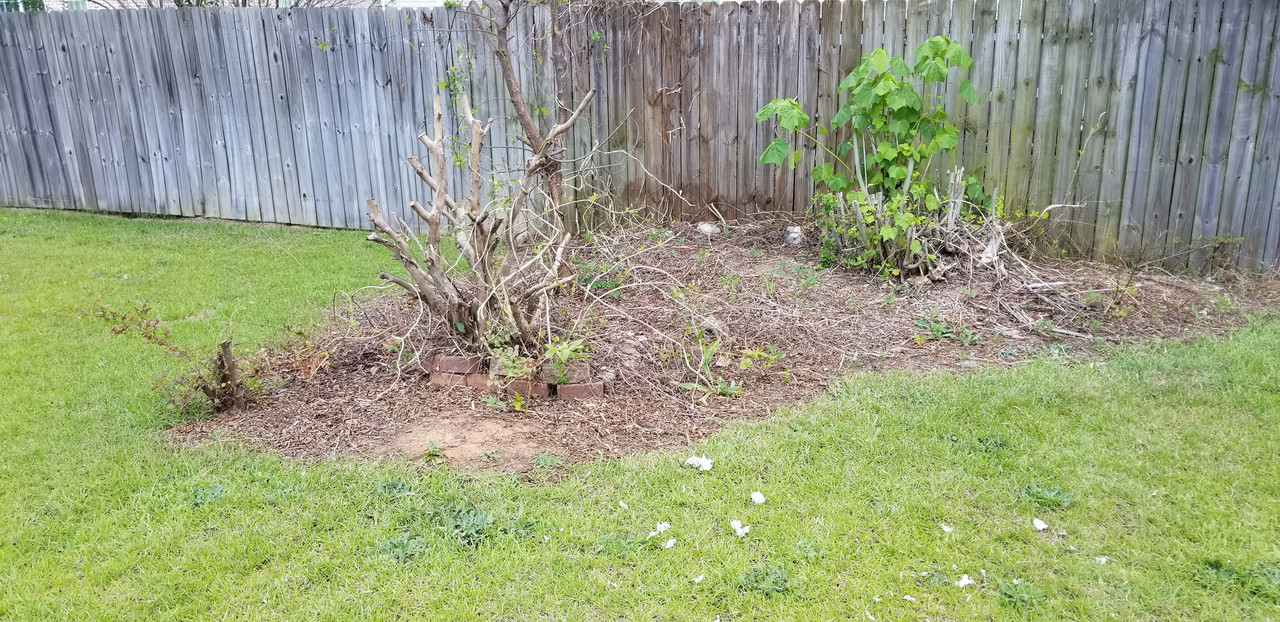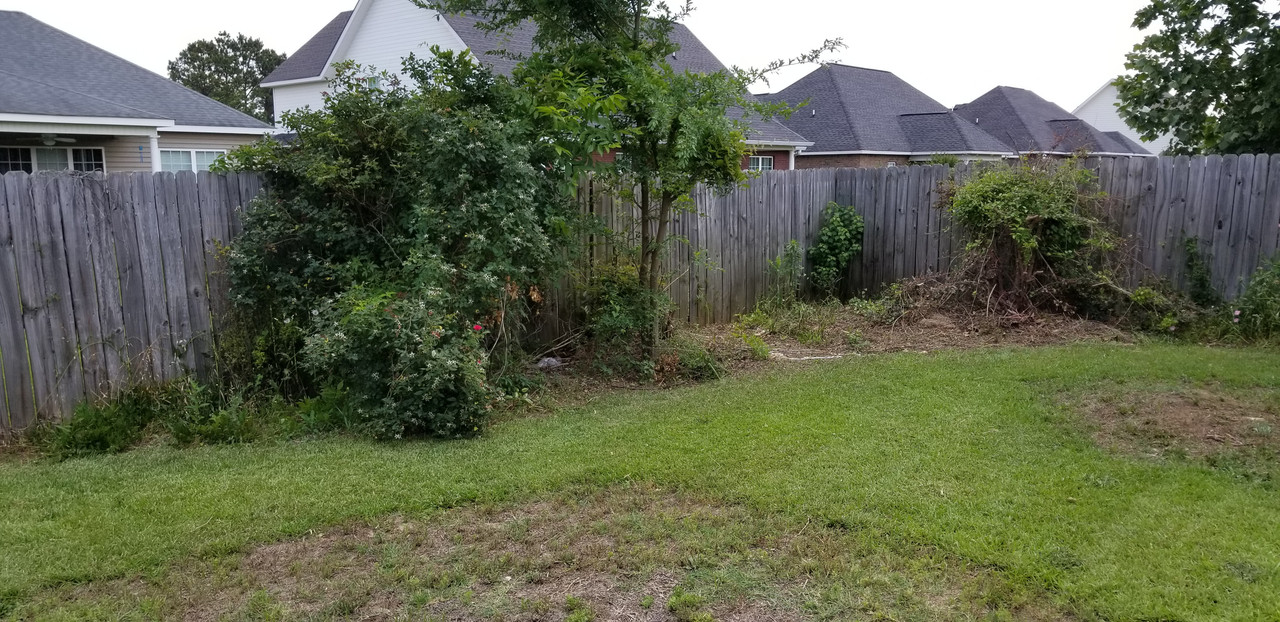 July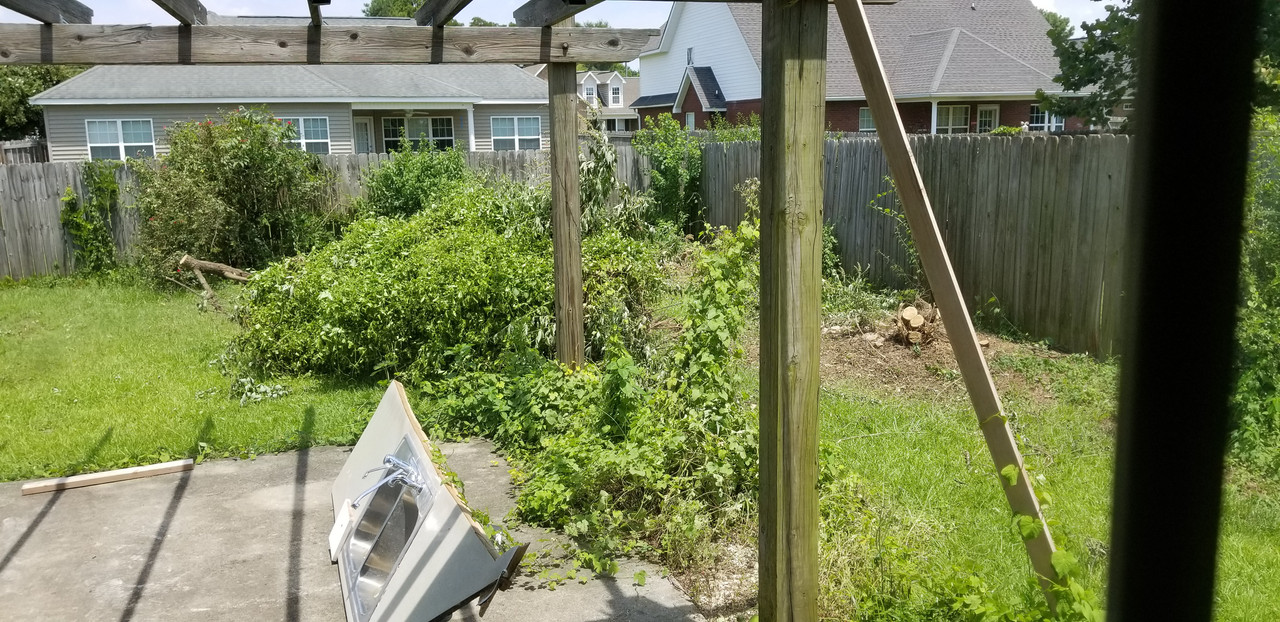 August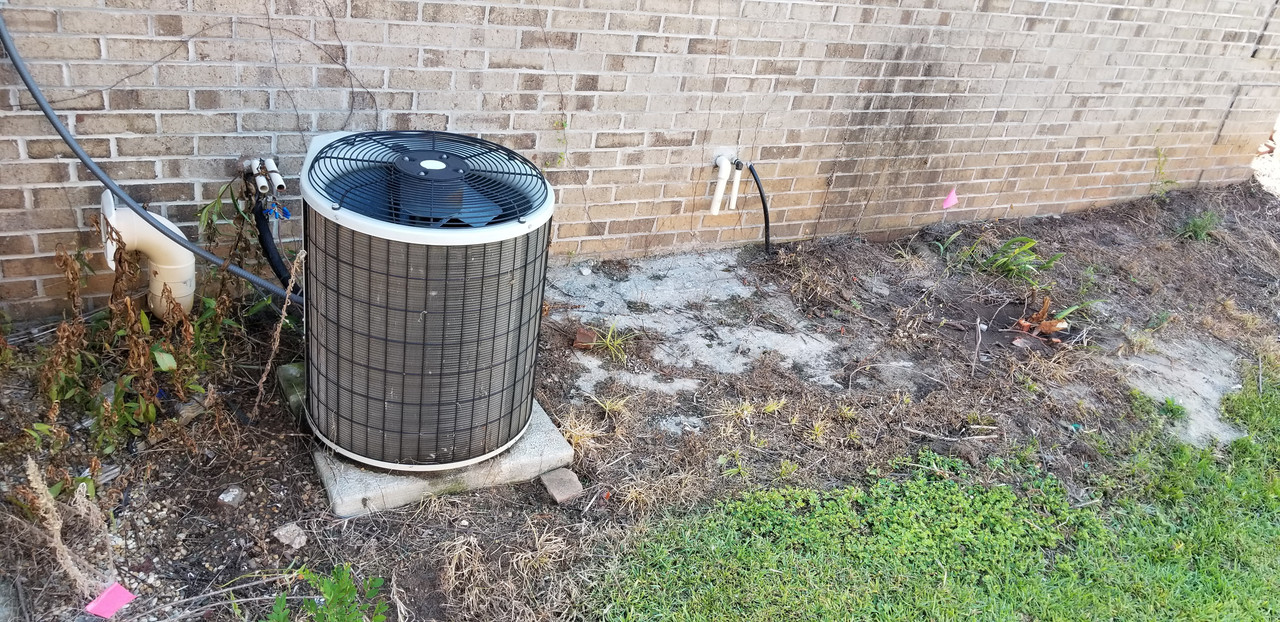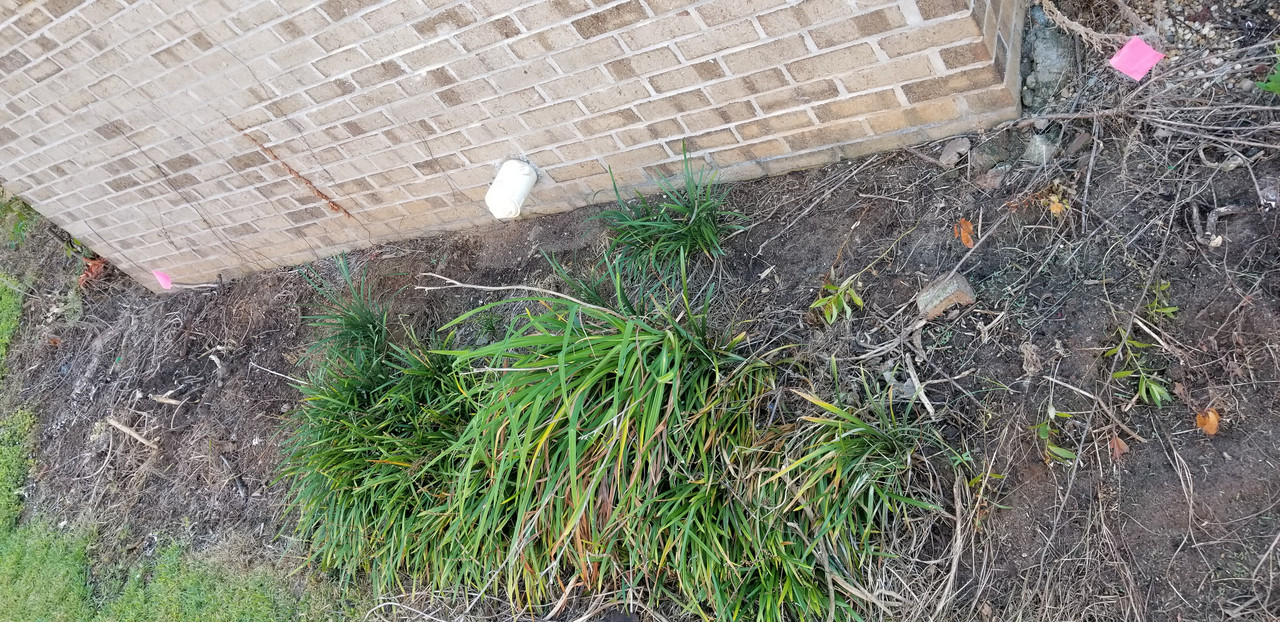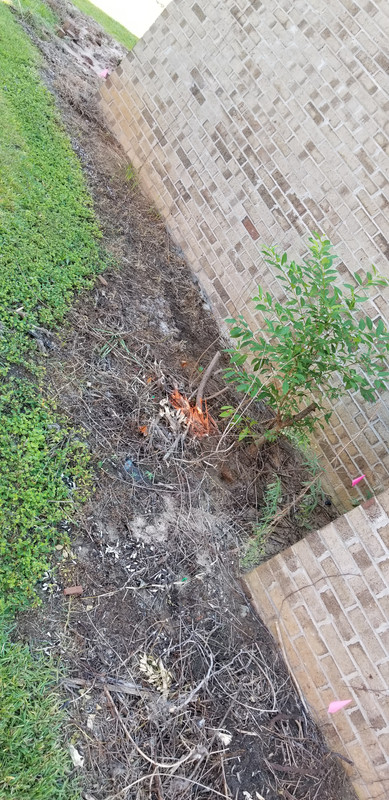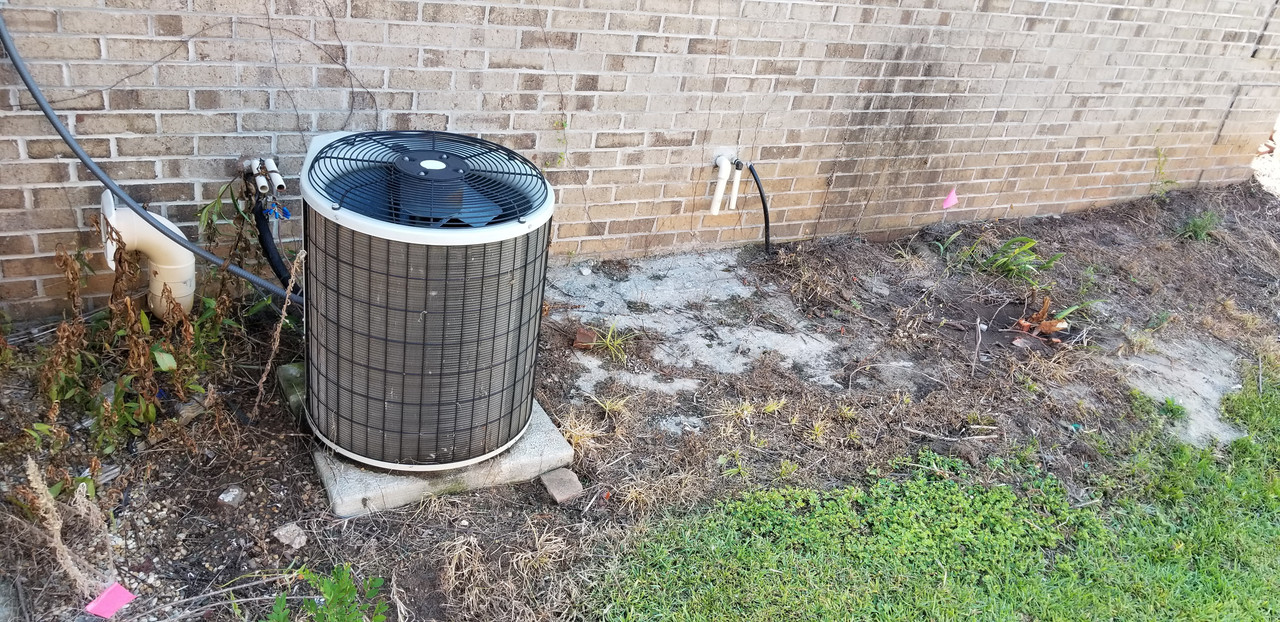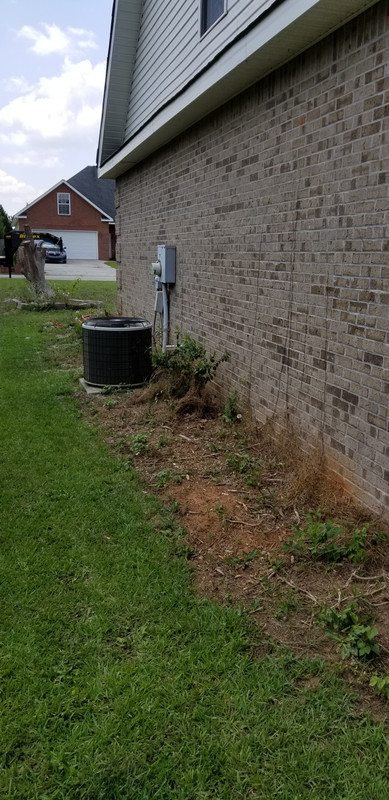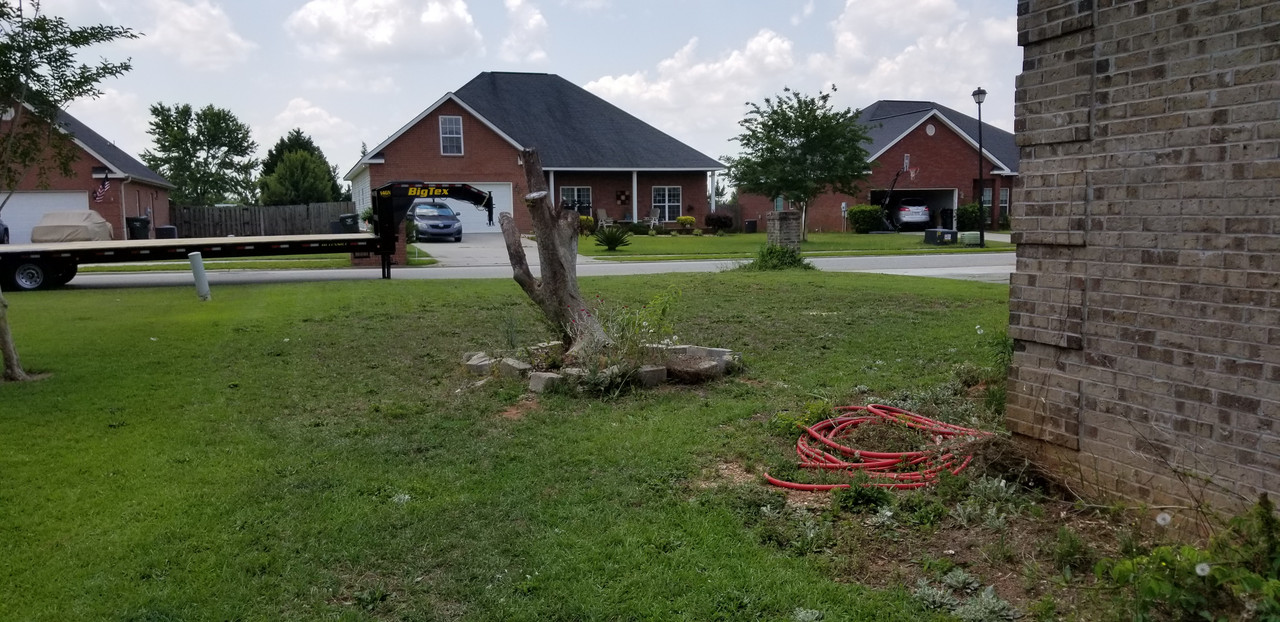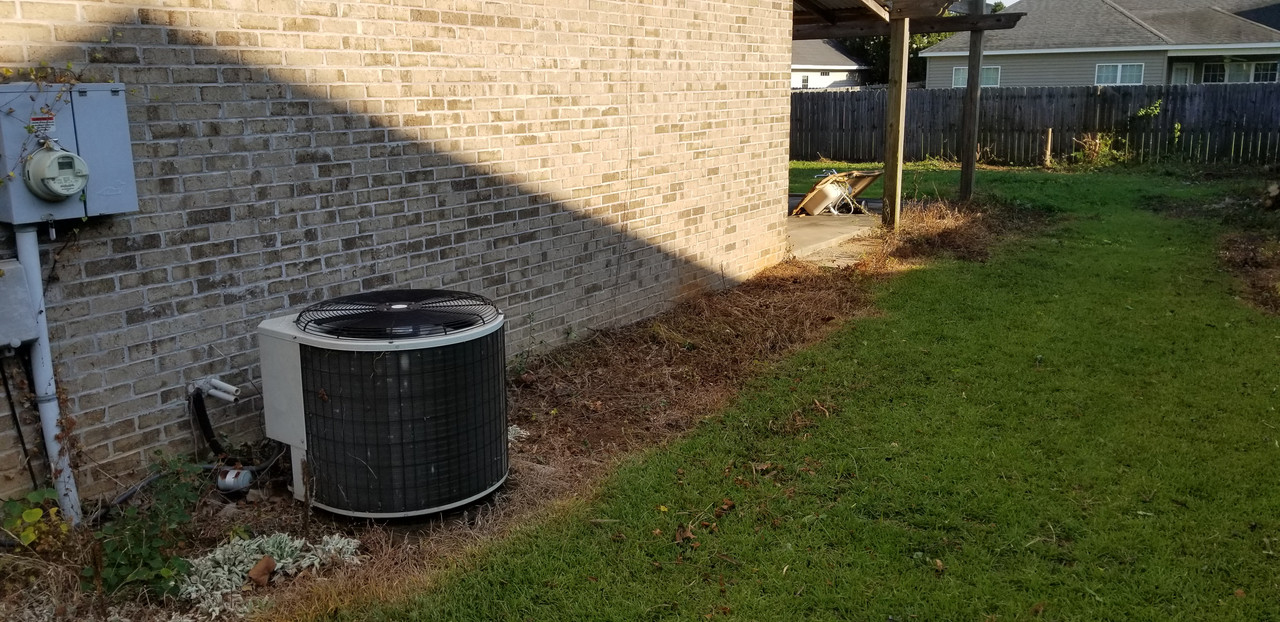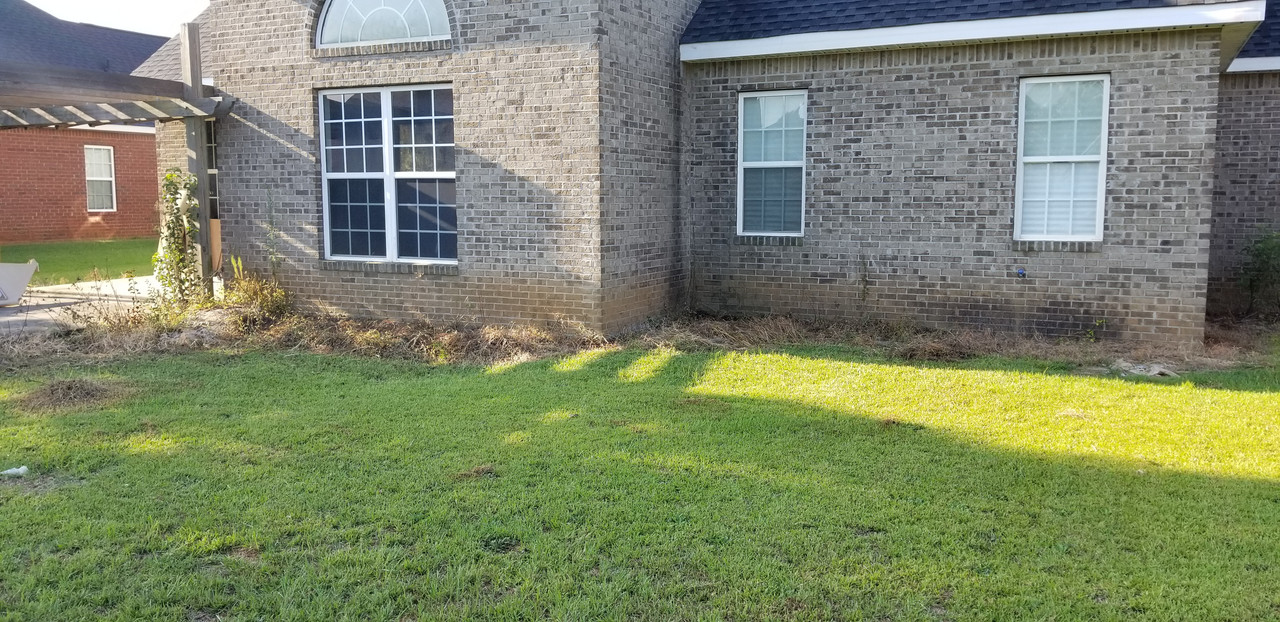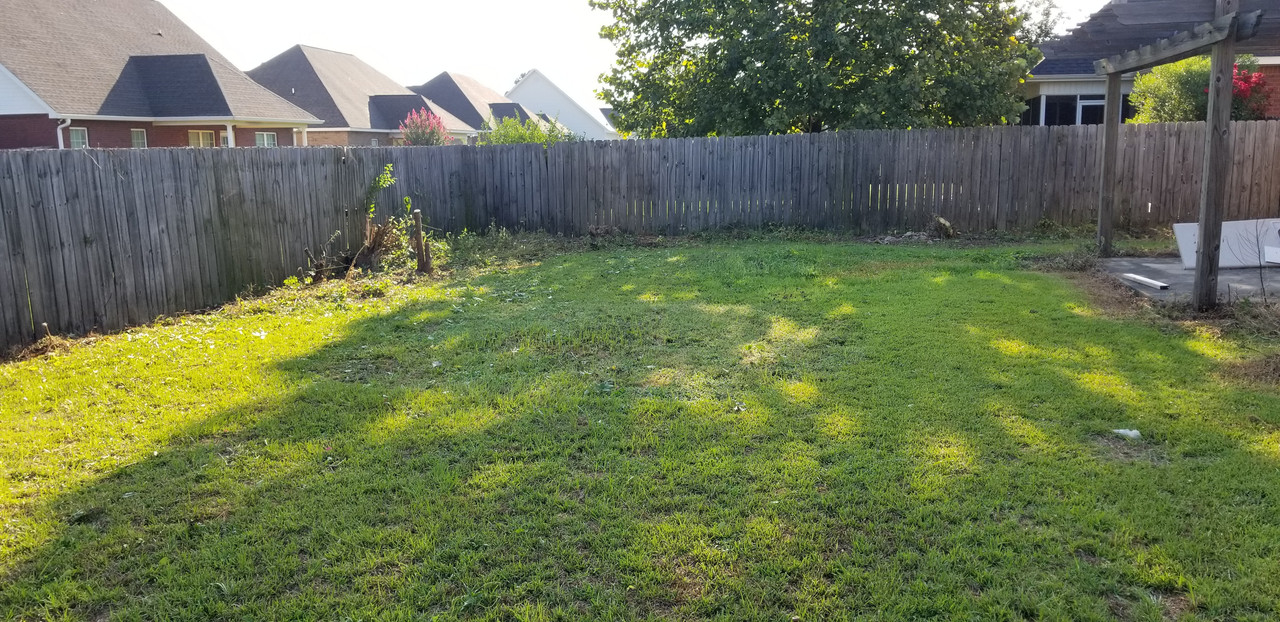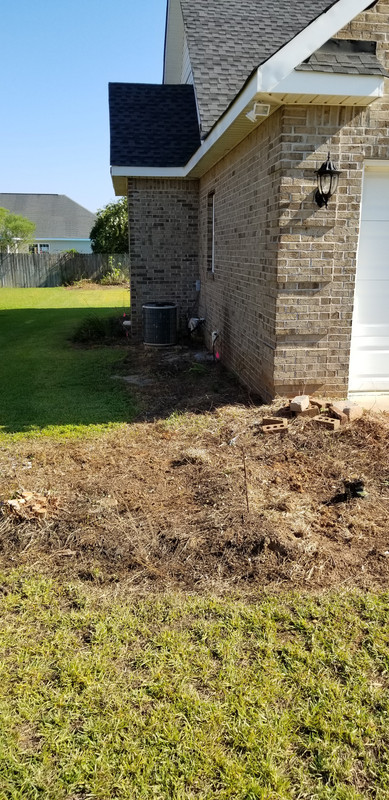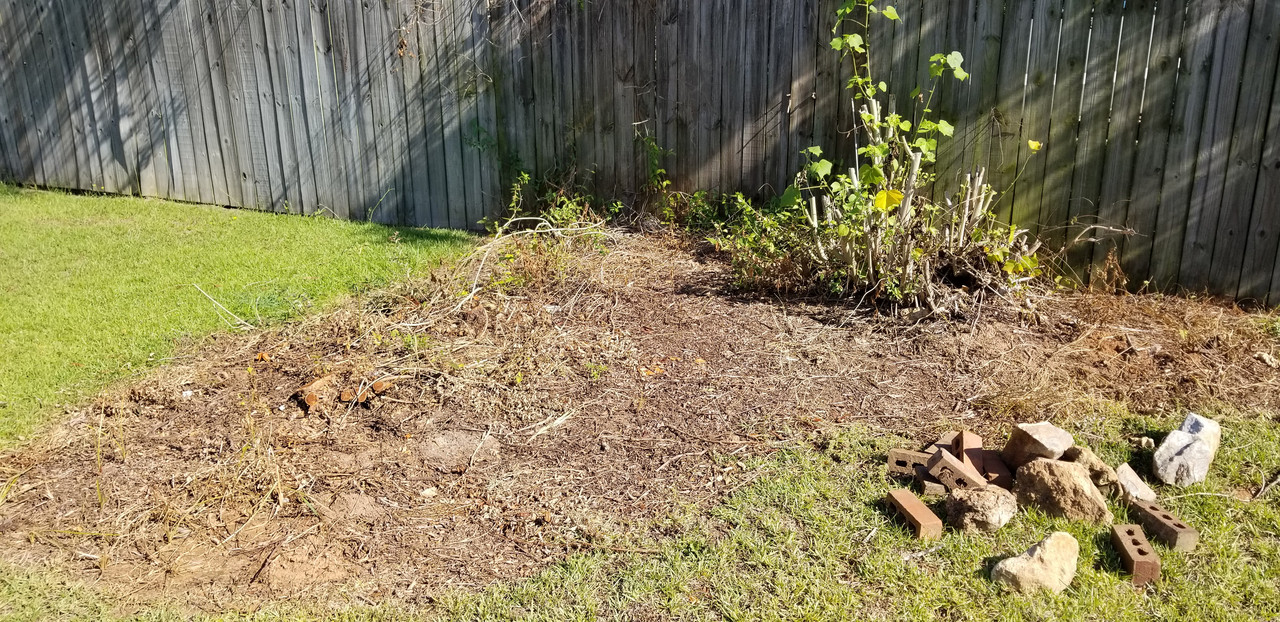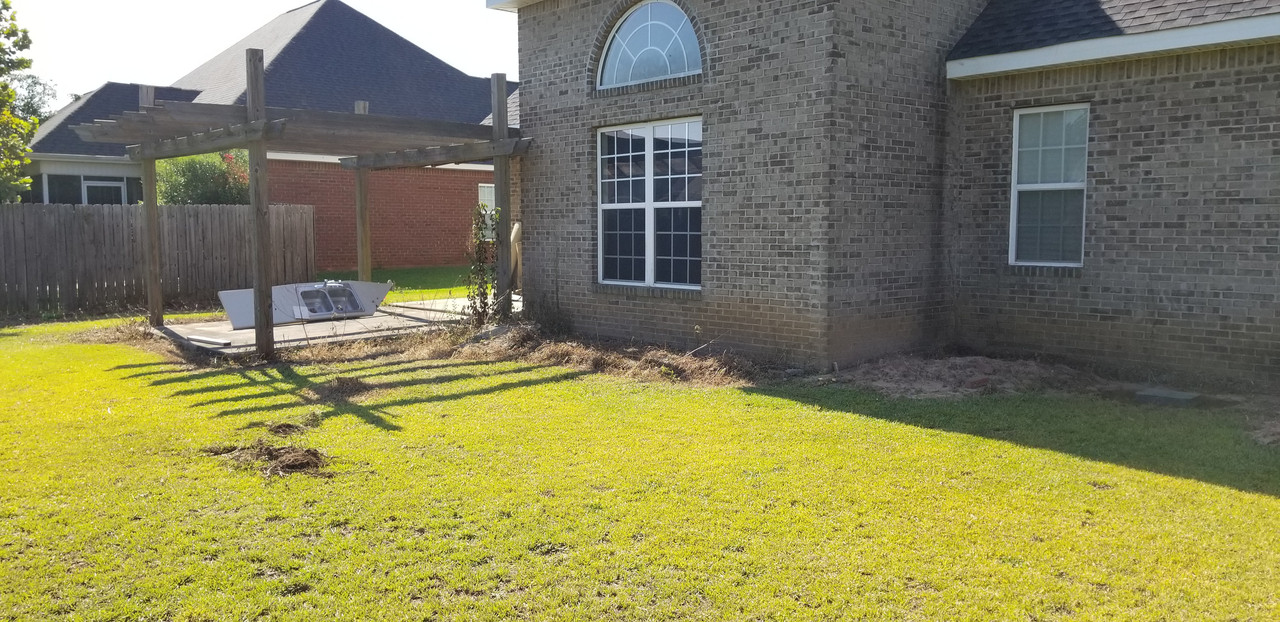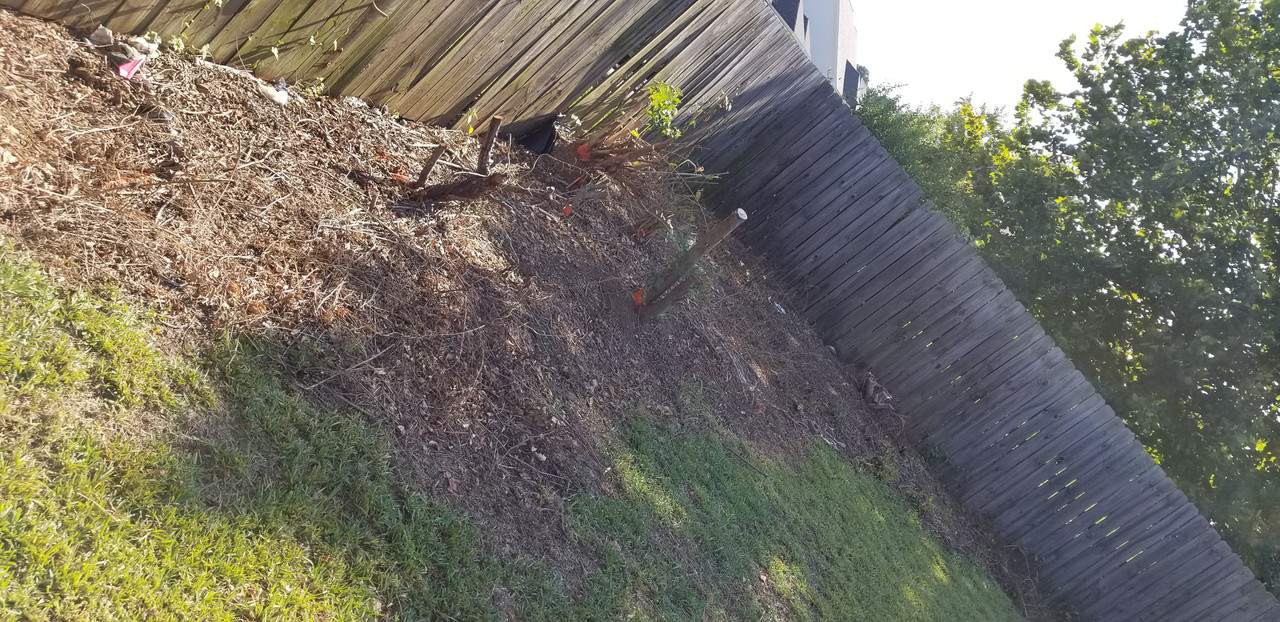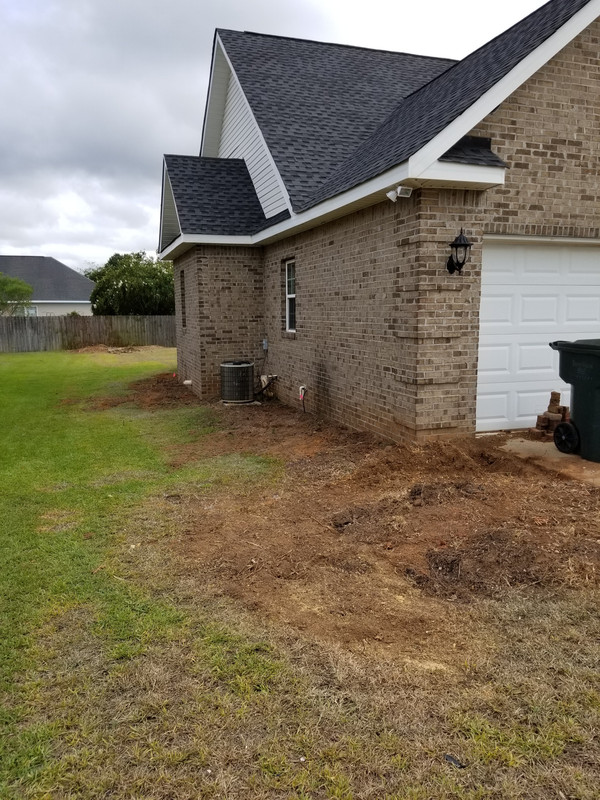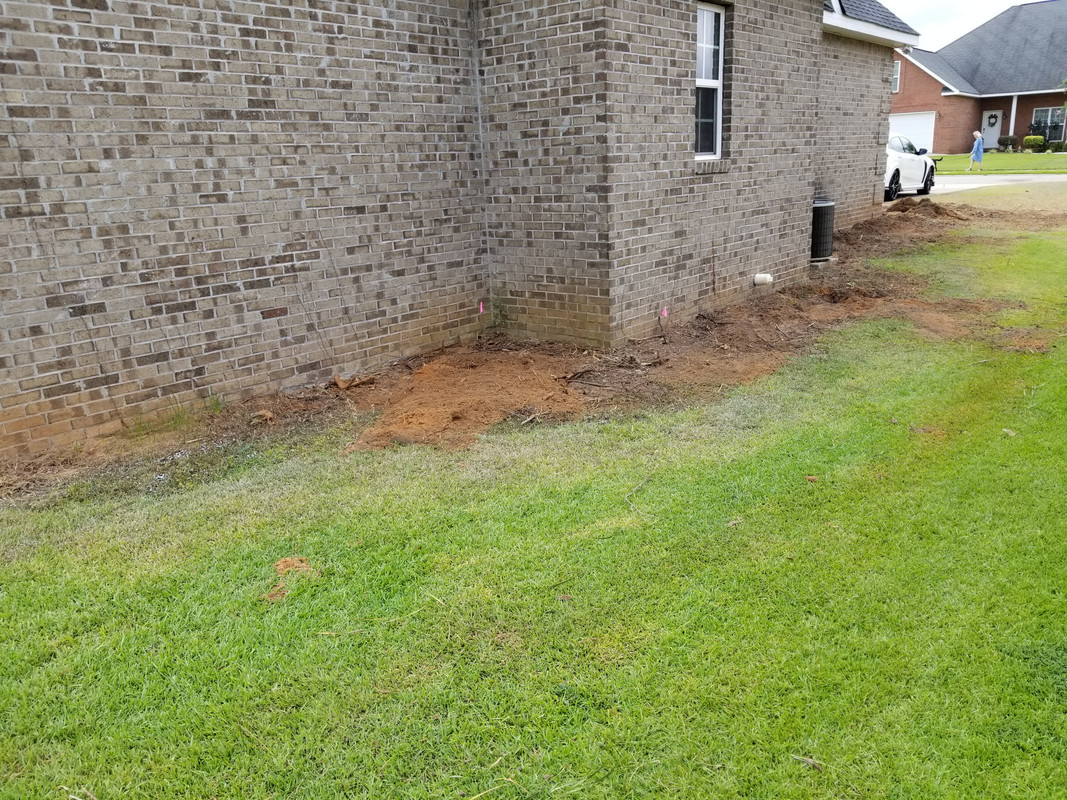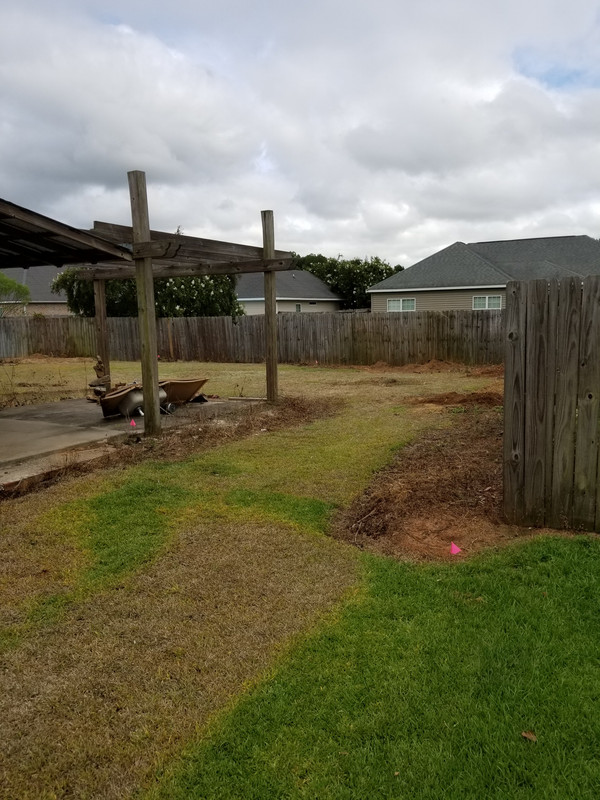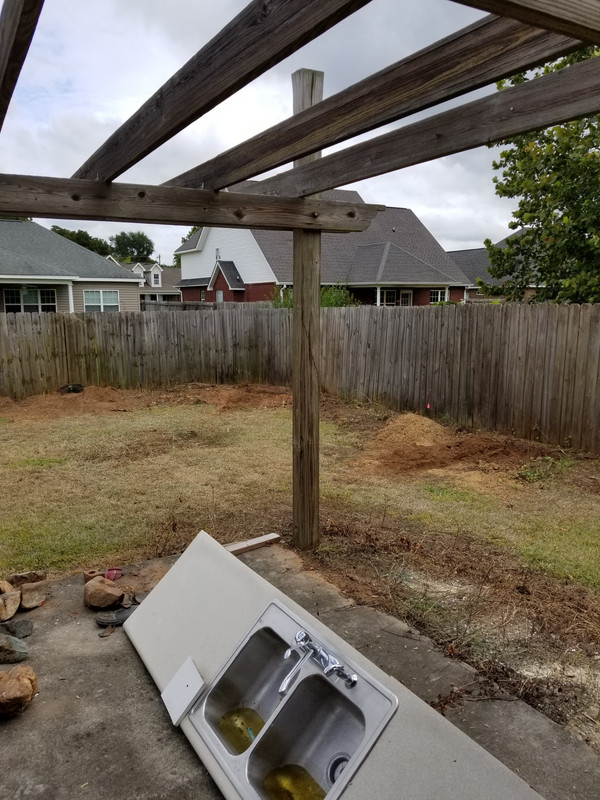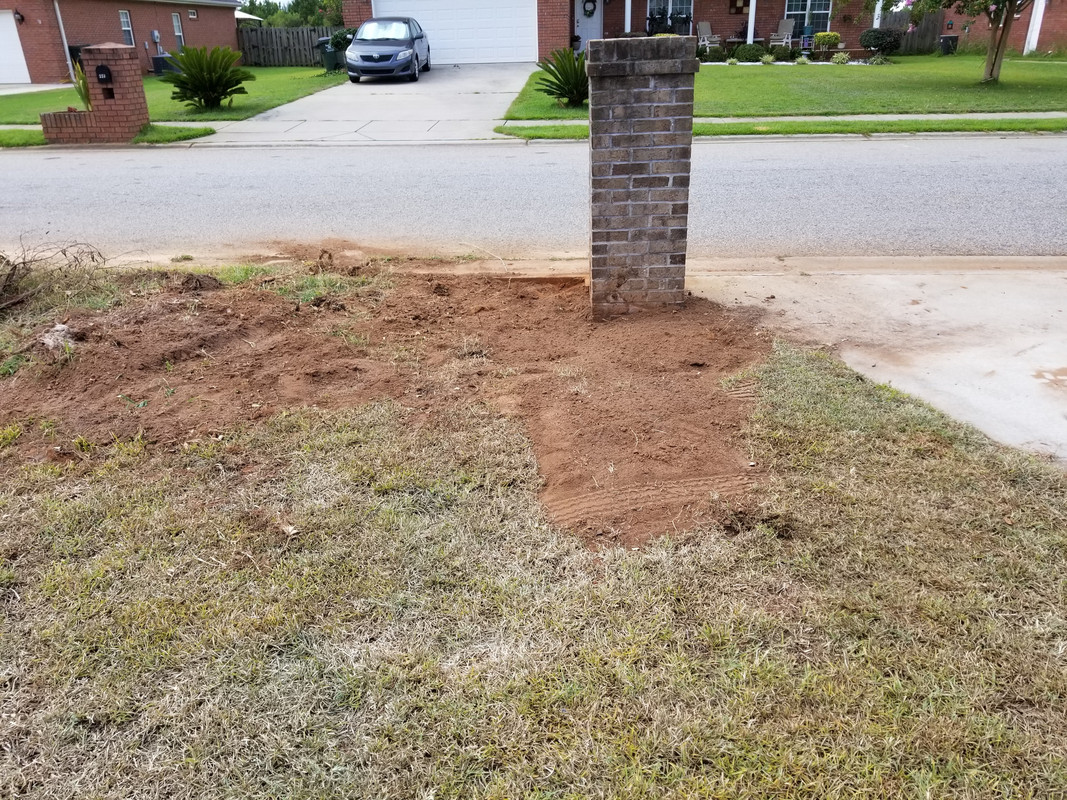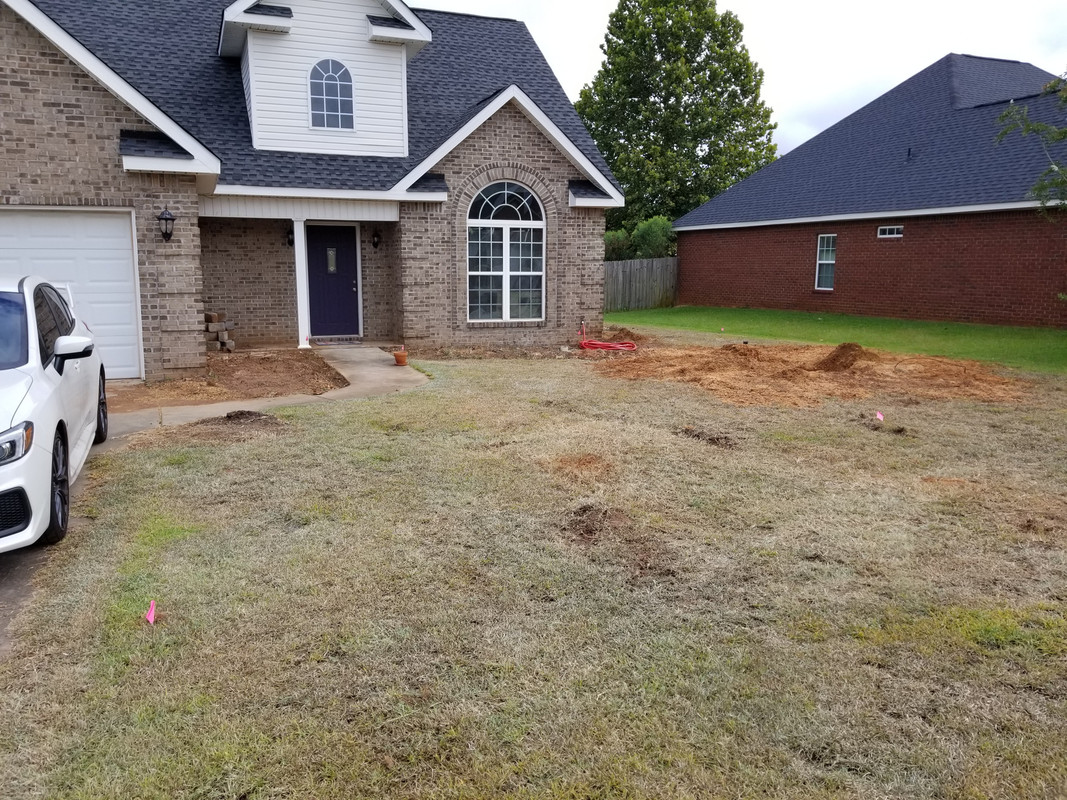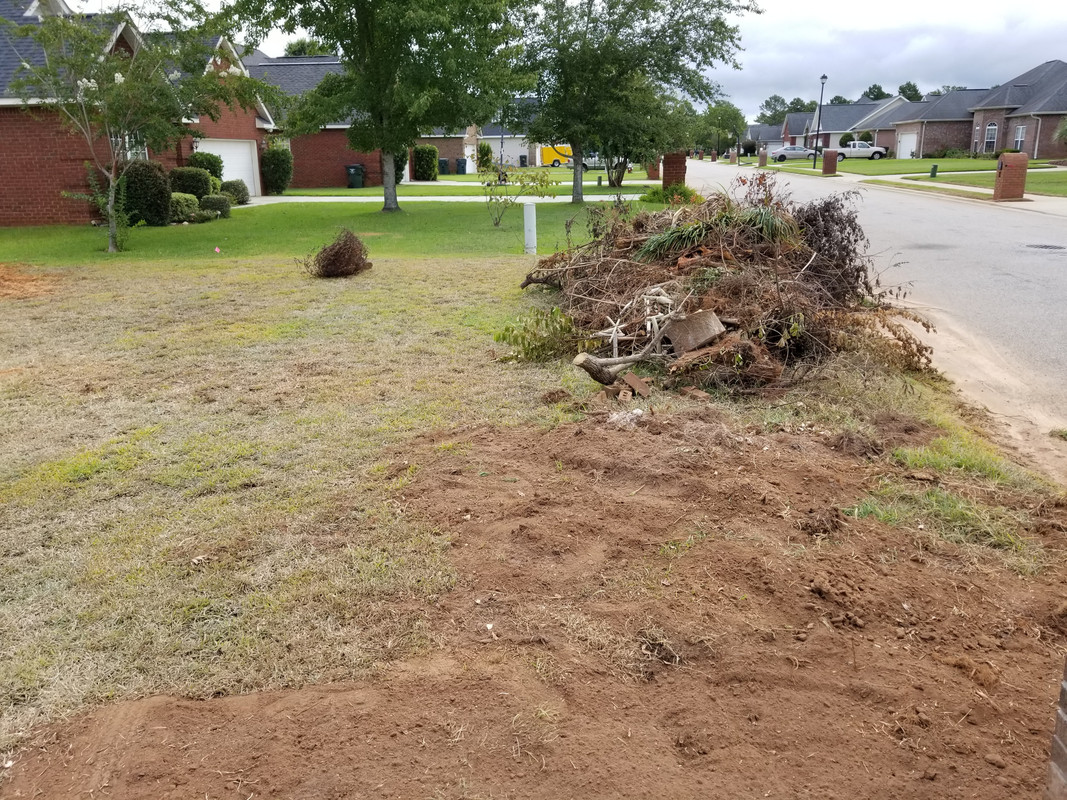 Cleaned and gravel added to sprinkler valve box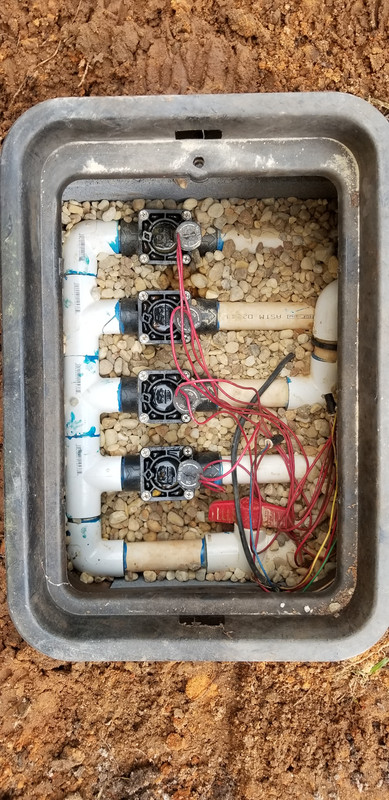 September 2019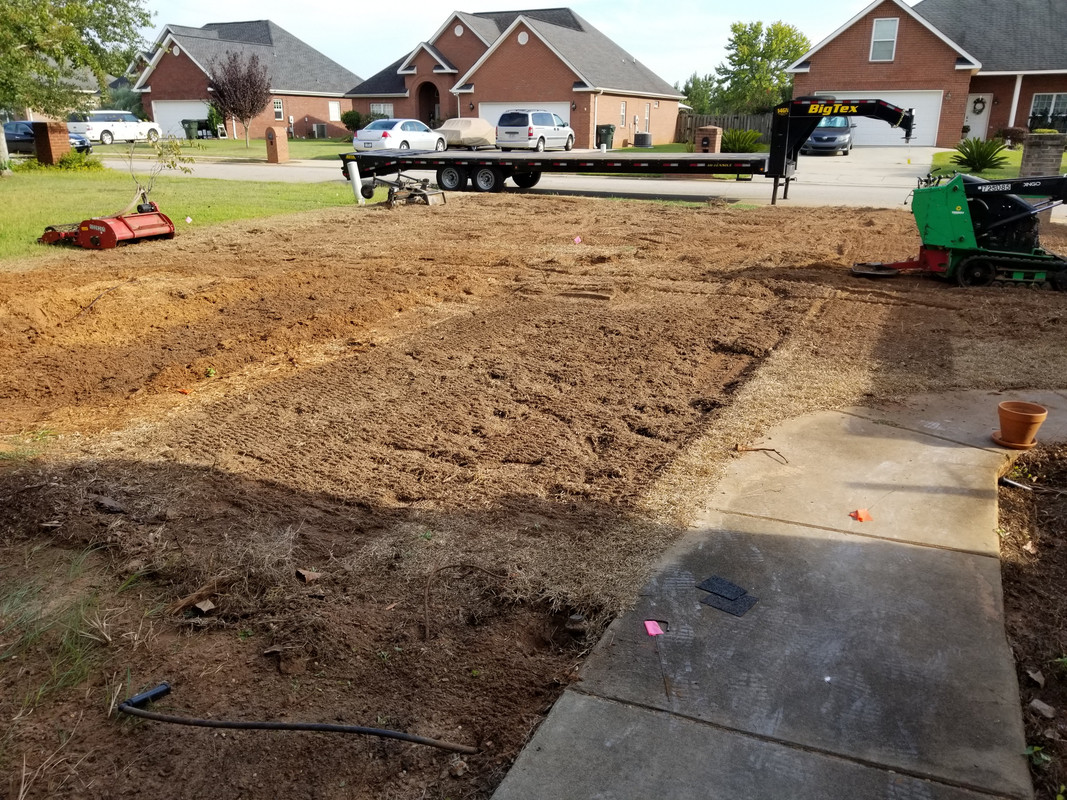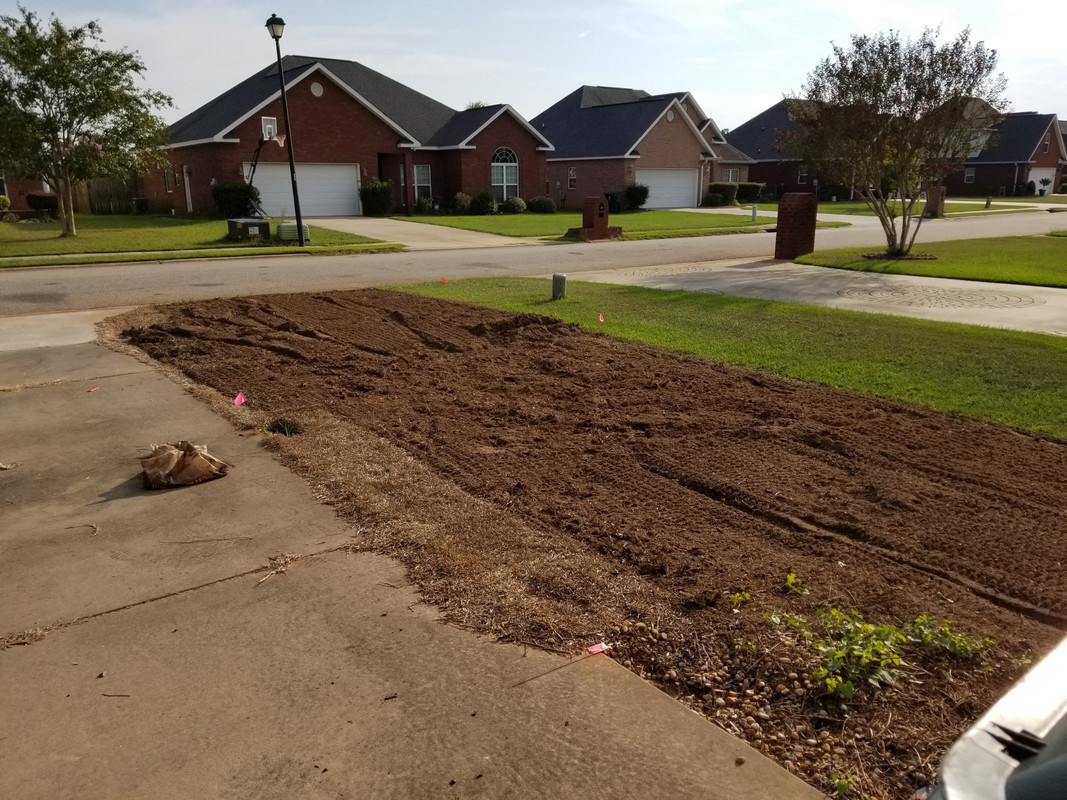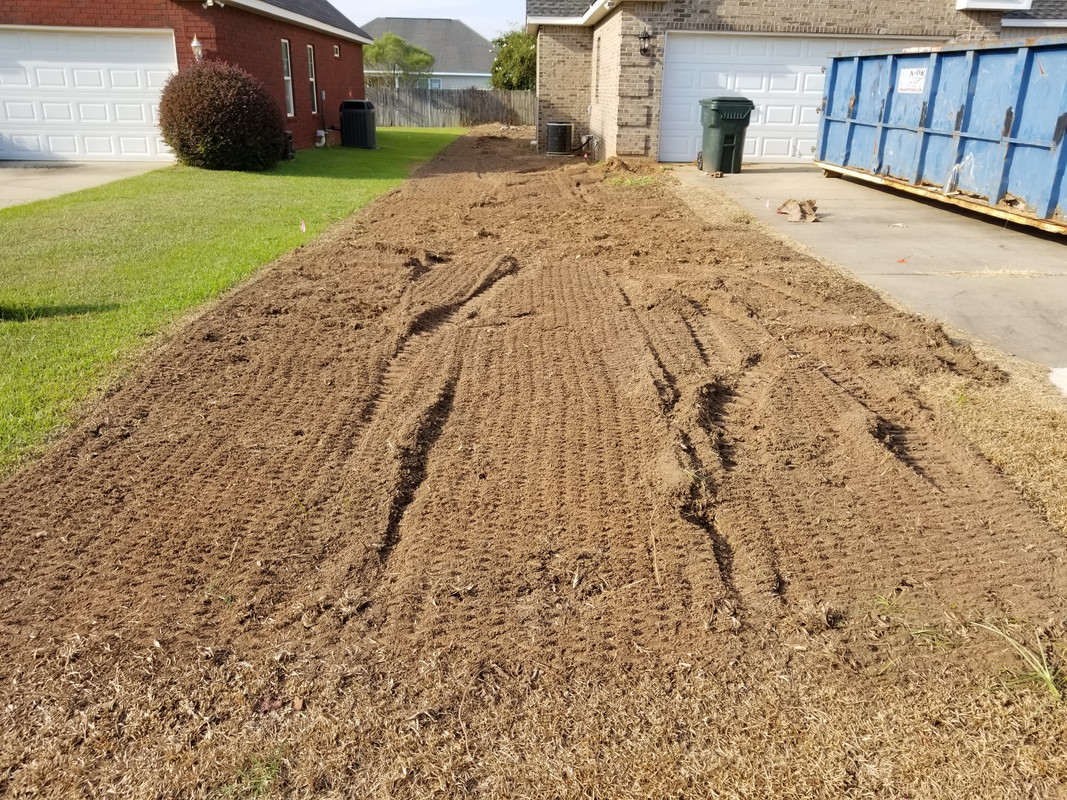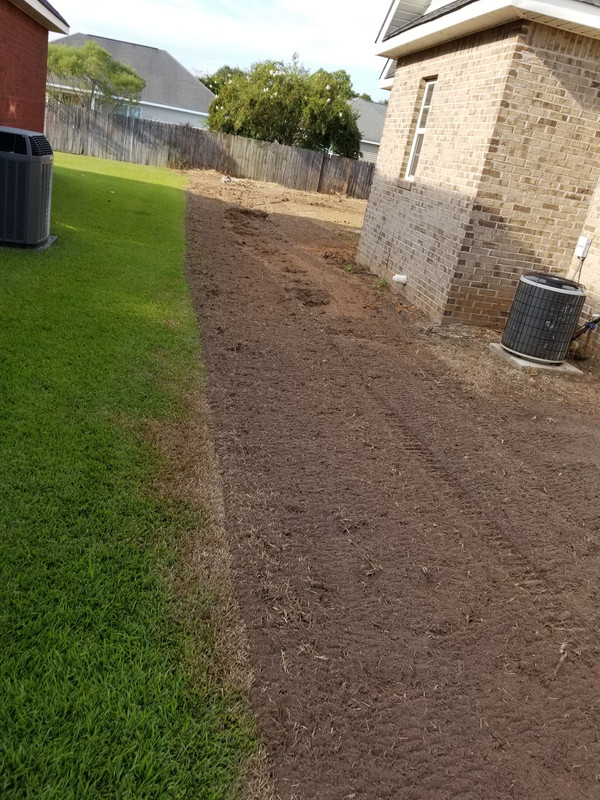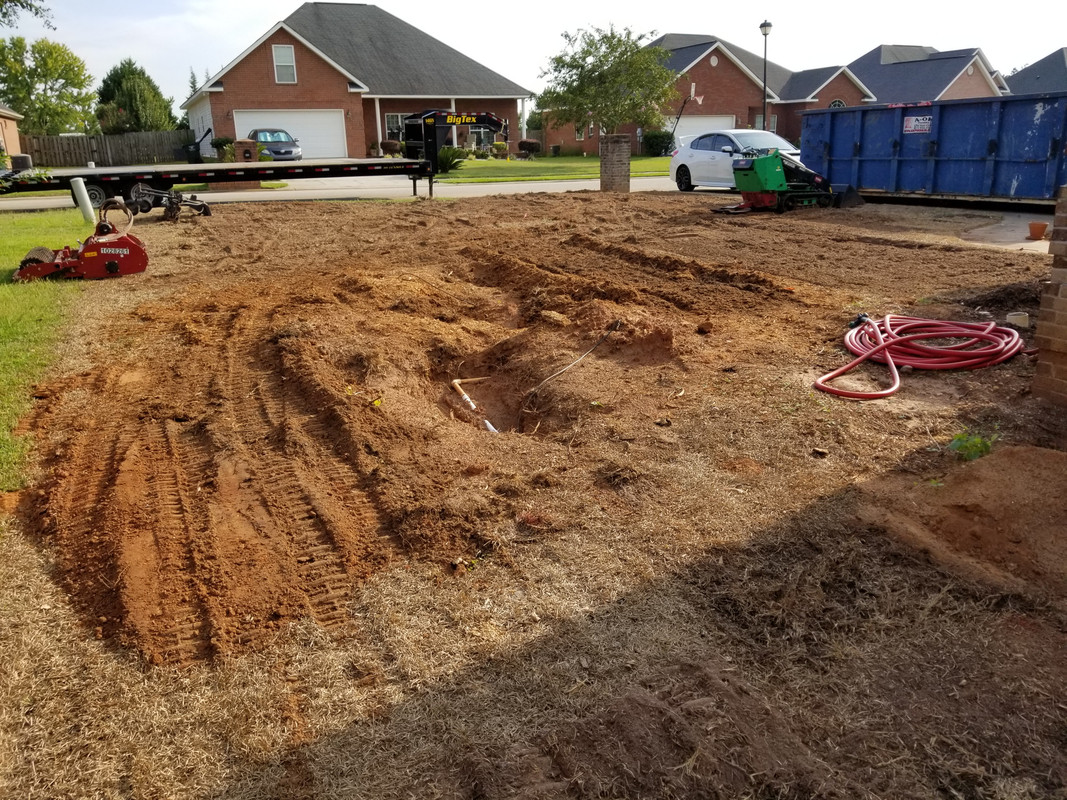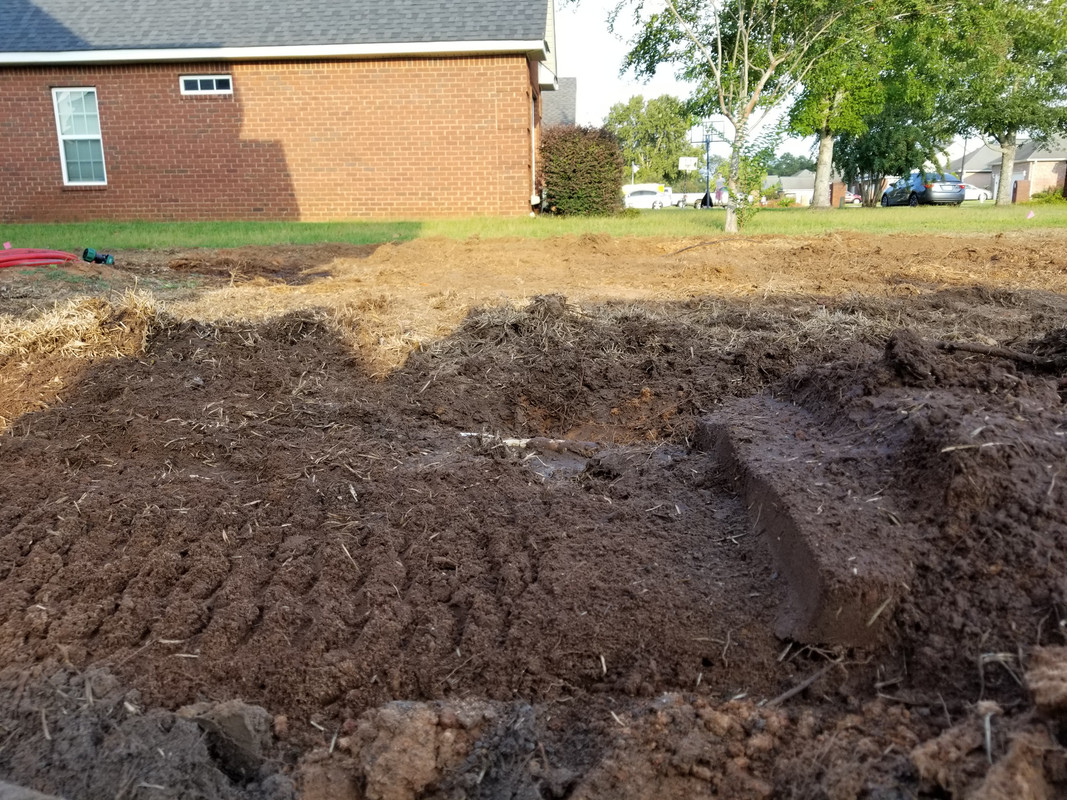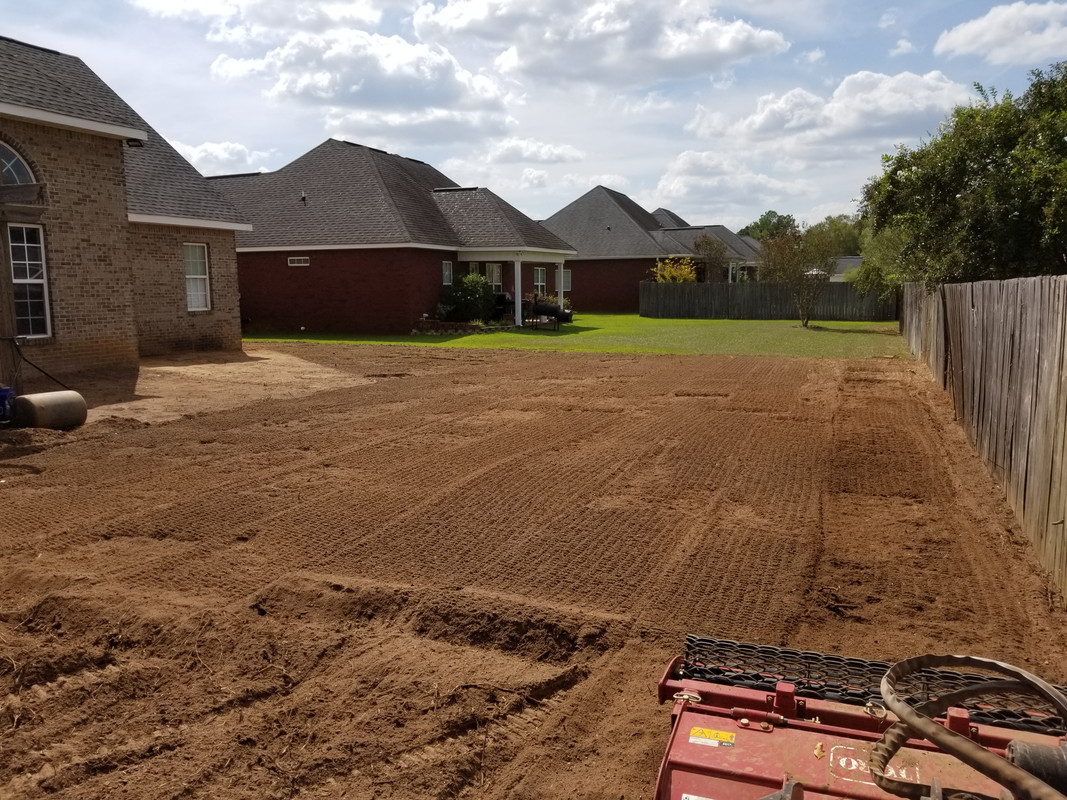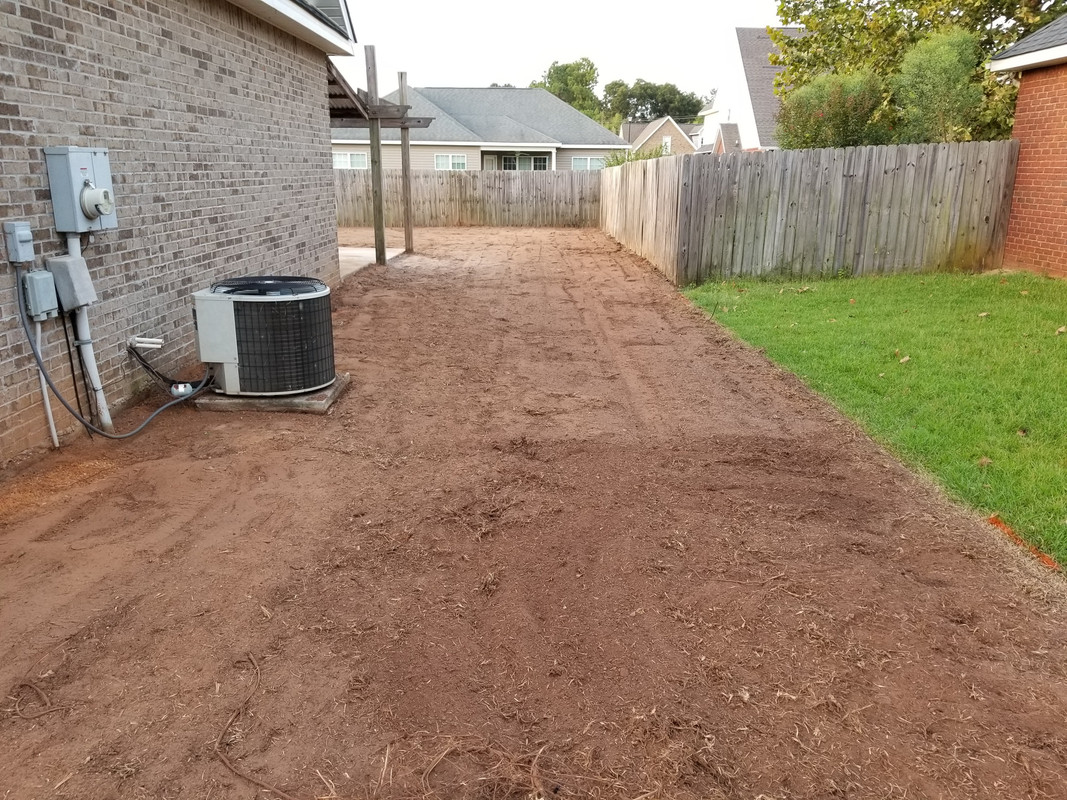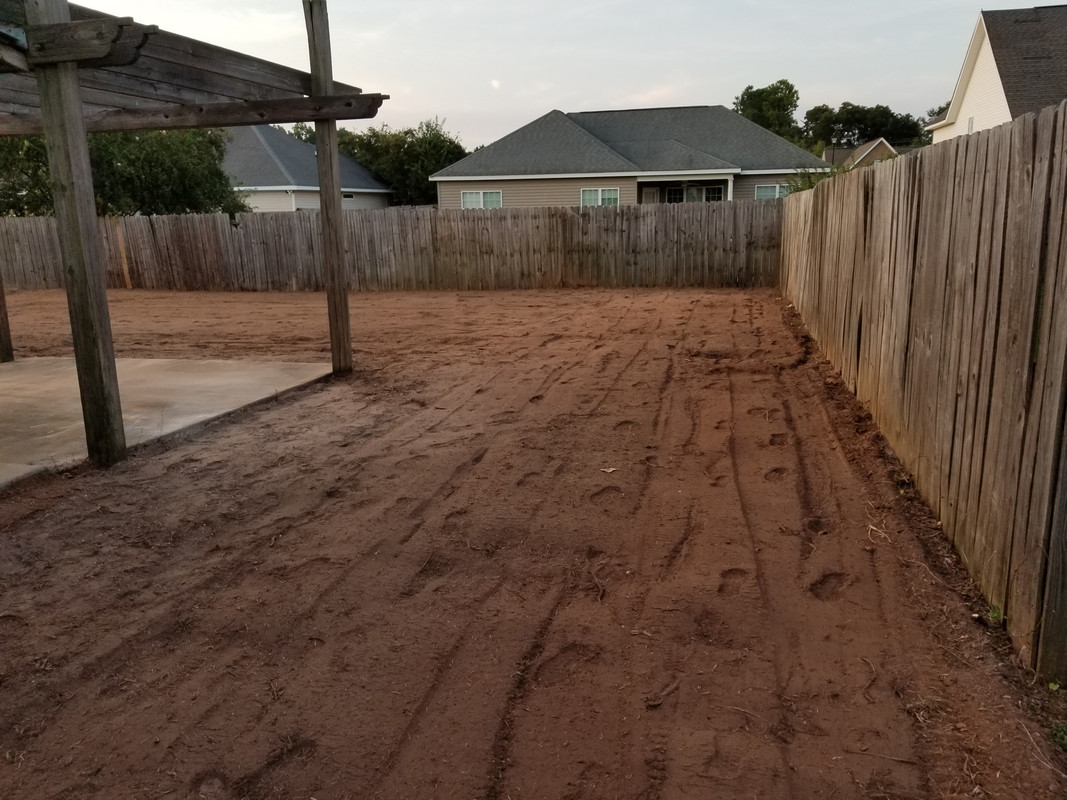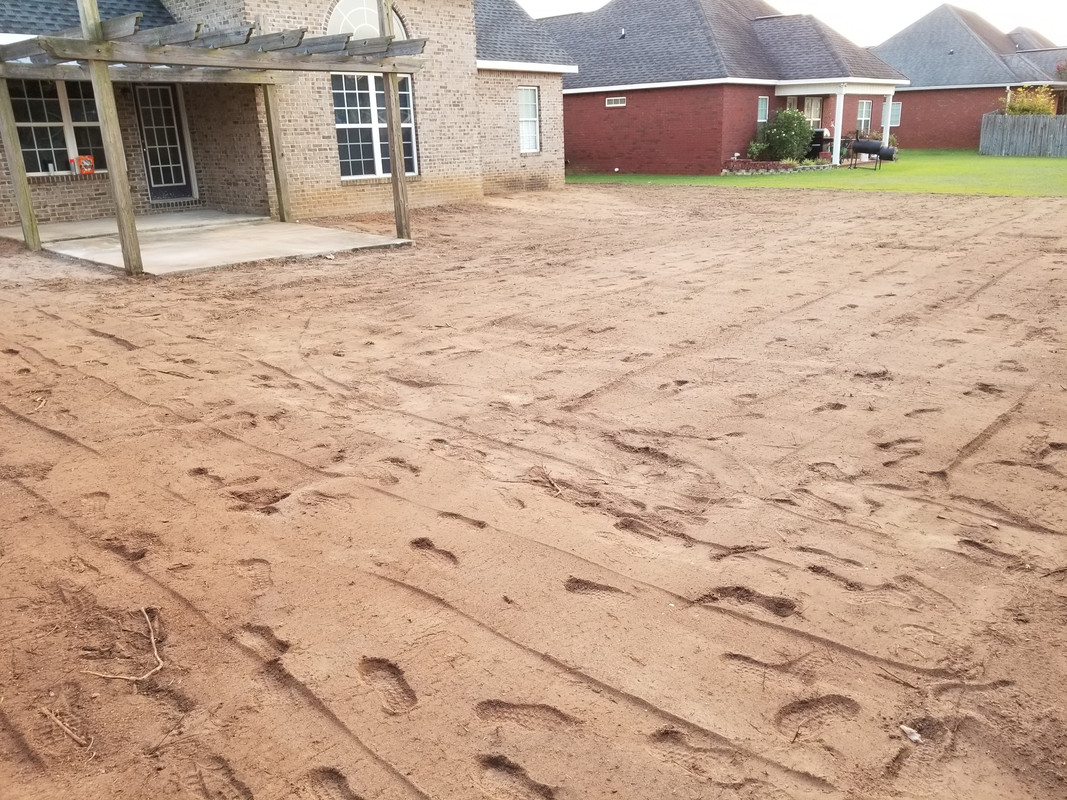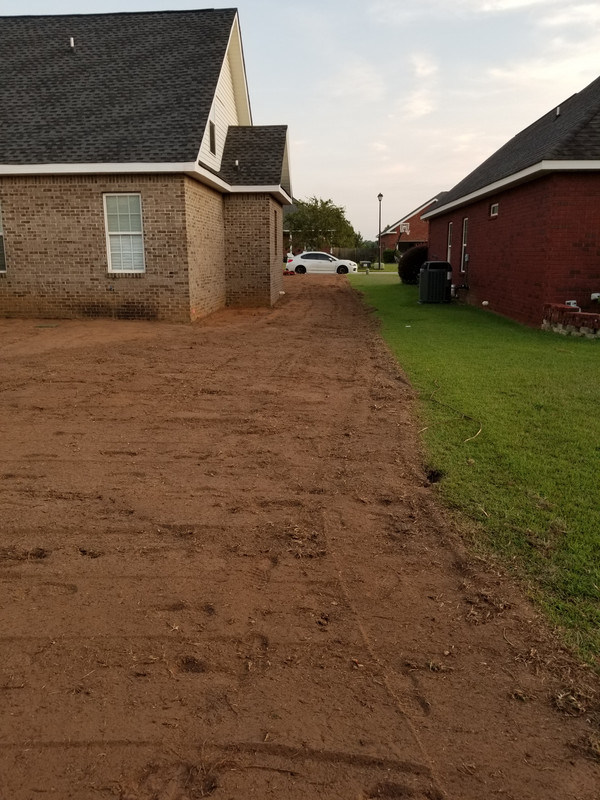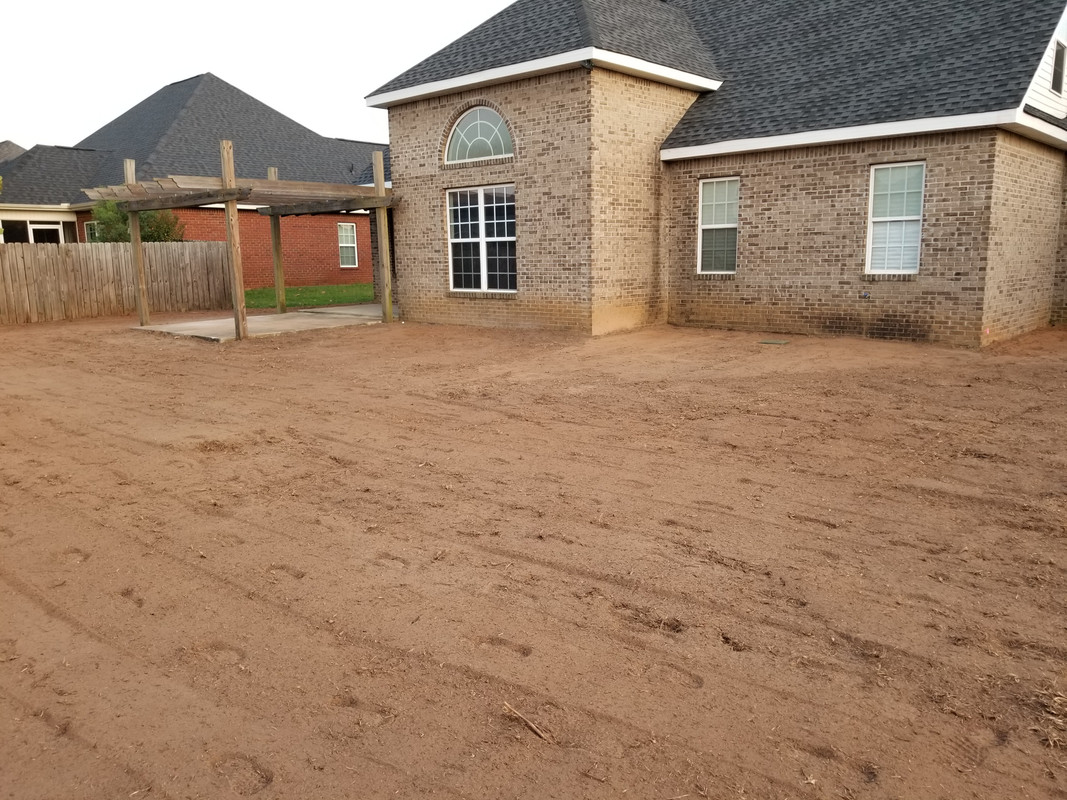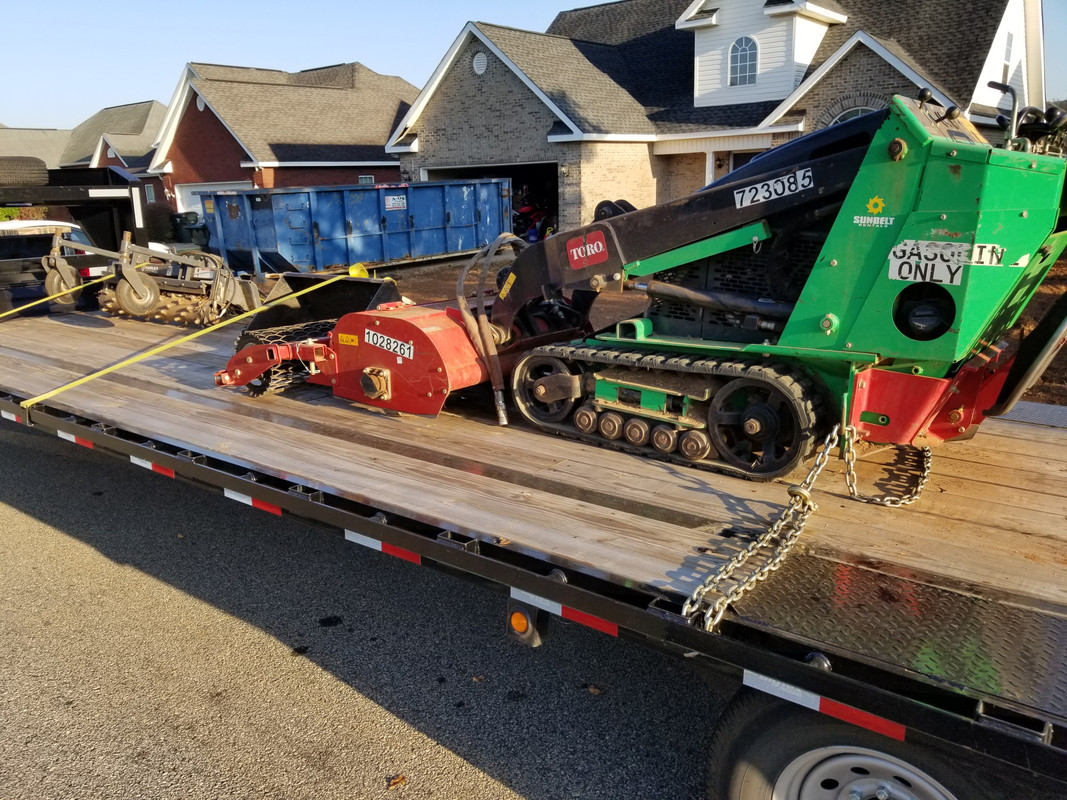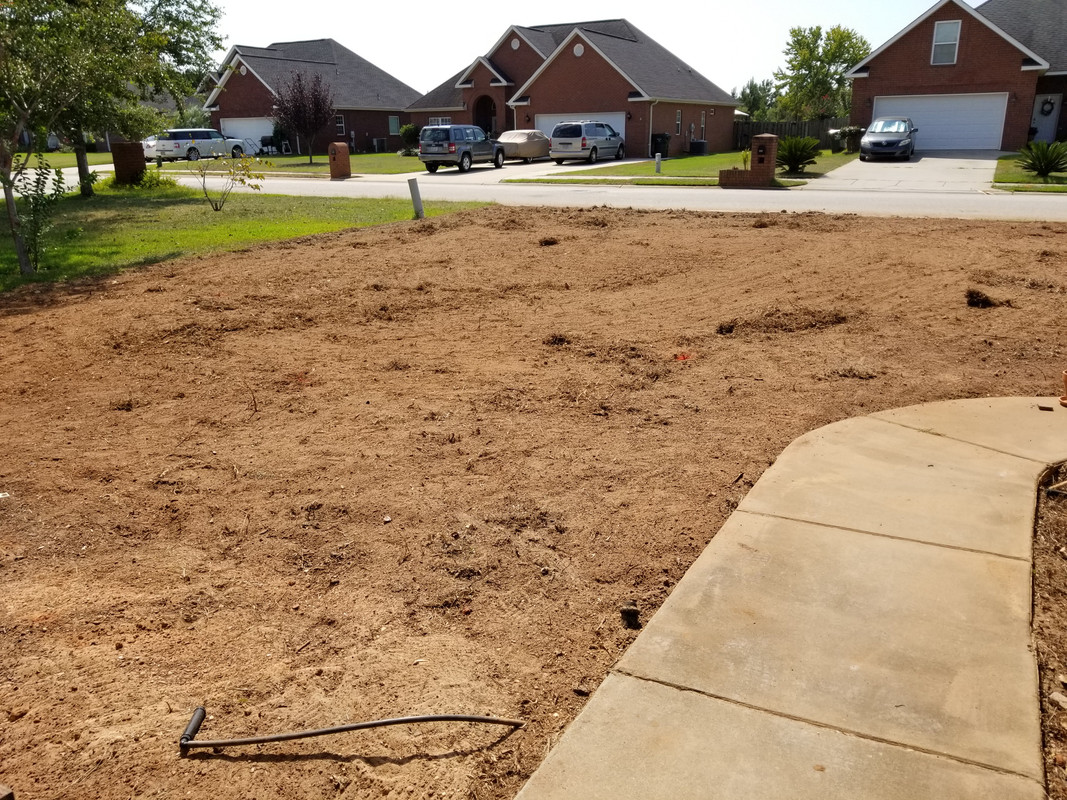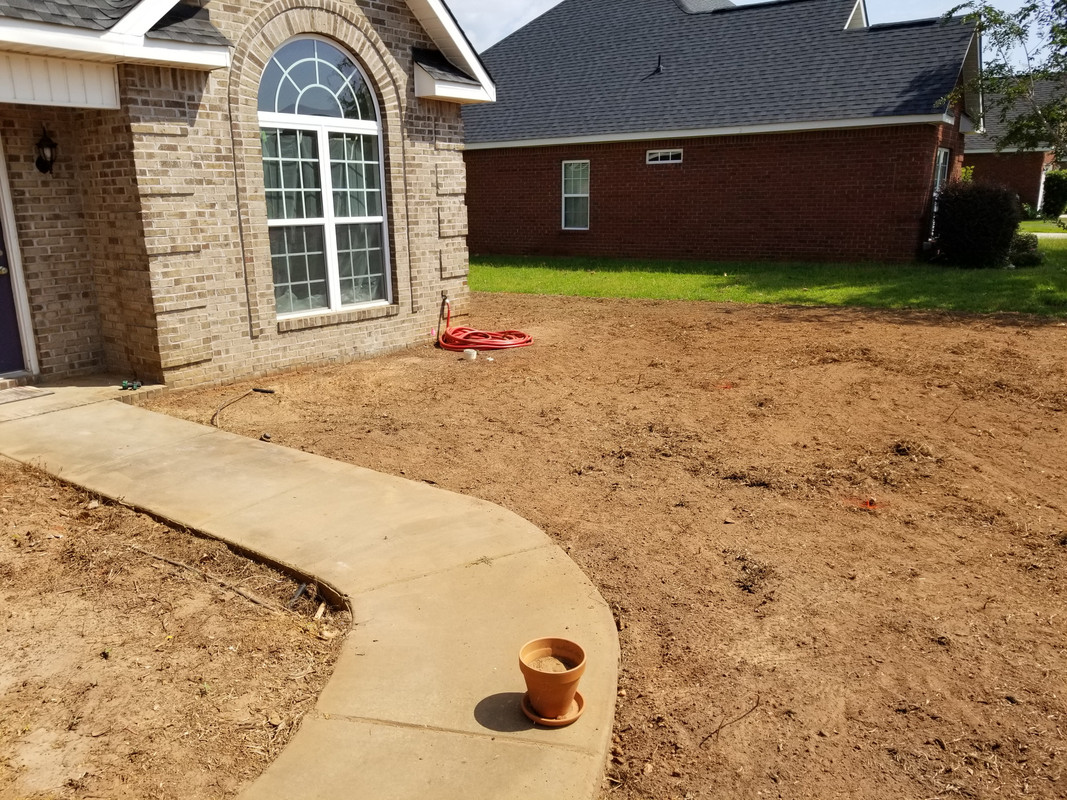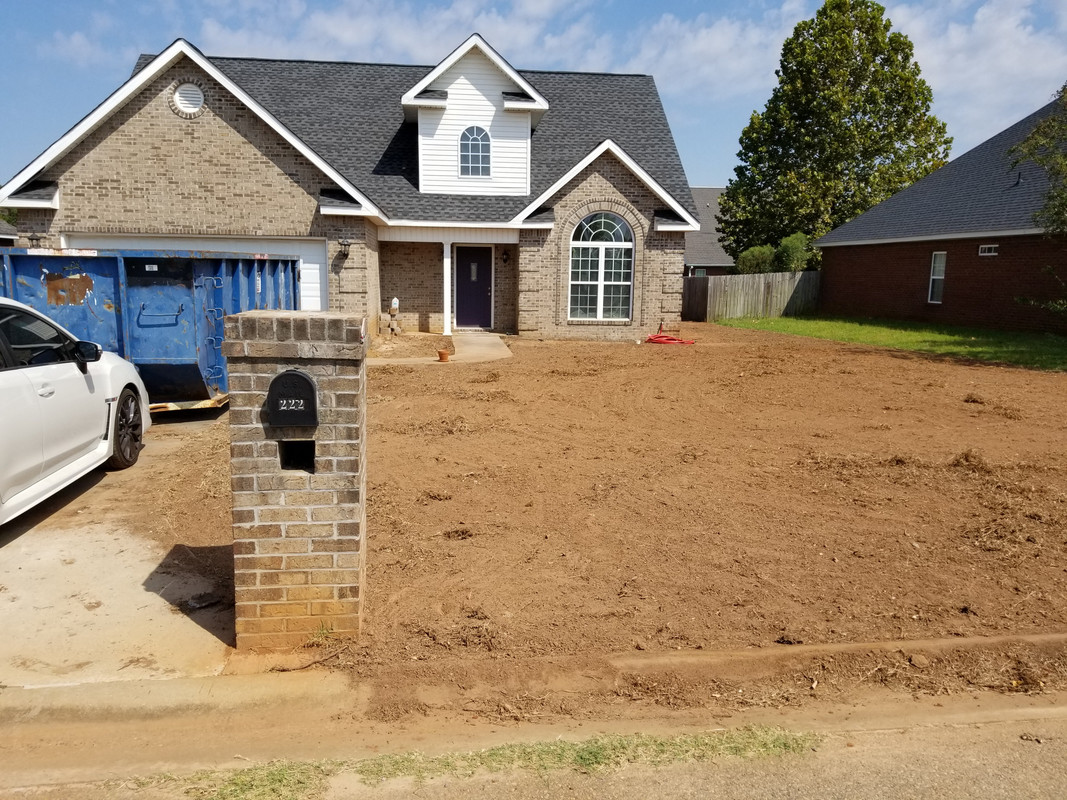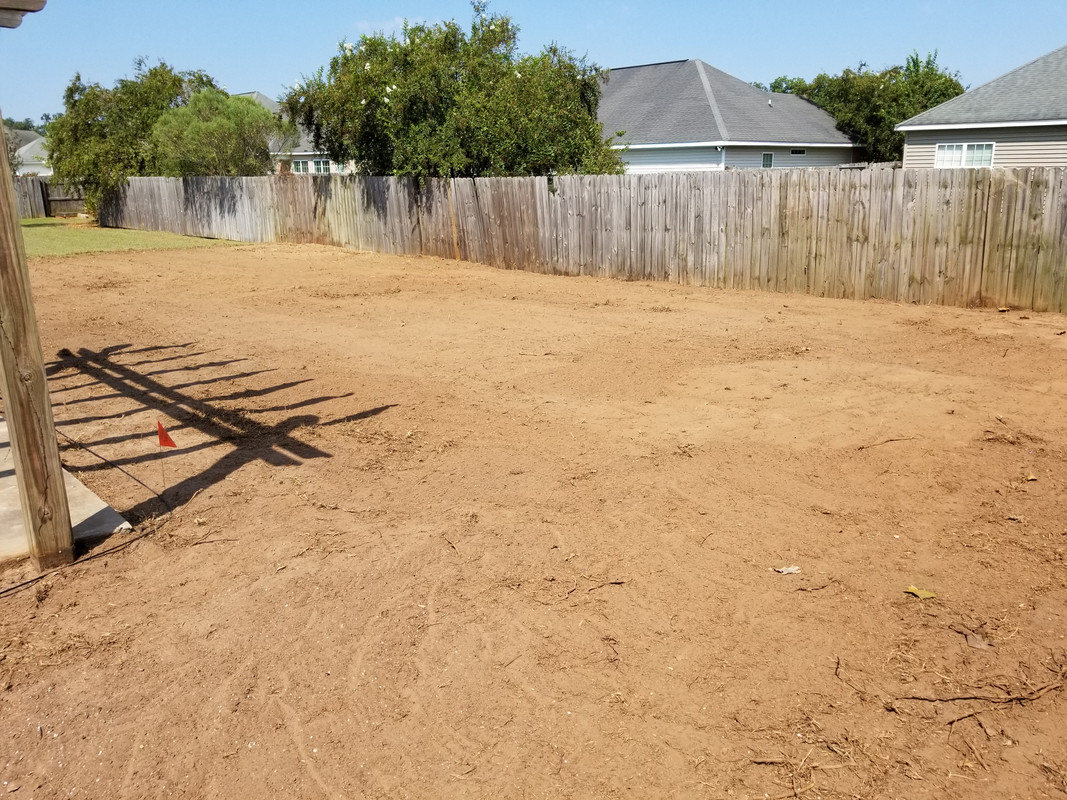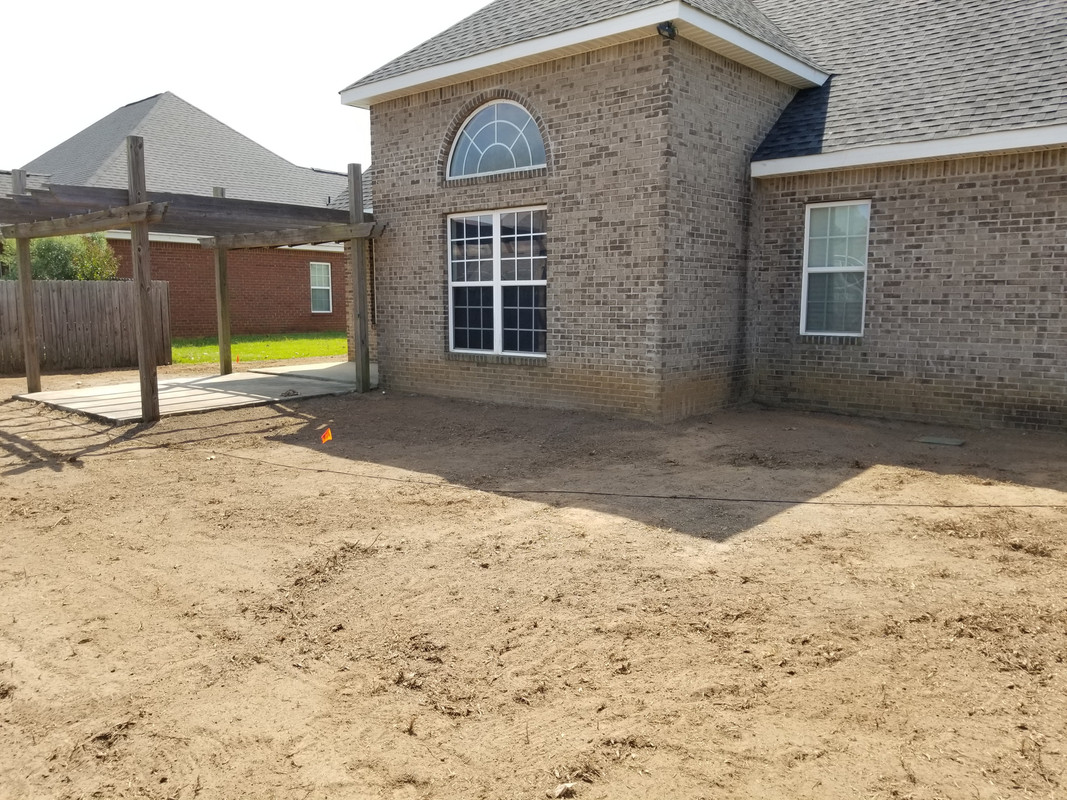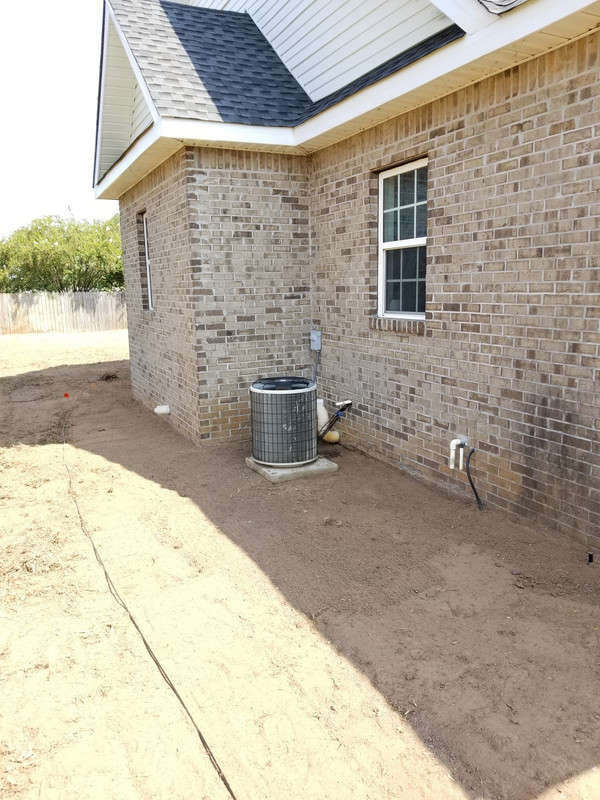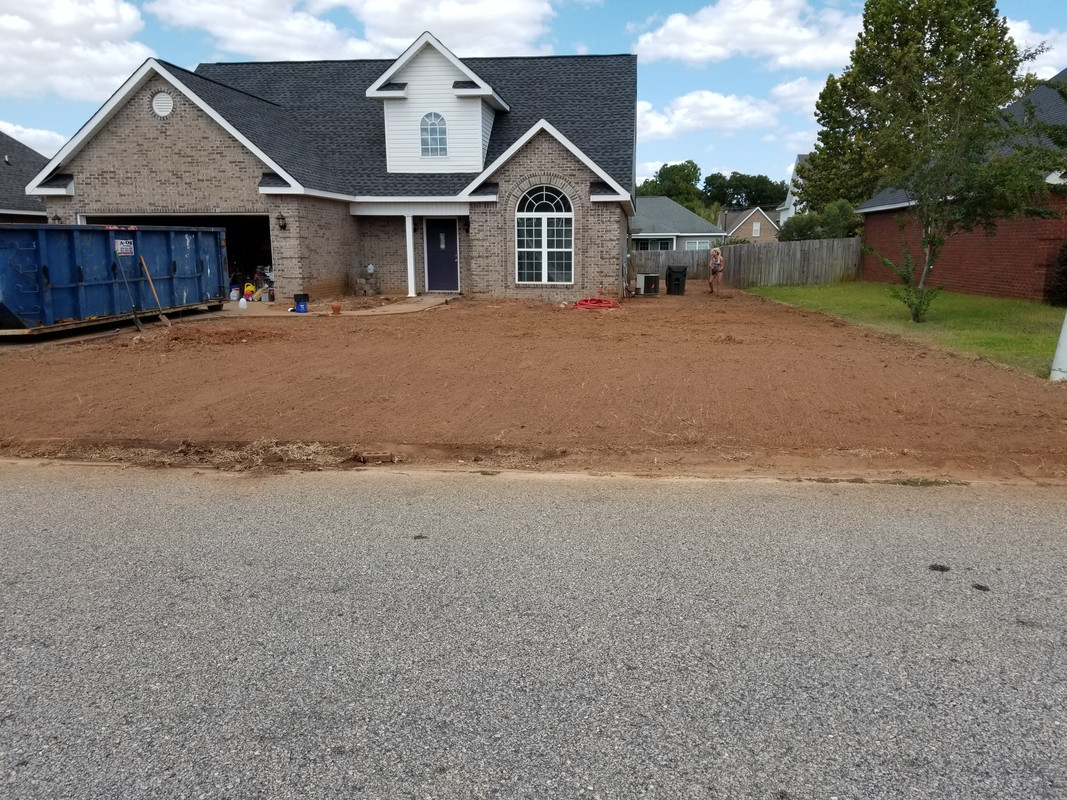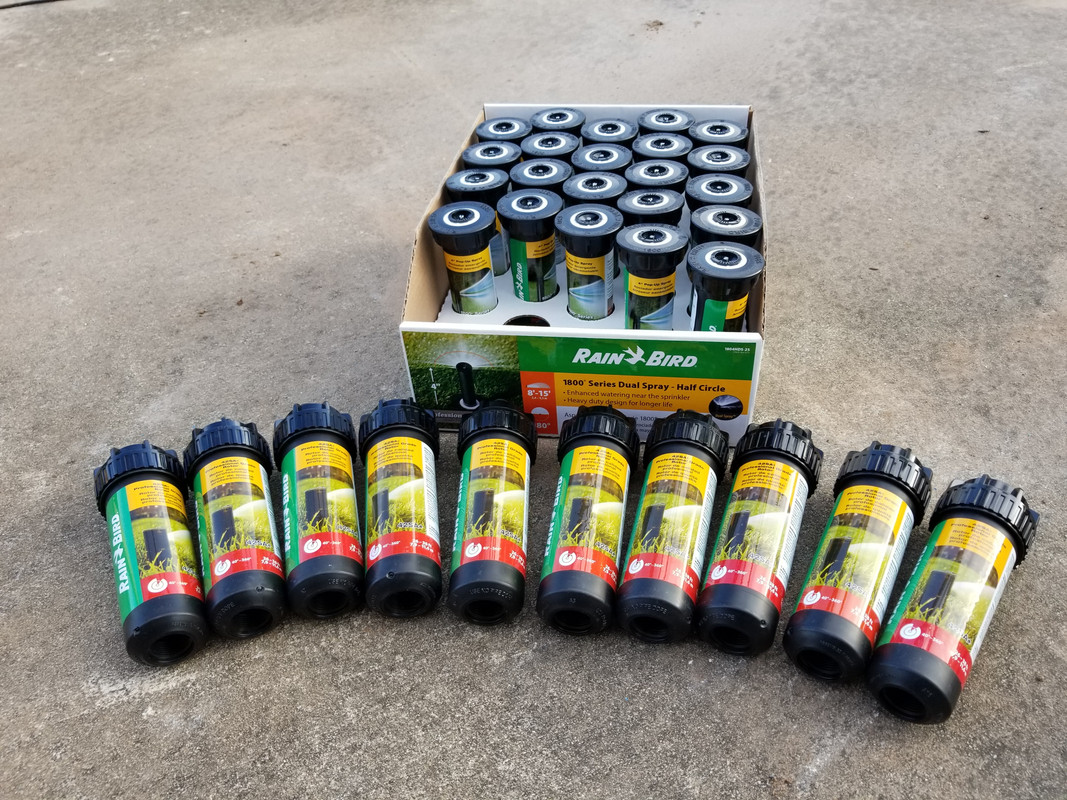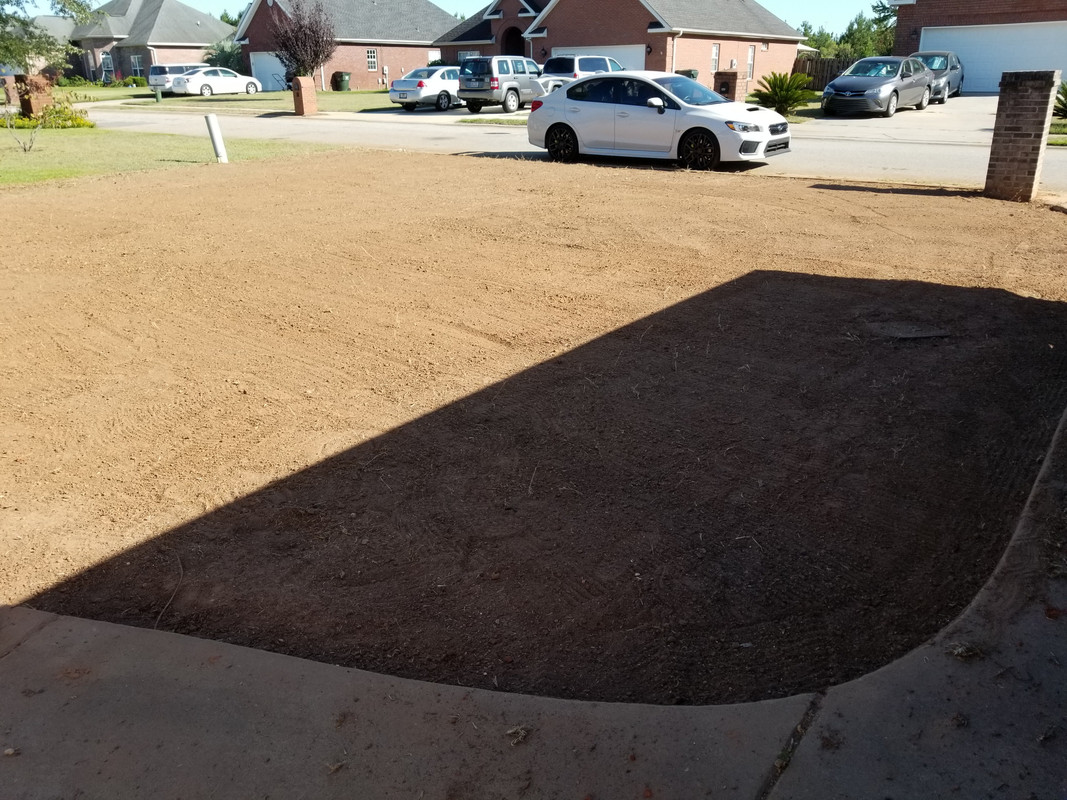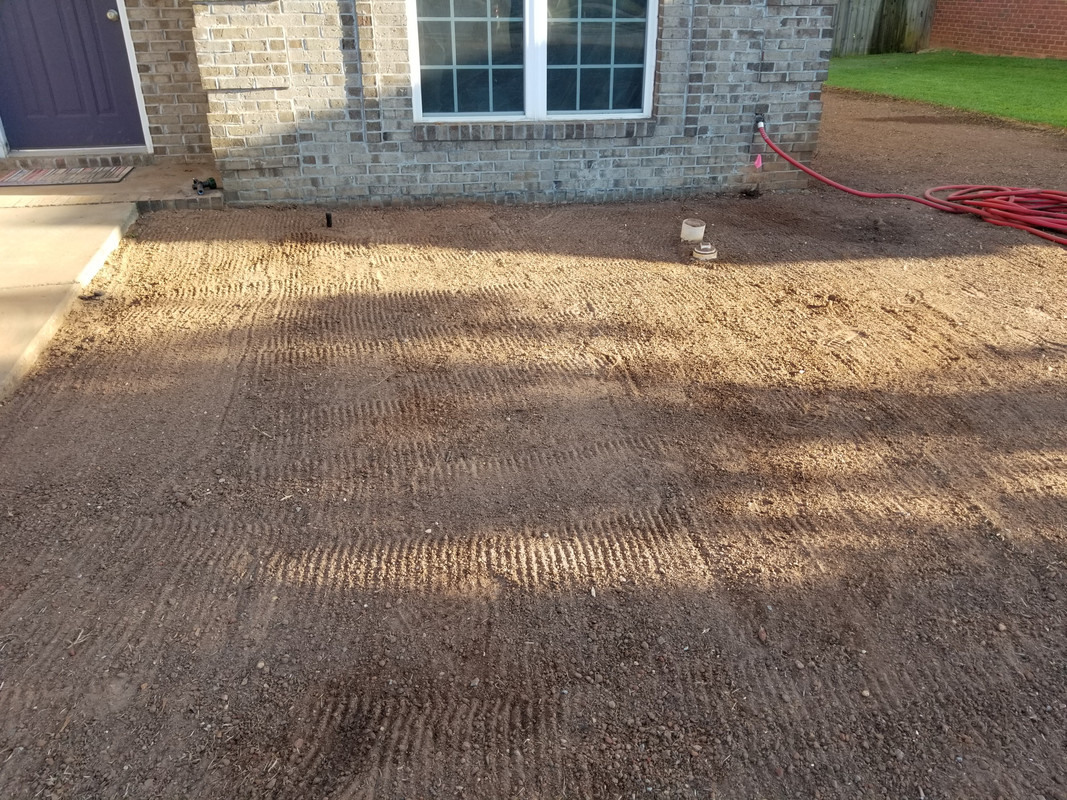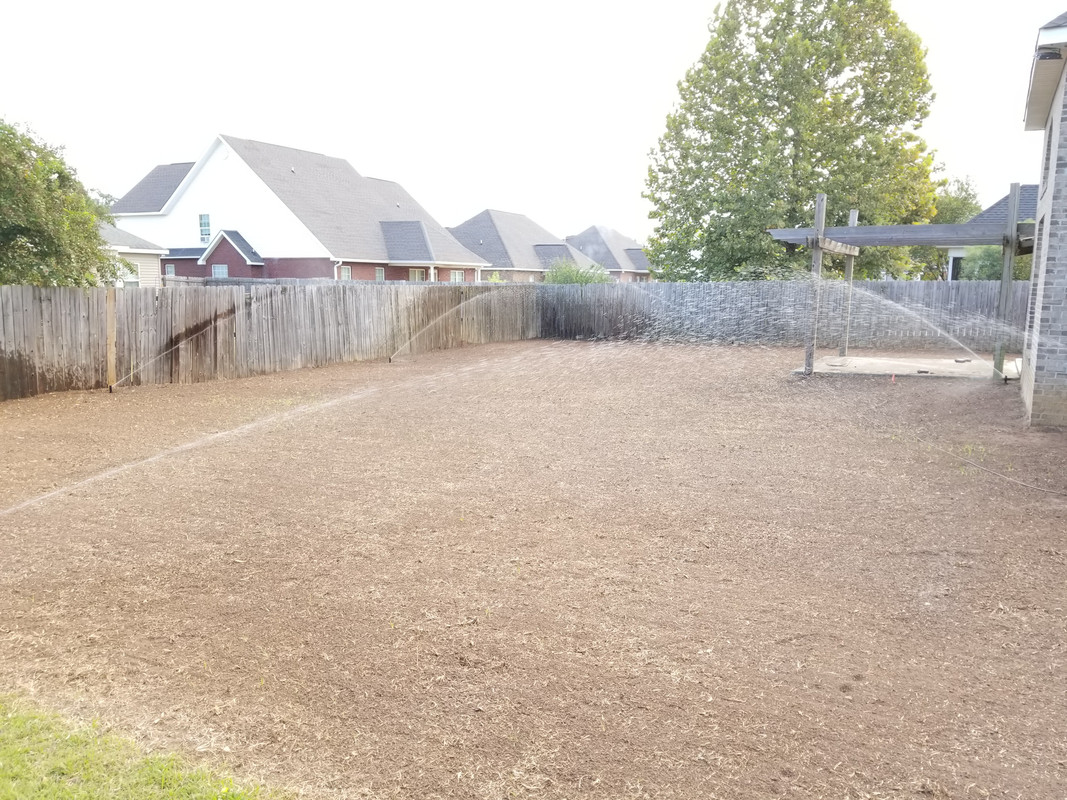 October 2019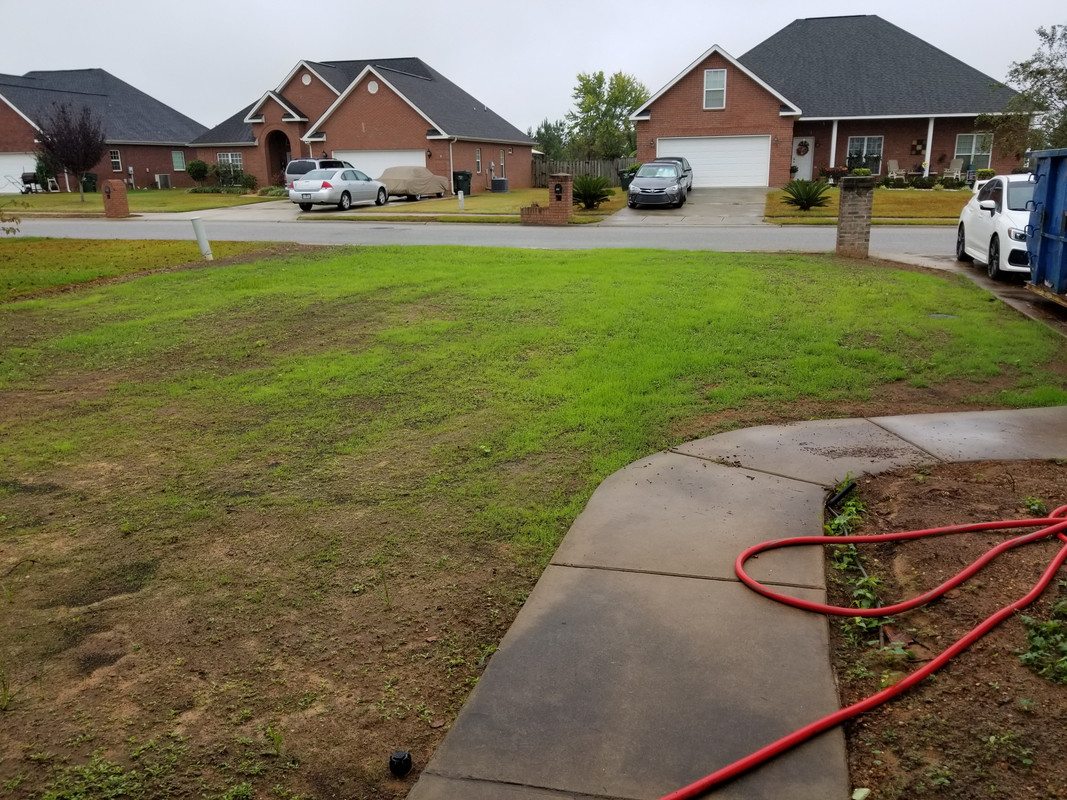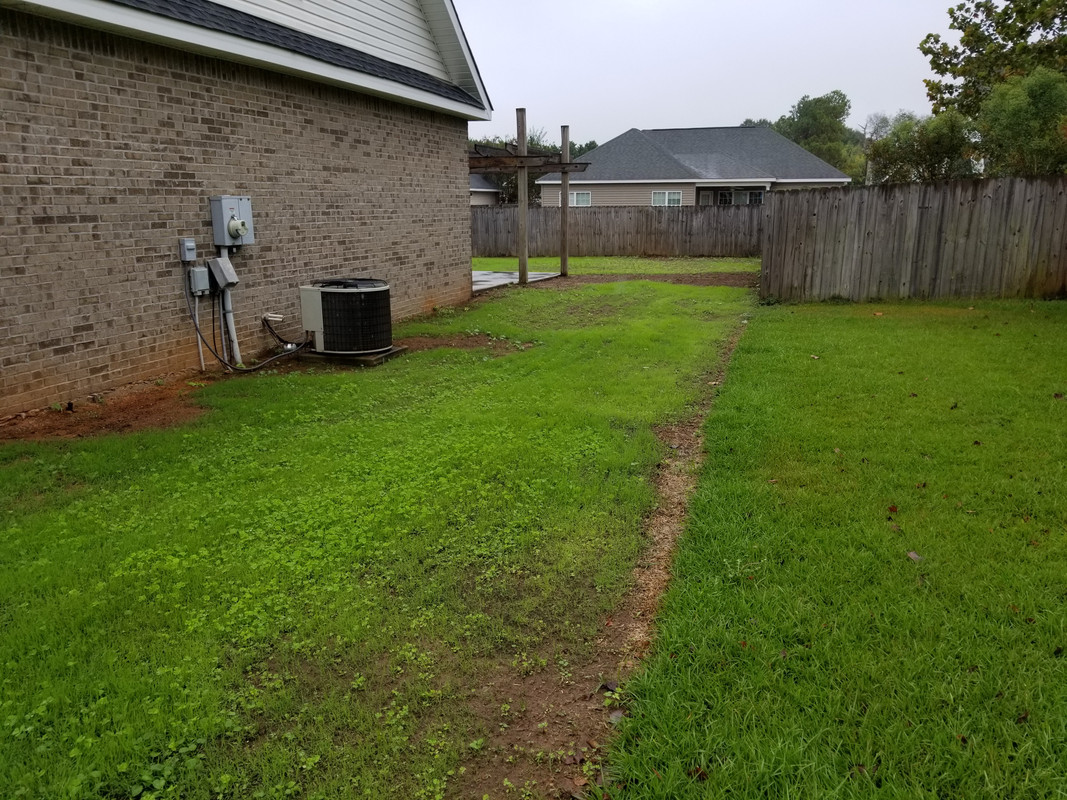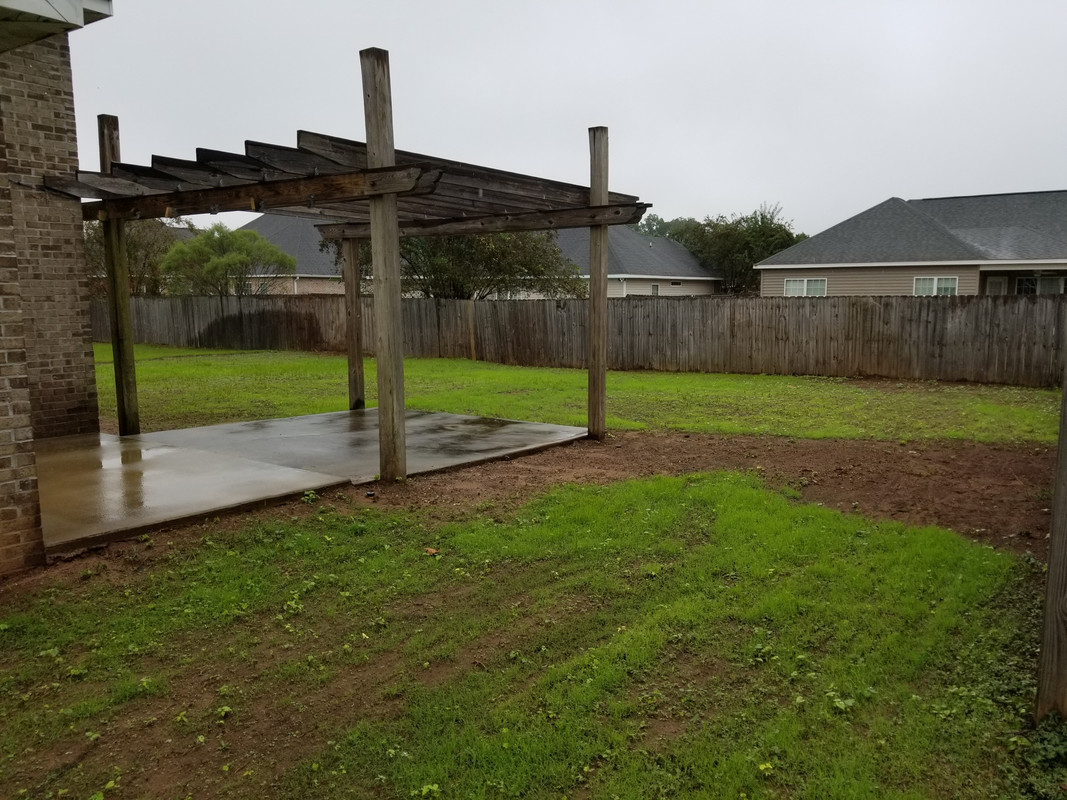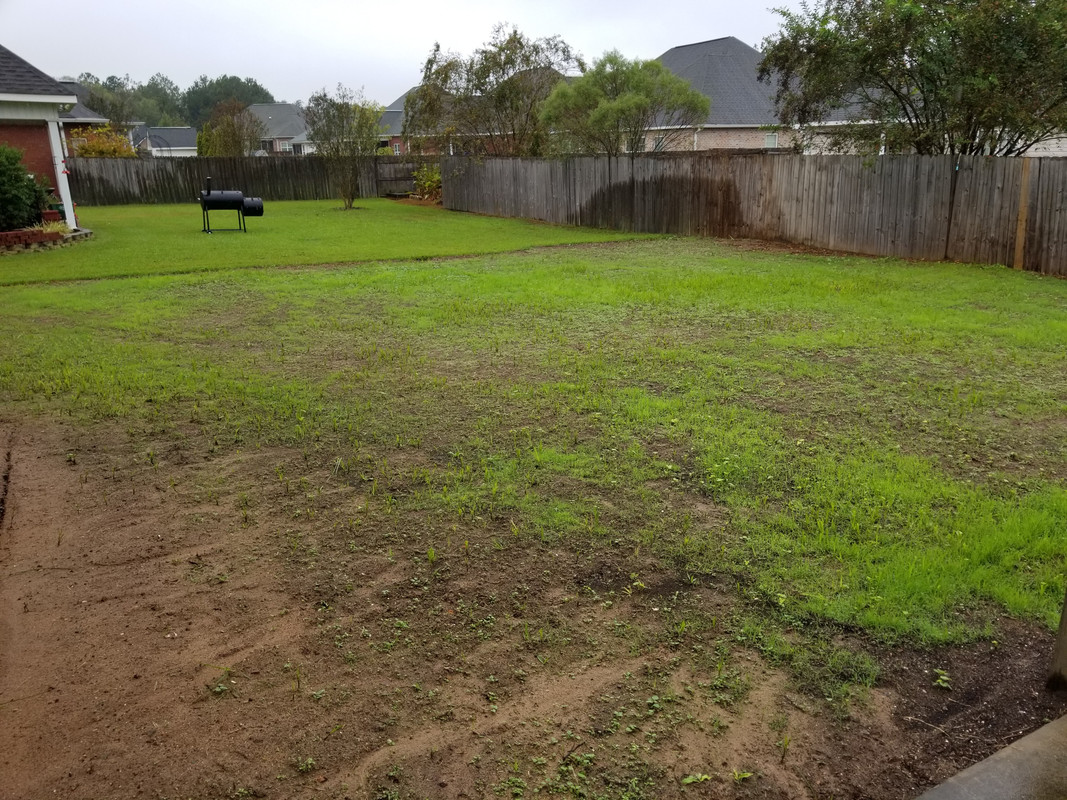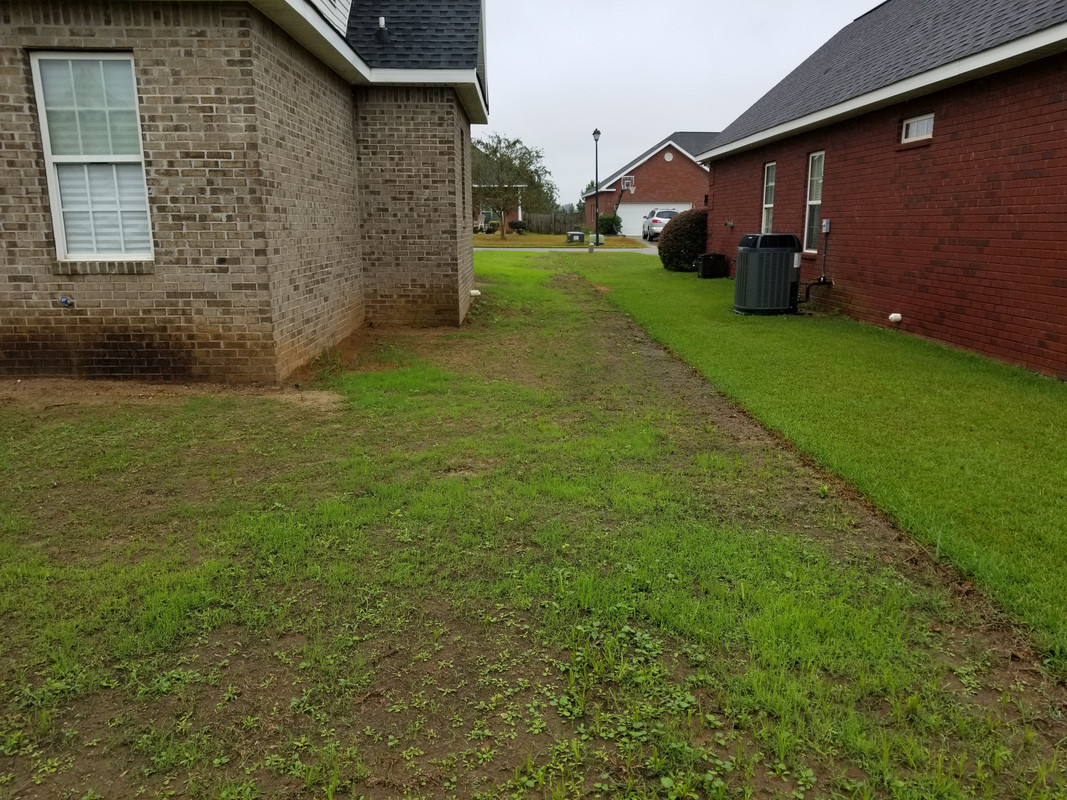 After I sprayed 2-4D, April 2020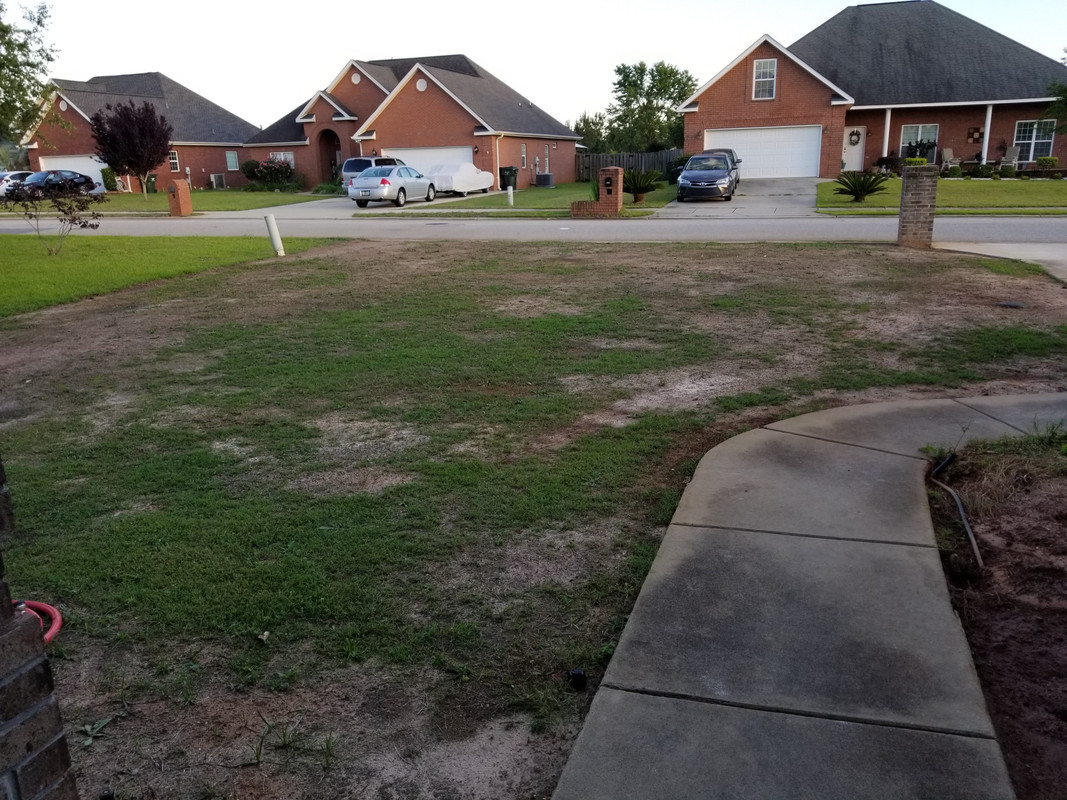 May 2020, after overseeding with Maya