A little background, I live in Atlanta, GA and have been in this house for 3 years now. Over the course of this time, the lawn has transformed quite a bit but no real progression so to speak. There have been incremental steps and set backs based on the weather and my desire for a better yard. I mainly concentrate on the backyard as that is where we spend most of the time and it requires the most work.
Back in 2018 was my first attempt at working on the yard and establishing more grass. The first attempt (2018) and second (2019) attempt were with Fescue which I had no problem establishing but during the summer it thinned out quite a bit as well as the stress from the dogs and also their urine/burning. Over time I have thinned out the trees myself and just recently had a few trees removed to allow more sunlight in the backyard. The other issue is that it never dries out except in the summer during the hottest months which makes it hard for the grass to survive.
With all that said, I had 3 larger trees removed (wife wouldn't let me remove the one on the right side of the hill
) from the backyard which will allow much more sunlight in the back to help remedy the wet/muddy landscape as well as allow the potential for a warm season grass (Bermuda). In the interim, I prepared the backyard for another re-seed (SPF 30 KBG) and I brought in additional top soil and compost and leveled it as best as possible given the time frame I was working with.
I would like to see how SPF 30 KBG holds up when the warmer months come about. I was not prepared for the long establishment time frame and so far I do like the grass itself. It does seem to spread decently and I feel that I need to give something a chance for more than a year to establish. If it does burn up during the summer I will consider putting Bermuda in the back. I'm a bit wary of the yard getting enough sunlight for Bermuda since there is substantial blockage from the trees in the yard to the left of my backyard.
2017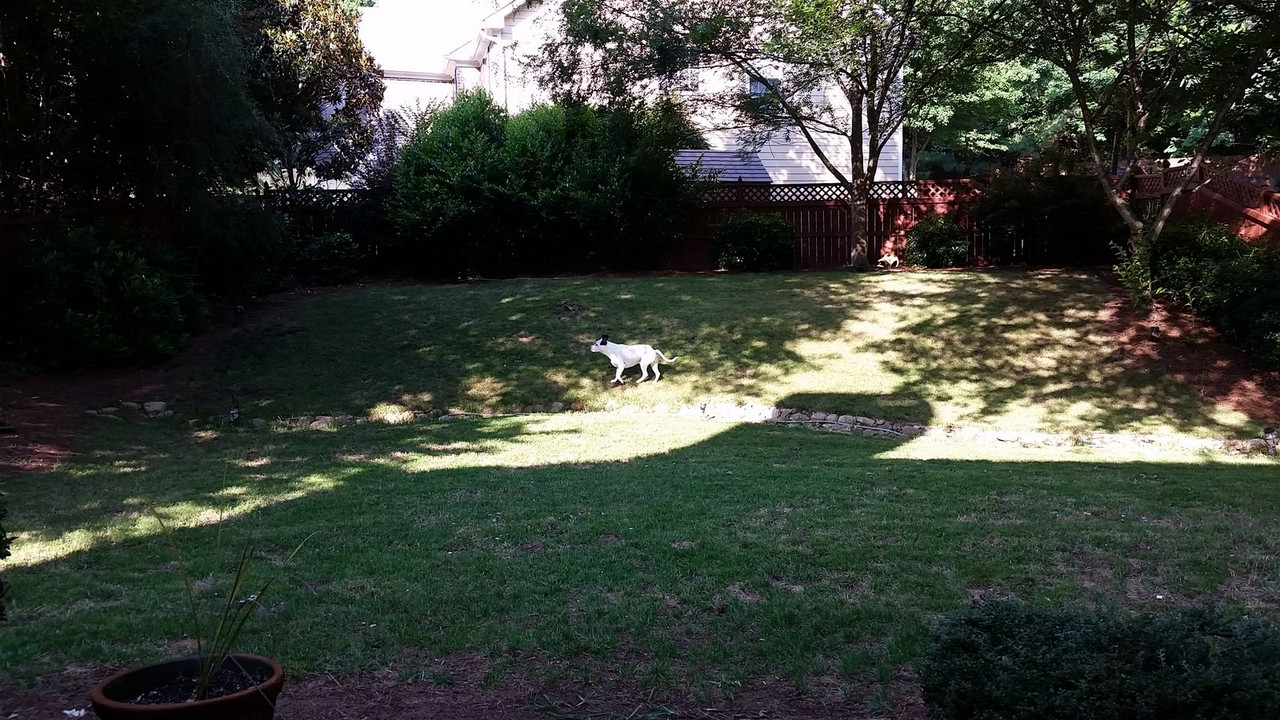 2018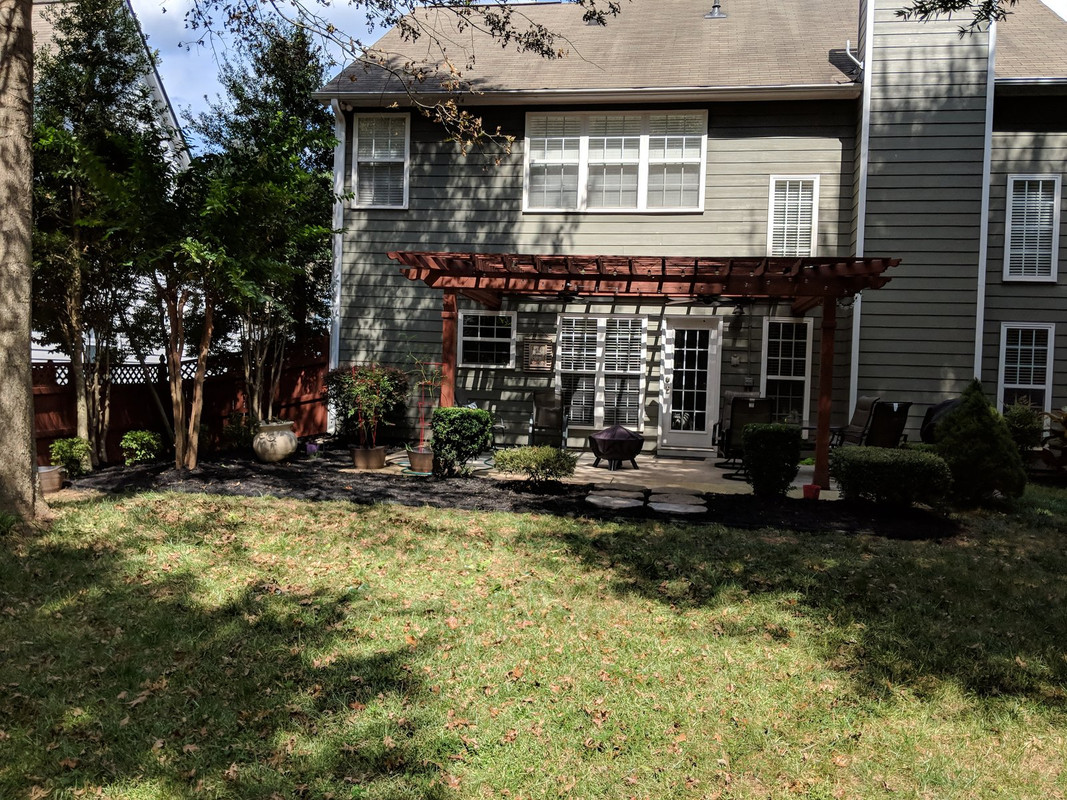 2019 - added the correct photo for 2019.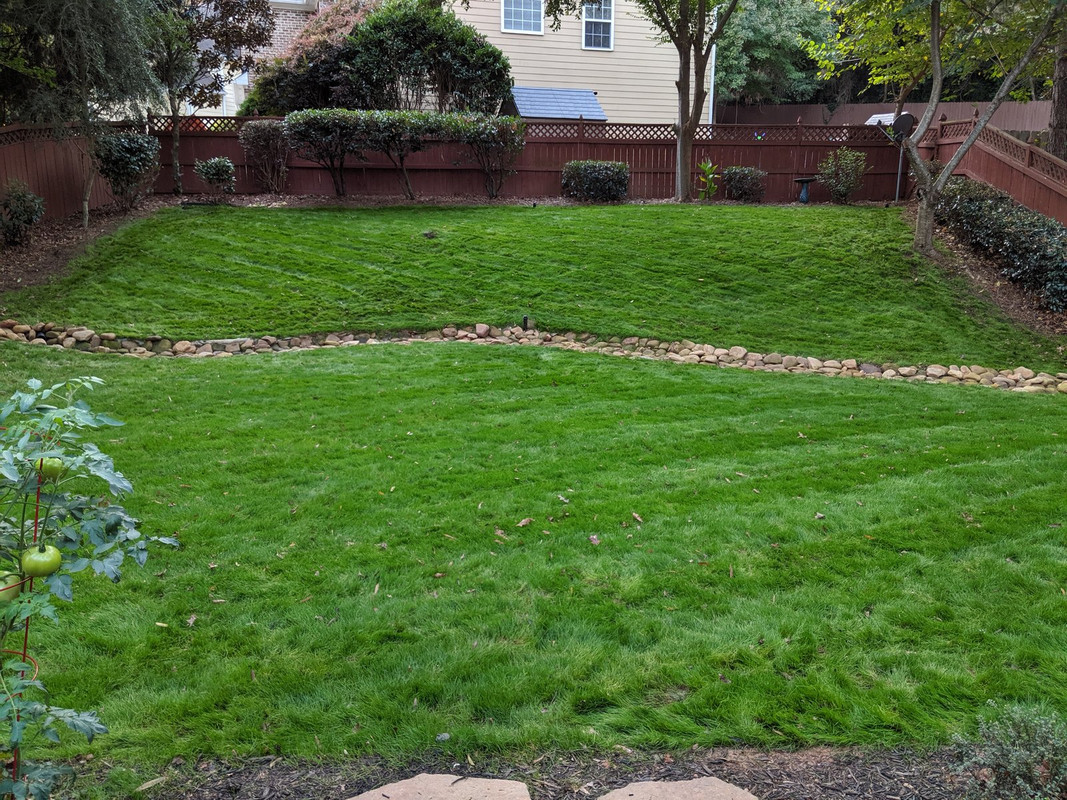 2020 - SPF 30 KBG @ 2 inches. left side added drainage to help. I'll show details in a follow up post.