A picture is worth 1,000 words. So, I'll show what the lot looked like when we started in 2017.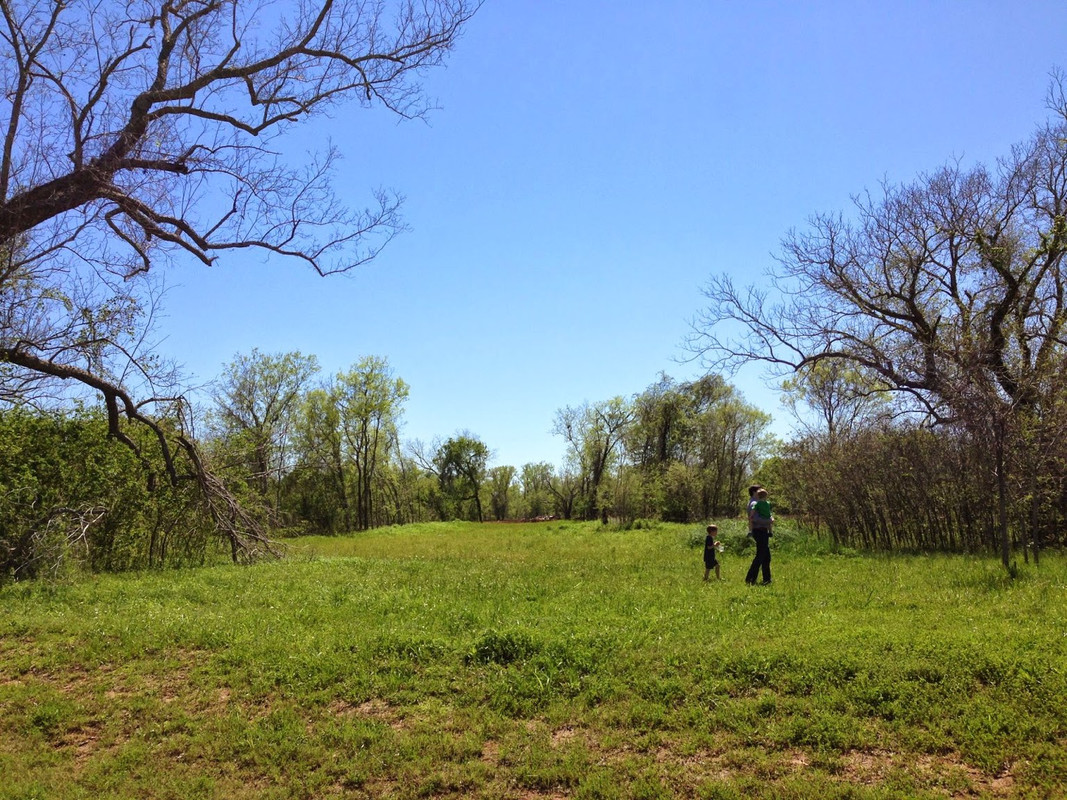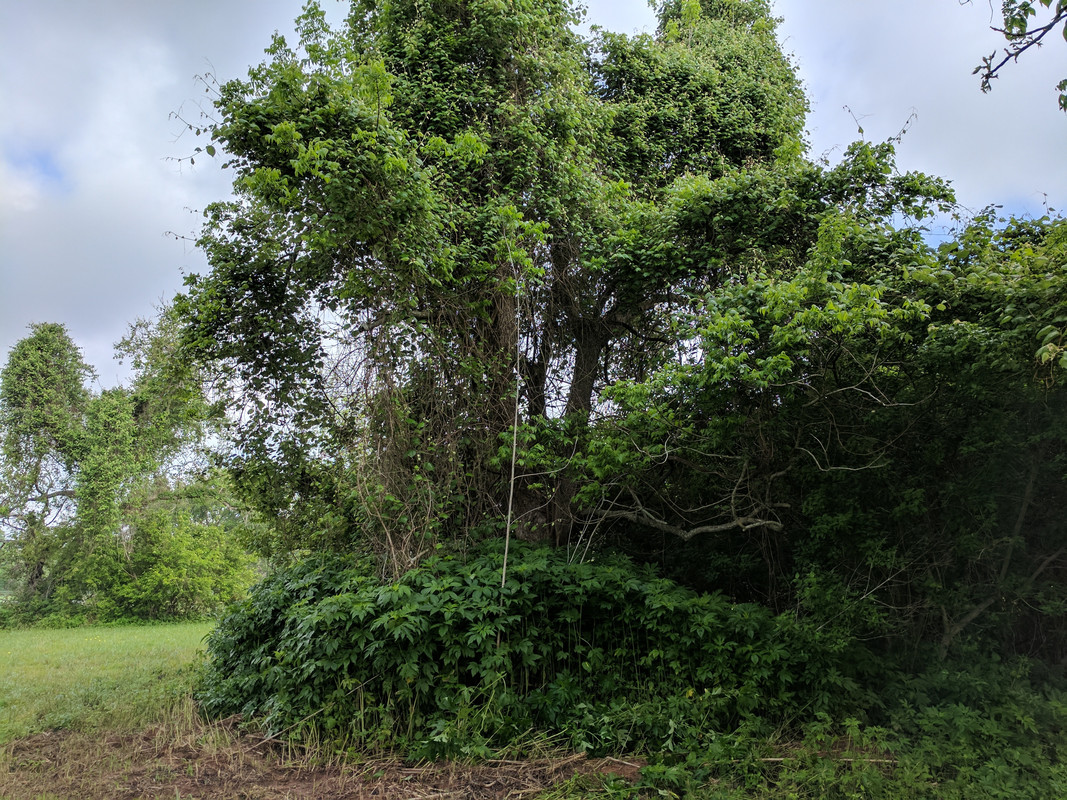 For some reason I like doing things myself. So I went out and cut all the vines off of the trees with a hand saw and some shears. About 14 trees in total. I thought it might take me 2 full days' work, and it ended up taking about 6 days.
Many of the trees had so many vines on them that the actual tree wasn't visible. And from afar, when you thought you were seeing the leaves of the tree, you were actually just seeing the leaves of the various vines.
A couple years later the house was done, and we had sod around the exterior. The lot is nearly 3 acres, and it didnt make sense at the time to sod and irrigate the entire thing, so we sodded out from the house about 40-60" with tifway 419 Bermuda.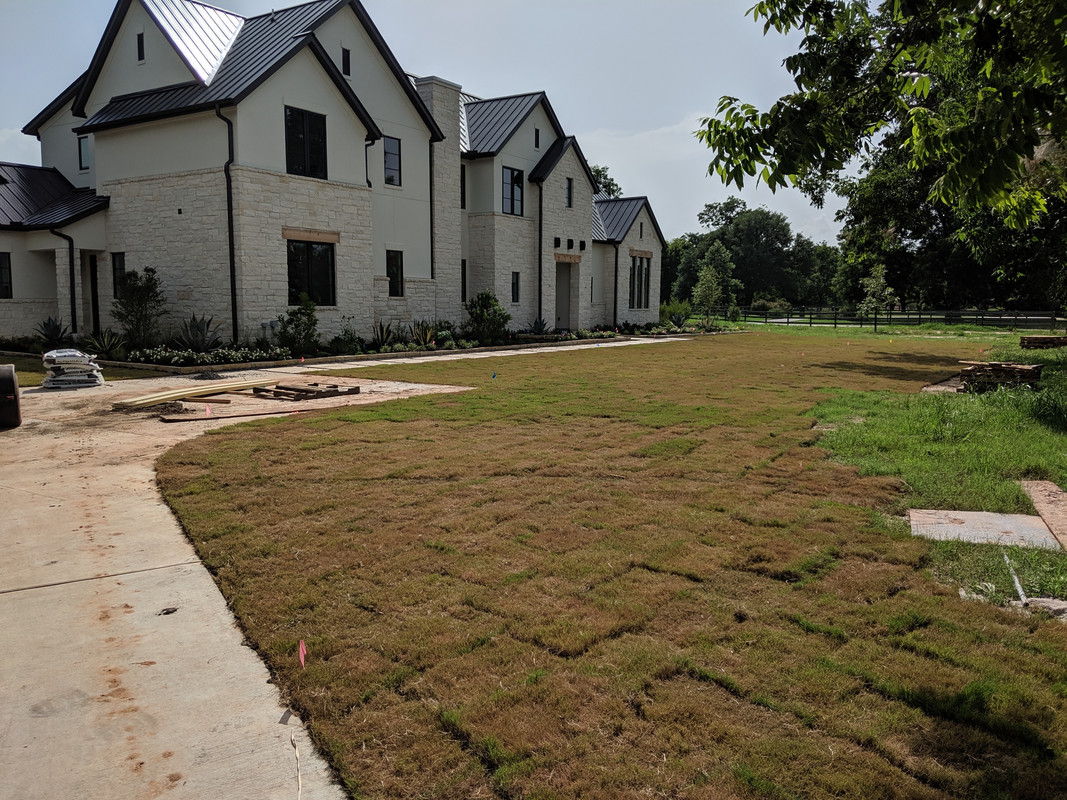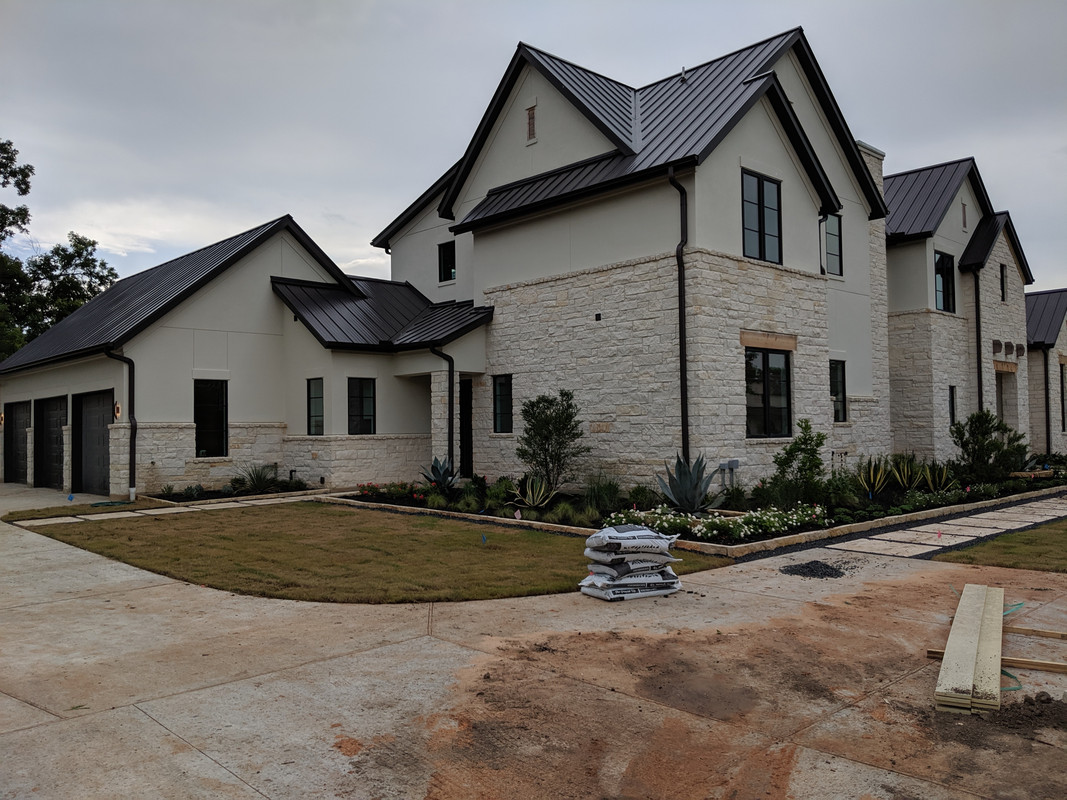 After we moved in, I began working on a single tree each weekend to clean up some of the vine roots that were attempting to grow back. Once again, I underestimated the effort it would take to dig some of those roots up, and lost steam after finishing about 10 trees. There are still two tree to do before I consider it done, but I stopped working on them and moved on to other things. Maybe someday I will clean those up as well. But for now, there are things I can work on that give more bang for the effort.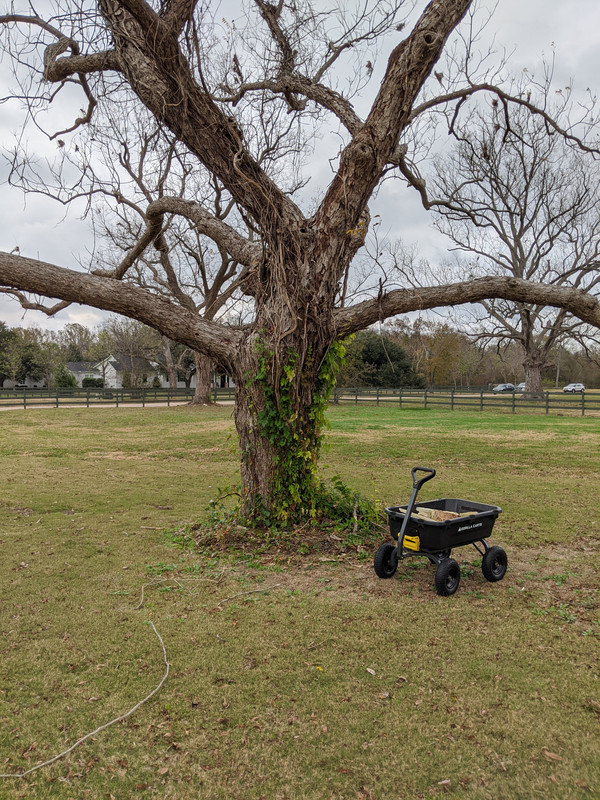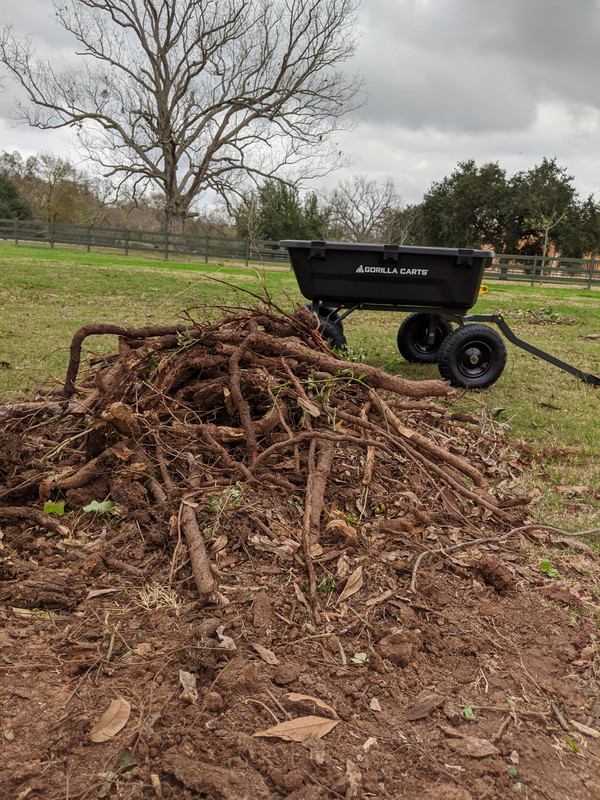 The dead vines up in the top of the trees continue to decay and I'm guessing I'll be picking them up for the next few years as they continue to fall.
And here is a photo I love from summer 2020 with the wife and two of my kids on the tree swing. This is what makes it all worth it.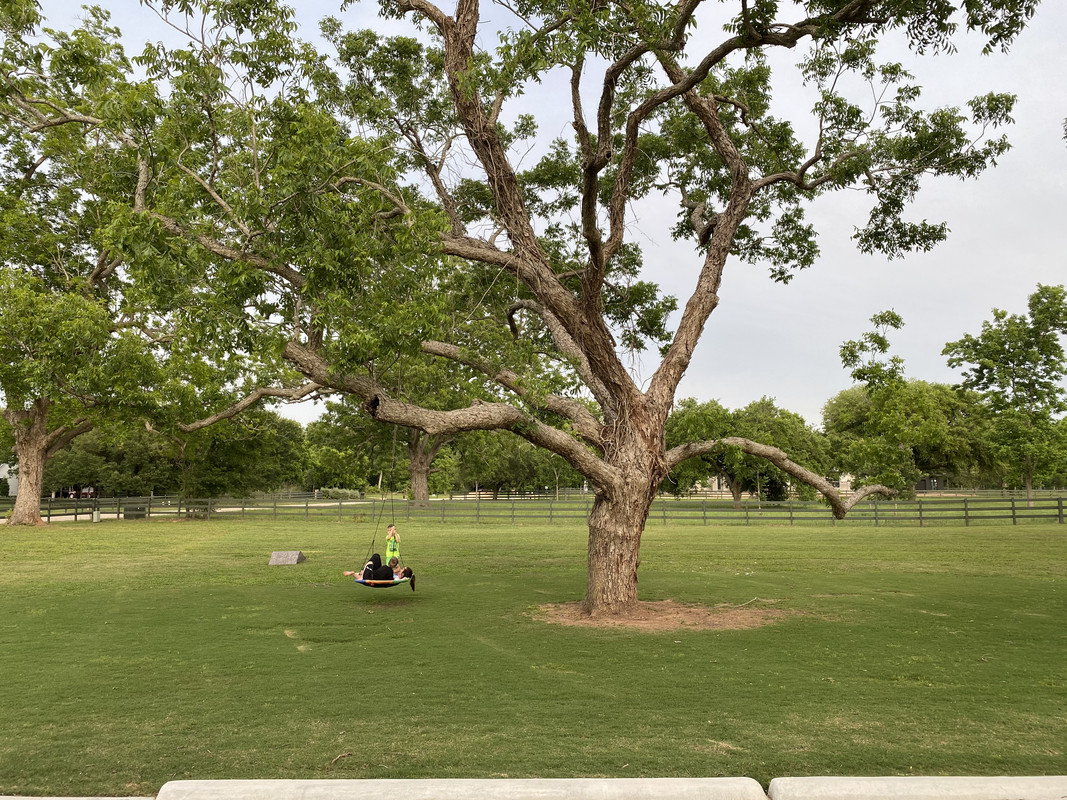 It's come a long way from where it began.
We moved into the house we built on this lot in July 2019. When I get frustrated that the yard isn't looking great, it helps me to go back and look at how far it has come in only a few short years.
I'm starting up this lawn journal in the off season with the hope that I can get a running start in the Spring of 2021 with a few projects.
Irrigation System.
I have 21 zones on the irrigation system, and it takes nearly 11 hours to run through all the zones to put out 1/2" on the lawn. There's only room in the control box for 1 more station. The builder planted tifway 419 Bermuda on the irrigated sections of the lawn, and the rest of the lot is just native grass and weeds.
It is my goal to drill a well for irrigation and to irrigate the entire lot, and transition the entire thing to reel low zeon zoysia over the next X number of years. (I really don't have a goal for how long this will take, so let's just call it "X" for now)
I have learned so much on this forum, I am thankful to everyone who posts, because I gain knowledge with every thread that I read.
I currently mow the entire lot and ditch at 2.75" with a Bad Boy Maverick zero turn. I have a very tiny area that I maintain at 0.875" with a John Deere 260SL that I bought this fall from a member of the forum.
2021 Applications: *Scheduled
Pre-M
2/9/2021 - Prodiamine 65 WDG .21oz/M
4/8/2021 - Snapshot 4.6lb/M to beds
5/5/2021 - Prodiamine 65 WDG .205 oz/M
10/7/2021 - Prodiamine 65 WDG .42oz/M
Post-M
4/11/2021 - Celcius 0.085oz/M
4/11/2021 - Certainty 0.8g/M
Insecticide
Fungicide - (I need to research a 3rd mode of action to rotate in this plan)
4/21/2021 - Propiconazole 41.8% 0.7fl oz/M
4/21/2021 - Azoxystrobin 22.9% 0.7 fl oz/M
5/5/2021 - Propiconazole 41.8% 0.7fl oz/M
6/21/2021 - Azoxystrobin 22.9%
*7/25/2021 - Propiconazole 41.8%