As pictured in some other posts, I realized that I was going to have a green & winter weed infested yard because I opted not to go with a PreM this past winter. I had a huge stand of poa annua on the North side of the house, but to be honest, I couldn't stop looking at the overgrown mess from my neighbor's lot that has destroyed sections of my fence. The past 2 days, I have been practicing no restraint when it comes to using a 16' pole saw. I got my prodiamine down on Thursday, and rented the saw on Friday for the weekend. My neighbors that are next to me on the other side of the overgrown lot are going to use the saw to clear their fence line tomorrow.
Friday, I scalped and sprayed, and I started feeling some of those muscles awaken that I haven't used for a few months. It might be time for some new yard shoes
You can see the nice stand of annual bluegrass in this photo, but I did scalp it as low as I wanted to go in this area. I'm hoping that with the increased amount of light that will be coming through on this side of the house will help with the grass growth.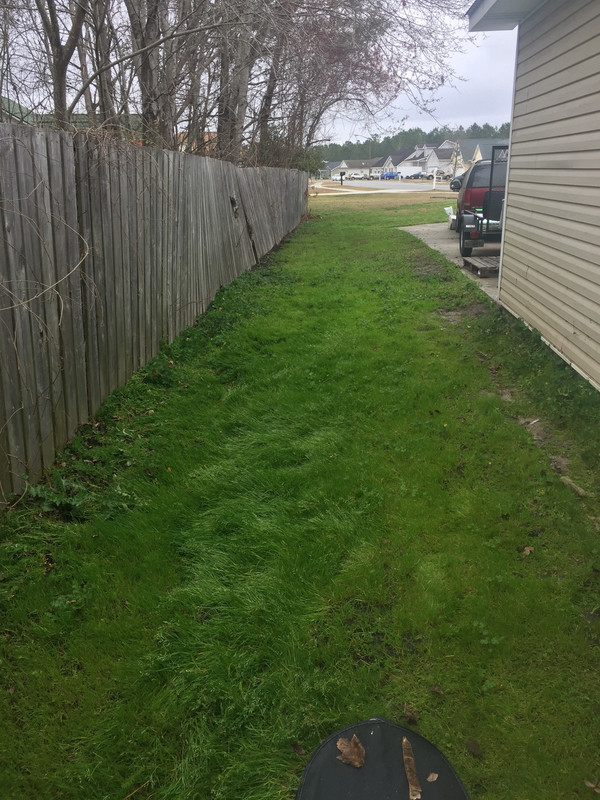 Yes, I can leave stripes on my dormant bermuda. The front yard wasn't as bad as the North side of the house. But it's still bad. I have no doubt my grass will repair and take over what damage is there now. I also have plans to get drainage installed in the lot soon, before the Spring rain comes. Fun Fun!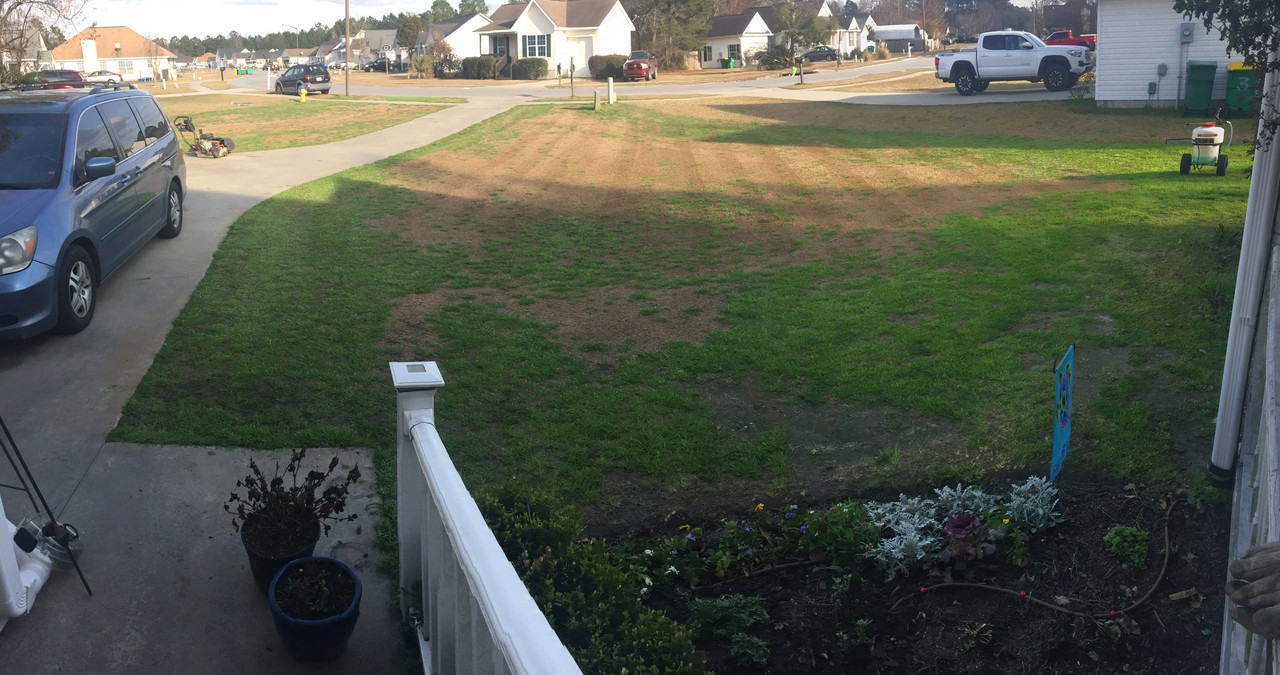 Here's where I spent the most "painful" portion of the weekend. Today, my Fitbit says I've walked 17,118 steps today, which is 8.51 miles (13.68 KM) and my legs don't hurt; it's my arms. They feel like spaghetti.
The pole saw STIHL HT 131 has a cutting length of 16' and a weight of 17.2 lbs (7.8 kg). I found what allowed me to go for the past 2 days and not get burnt out quickly was to cut for 3-5 minutes, and then take a break. I'd usually get a limb or two cut down, pieced, and then I would move to the next. I'd take the non-saw time to chunk it over the fence. I worked from 8AM until 4 PM, with many breaks in between. It got into the low 80's here, and spotted several areas of the new bermuda poking through the canopy.
My wife snapped this yesterday. I was dealing will all kinds of ground vines that were crawling up the trees into the branches. So I'd cut a limb loose from the tree, and it would be suspended in air by the vines on the next highest limb.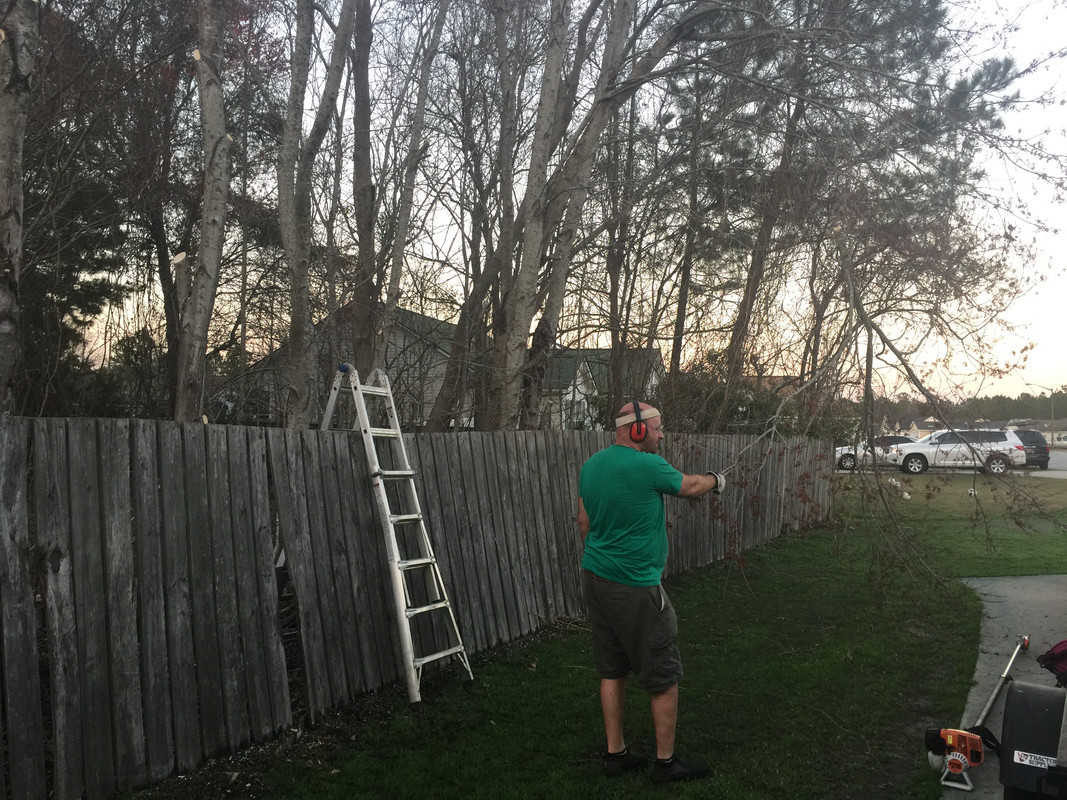 This AM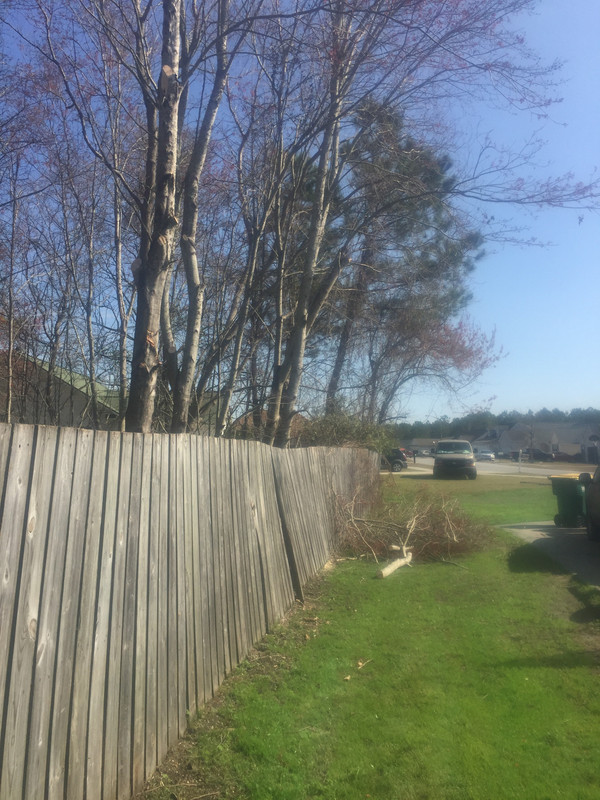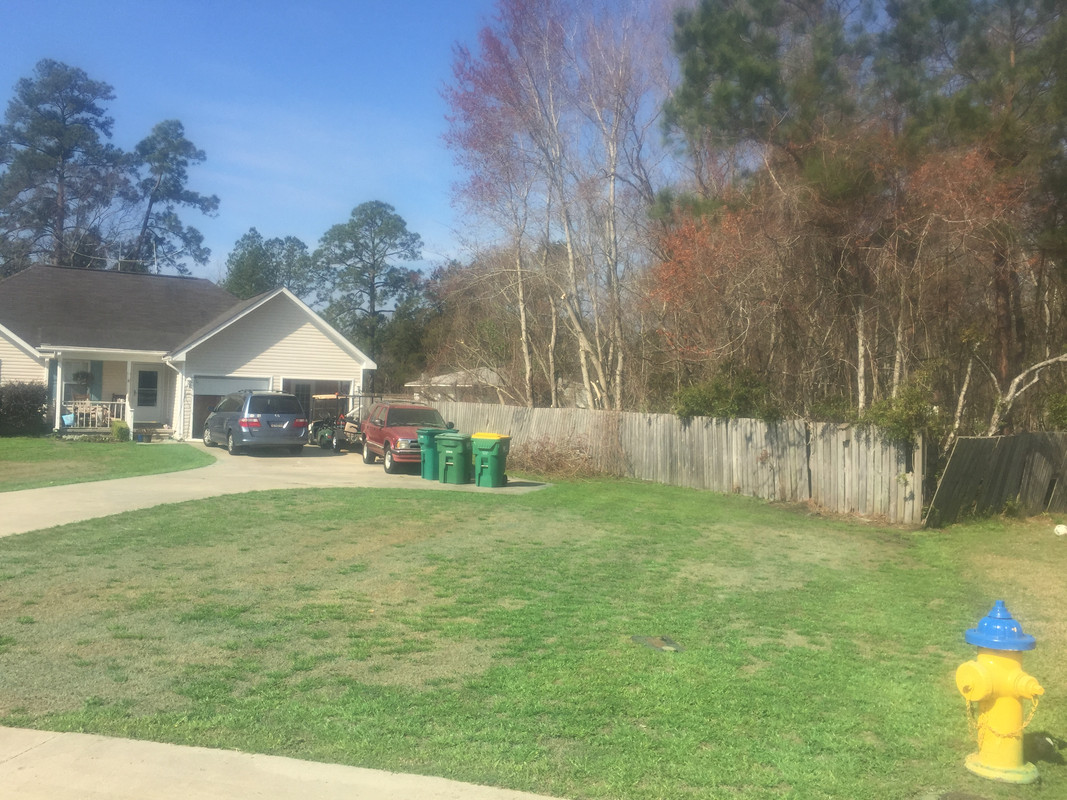 An example of what kind of damage this lot has done to our property.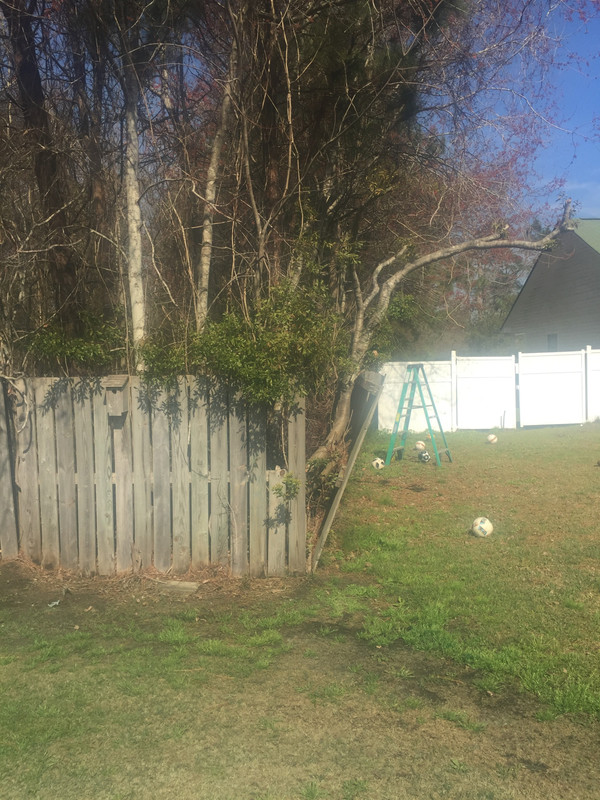 Finally done!

"Oh, that doesn't look that bad man." Pfft, I didn't realize how messed up my fence was and how much crap I had removed until I snapped this picture. That one large limb at the bottom of the photo is about 8" in diameter. The blue barrel was sitting upright and full of water. I got my hole boring bit, drilled a 1 1/4" hole in it to drain, and when it was empty, flipped it over. Hope this cuts down on the mosquitos that always came from over here. My wife has commented that she wanted to get a PVC fence like our neighbors. Going to give pressure washing ours a try first.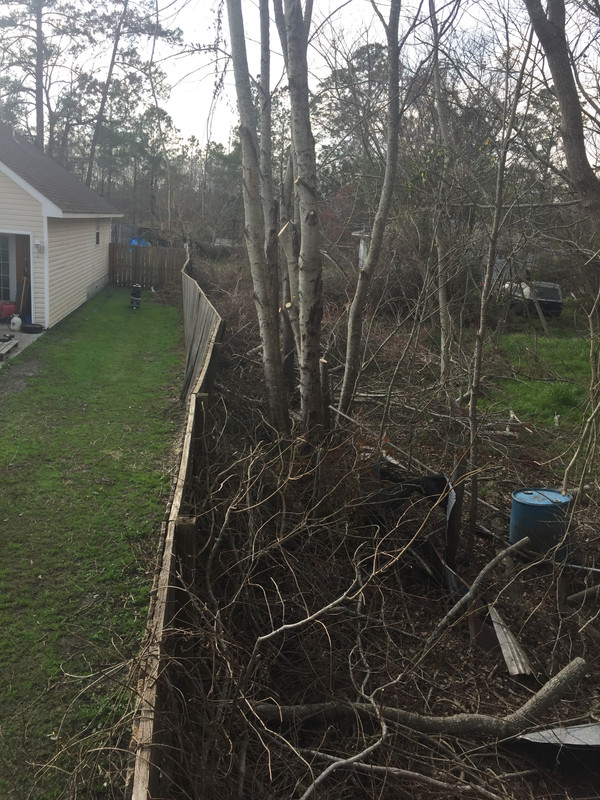 Next up on the agenda, for tomorrow is to go with a high rate of Celsius, along with a high rate of Certainty all over everything that is green in the front and the back yard. Hoping this will give me a leg up come spring, which really isn't that far away in my neck of the woods. I already have visible pollen on my vehicles, and I know a lot of it was coming from trees that I was cutting down, because they'd let off huge clouds of pollen when they fell. I also was being checked out by several carpenter bees