Current Status (9/8/2019):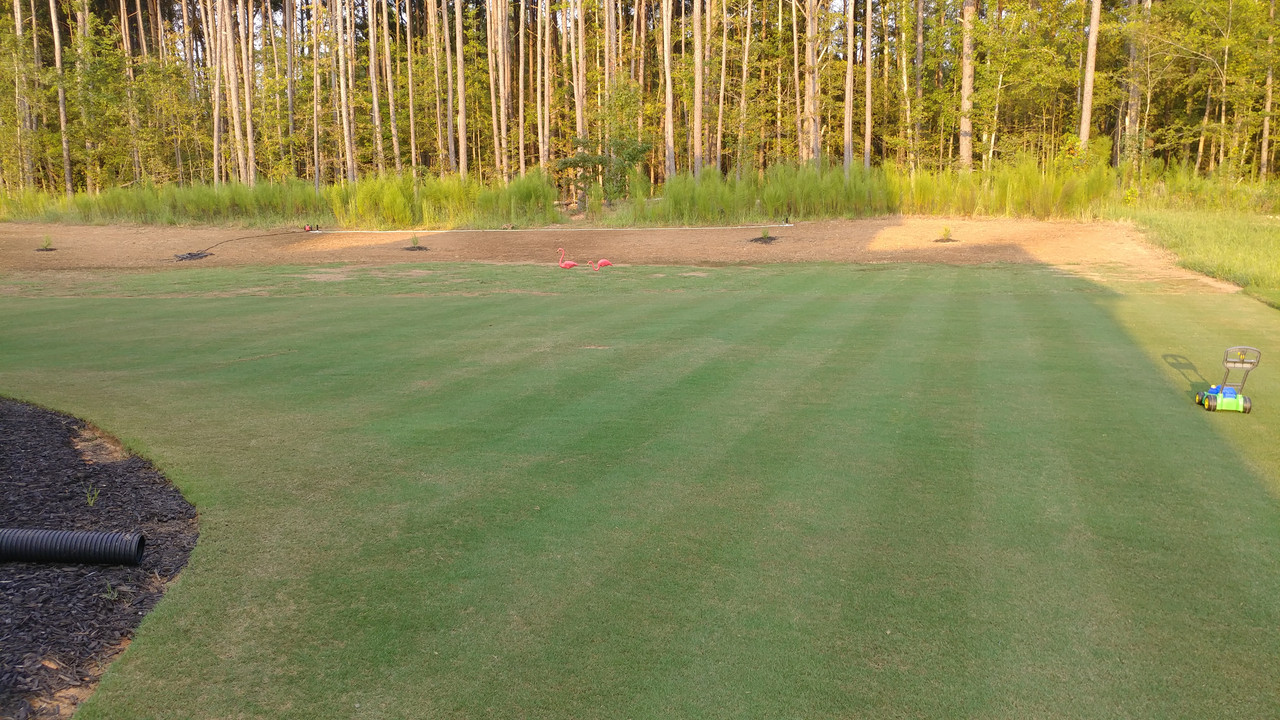 So, about time I start one of these.
Prior year lawn notes:
2017
* Started caring more about the lawn mid-2017 after my son was born and found The Lawn Care Nut. I had approximately 7k square feet and was using a Kobalt 40v mower and string trimmer.
* Saw a LCN video where he mentioned "some guys with bermuda going crazy low" and showed what I think may have been
@Redtenchu
footage. This made me want to start reel mowing.
* Found
@wardconnor
on YouTube and became obsessed with the lawn. If I remember correctly I subbed before 1k subscribers. The latest video on his channel at the time was the first leveling video.
* Found TLF towards the end of the 2017 bermuda season.
* Bought an older California Trimmer on Craigslist for $350.
* Started a bluemuda experiment. It was great for the time I had it (see next bullet point), but due to herbicide conflicts I'm not sure I will do it again. I've driven by the property a few times since moving and it still looks great.
2018
* Got a new job in a city closer to family. Sold our house over the internet (Offerpad).
* We rented a house while building a house. May have been the best maintained rental lawn in the area?
* First started using PGR. It's the only product my wife knows by name and is happy to spend money on.
* I picked up a Pellet Pro for wetting agents. Earned my own LCN reputation in the neighborhood through this tool, as I typically apply it in the rain. Neighbors don't quite understand why I water the lawn in the rain.
* Wife got me a landscape blade for Father's Day.
* Took a chance on a $60 4-cycle string trimmer. Ran fine when I met the guy but a week later it exploded and leaked oil all over me. I ended up just draining the oil and gas and sending it to the dump. Got a 57v Echo on Amazon Warehouse Deals ($90) to replace it.
* Bought a Honda HRR216 for $40. It has some janky wheels and had a hole in the deck. I changed the spark plug, filter, oil, blades, and it runs fine now. I patched the hole with some JB weld.
* Sold the Kobalt 40v mower and string trimmer for $150.
* Found a Greensmaster Flex 21 on Craigslist and ended up getting it for $400.
* Sold the California Trimmer for $400.
* Picked up a Lesco 80lb spreader on Craigslist. Think I paid $100 for it. Gave my old scott's mini to my neighbor.
* Found a BlueBird Lawn Comber with bagger on Craigslist to replace my Greenworks scarifier. Paid $300 for it.
* Sold the Greenworks for $50.
* December 18: Finally moved into the new house. Standard "sod to the back corners and seed the rest" situation. Paid extra to have 20' extra feet of bermuda installed. I have 0.47 acres total, about 17k sq ft of turf.
2019
* The landscaper had abandoned about 3 pallets of sod in a lot across the street. The builder told us he'd left messages and got no response. He needed them gone and said I could have them if I moved them myself. This was early January, which in my area was basically non-stop rain. I moved all three pallets of soaking wet sod with a Gorilla Cart. The sod probably sat on those pallets for a month, but everything is greening up well.
* I've applied penterra to my swales and tournament ready pellets to the rest of the lawn. Two applications of bifenthrin thus far.
* Landscaping was the standard builder package in the front. I outlined landscape beds all around the house with the landscape blade (very handy tool for cutting sod), moved that sod to the back yard, dug natural edging all around the beds, then had 6 cu yd of mulch delivered. Between the 3 pallets I got from the builder and the sod I moved from around the house I probably added another 20' of sod to the back.
* I've slowly added a few plants:
* Japanese maple (Red Dragon)
* Japanese aucuba
* Boxwoods
* Variegated euonymus
* Hostas
* Forsythia
* Butterfly bush
* Blueberry bushes
* The back yard was seeded and strawed. It was fairly light so I got a 50lb bag of PRG, raked the straw, dragged it smooth with a drag mat, seeded it, rolled it in for solid contact, and re-spread the straw. I put some 13-13-13 down, set up a couple sprinklers, then started watering. My back yard is the greenest in the neighborhood at the moment. My primary goal with this project is erosion control. I don't have irrigation so I expect most of it will get smoked by the NC summer heat. Once the sod takes root I will start pulling plugs and transplanting it into the ryegrass.
* I am attempting to niwaki an Autumn Blaze Maple in the front yard to keep it short. It's "the neighborhood tree" and is required by the city so I can't remove it. I used some twine to pull the branches down into position last week, and removed competing leaders.
* I scalped the bermuda (0.5 HOC) Thursday night. I have high HOC brackets for the flex 21, so I will mow at 1 inch until the bermuda roots. Once the bermuda has rooted I will do a HOC reset to a lower HOC. I also applied some Screamin' Green (the free 1800 sq ft bag they had going a while back) and some cheap 24-0-11 I had from Lowe's last year (I estimate I have about 5k sq ft of bermuda, so needed a bit more than the Screamin' Green).