The Lawn and what I know
:
Bottom line-- I know some, but need to know more and this starts with knowing what kind of grass I have. I've done my best to research and ID this myself, but I am a novice at identification so please help if you can: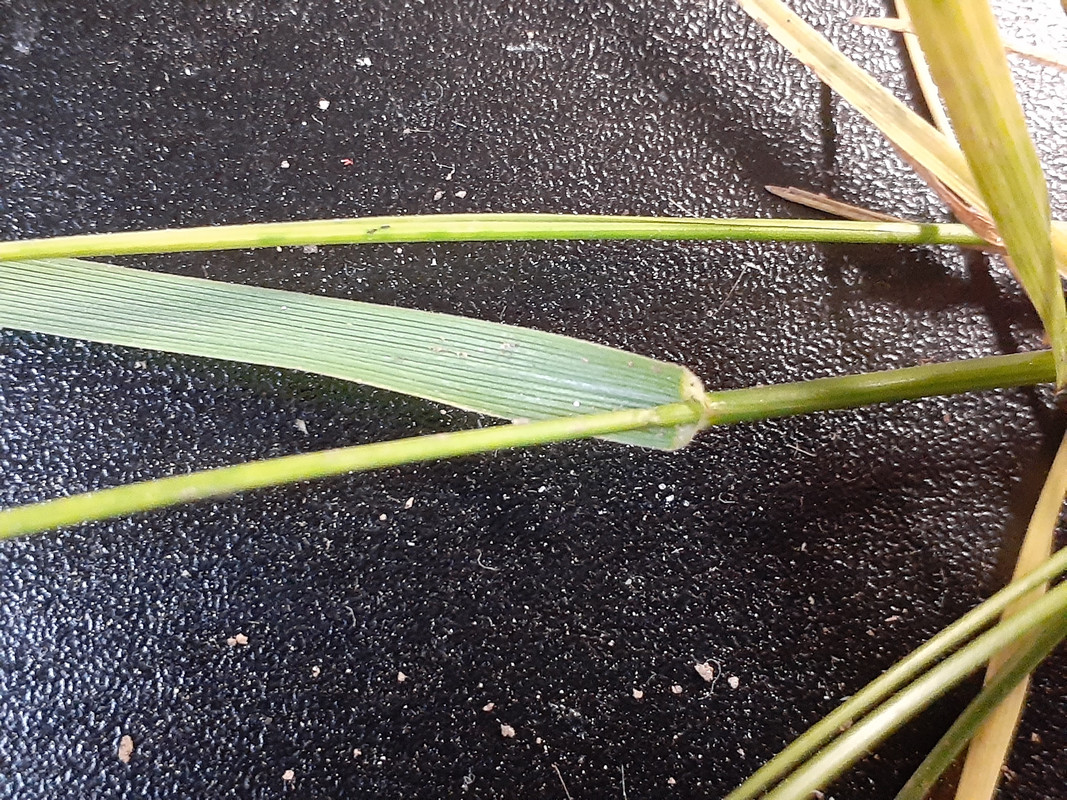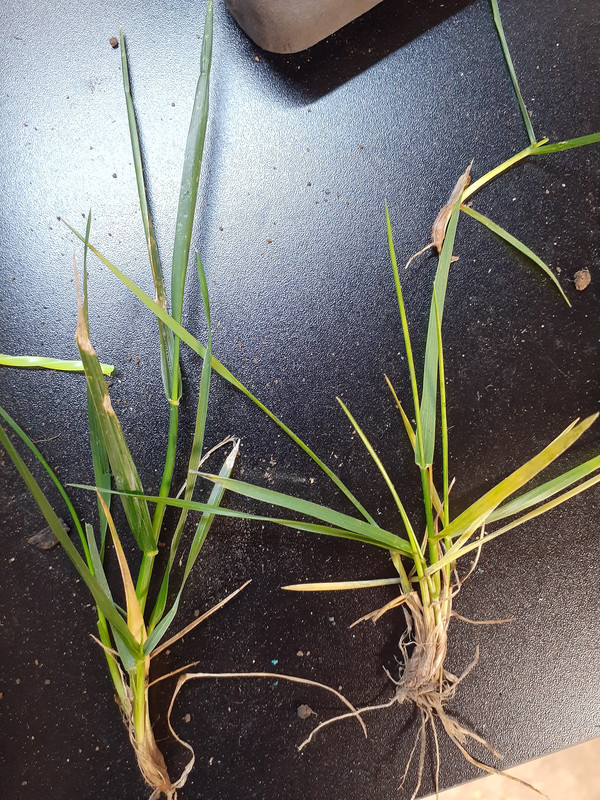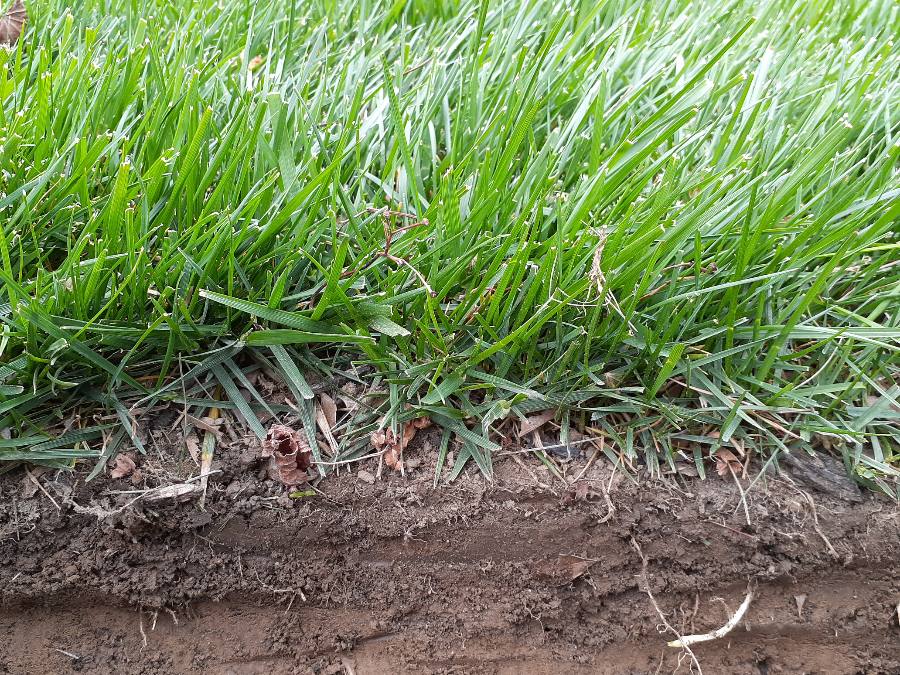 So, I see rolled vernation, pointed leaves, and absent auricles (I think) which leads me to Tall Fescue. Please let me know if you agree.
I do not think it is 100% TTTF-- I do see some rhyzomatous growth when I edge the landscape beds, so I'm sure I've got a mix of several of the cool season grasses. Further evidence is a partially full bag of seed left behind by the previous owner that is the following mix of cultivars:
20% Rebounder Tall Fescue, 20% Cochise IV Tall Fescue, 20% 4th Millenium Tall Fescue, 15% Essential Tall Fescue, 10% Palmetto Annual Rye, 10% Green Supreme Perennial Rye, 5% Brooklawn Kentucky Blue.
The Property/Lawn Sections-- Overall, I have about 10,000 sf of turf, maybe slightly less, but that's what I go with to determine how much to throw down. I dont have any reason to believe that I've got different stuff in different areas, and I'd prefer my entire property to be consistent anyway. Here's each of the main sections in their glory:
Front Lawn (South), roughly 4000 sf total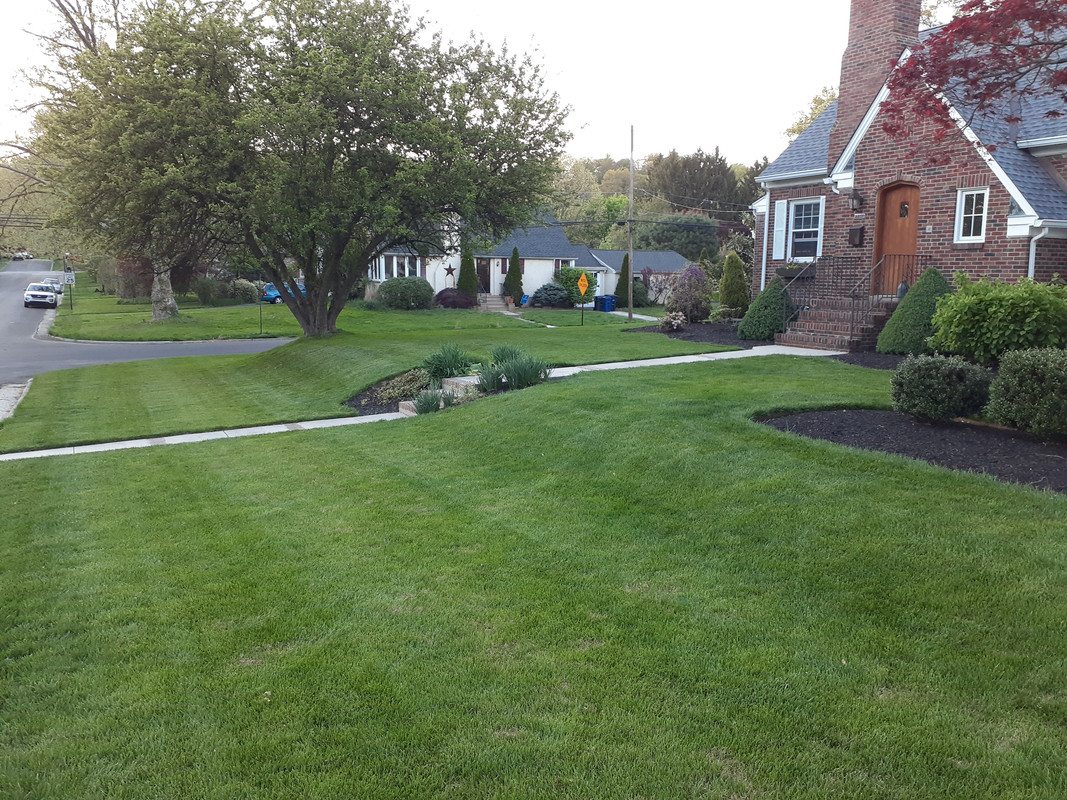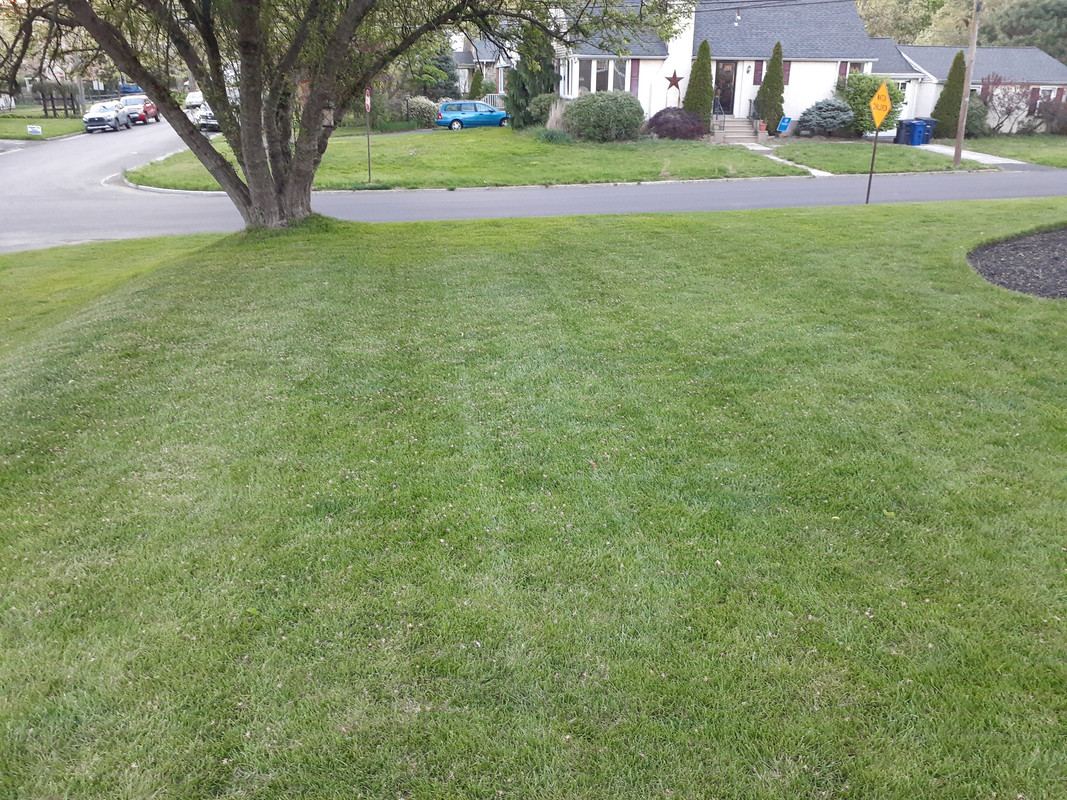 West Lawn, roughly 3000 sf total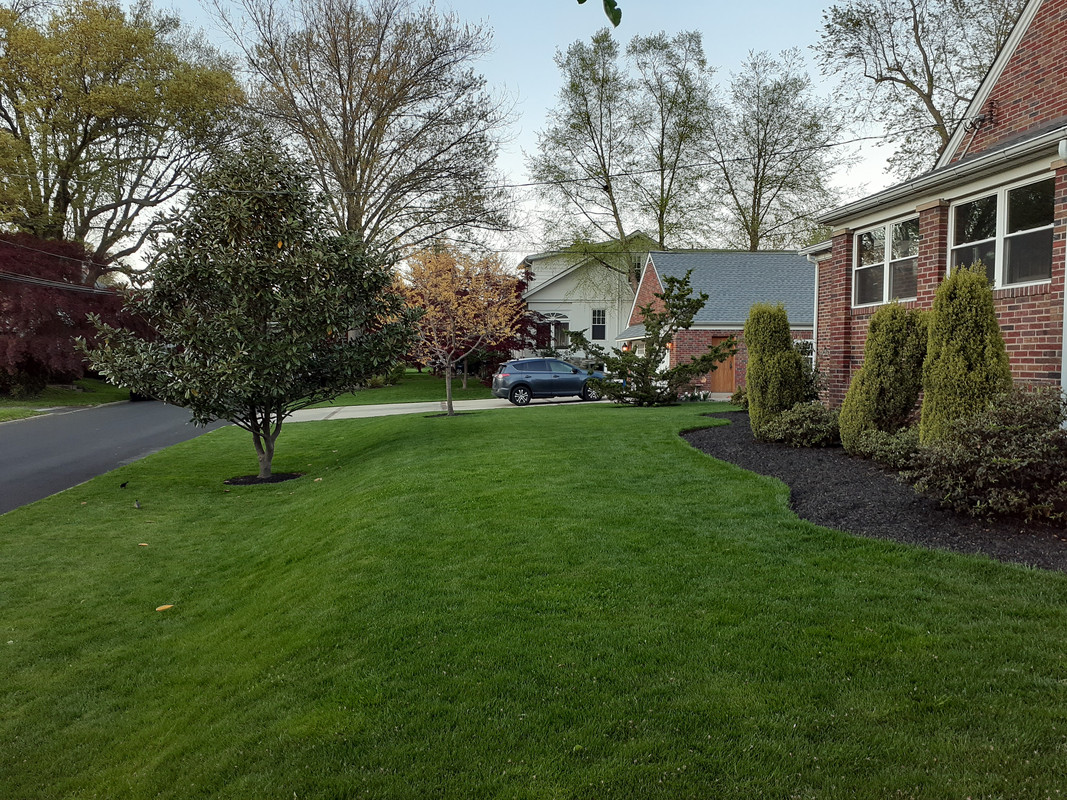 Back Lawn (North), roughly 1600 sf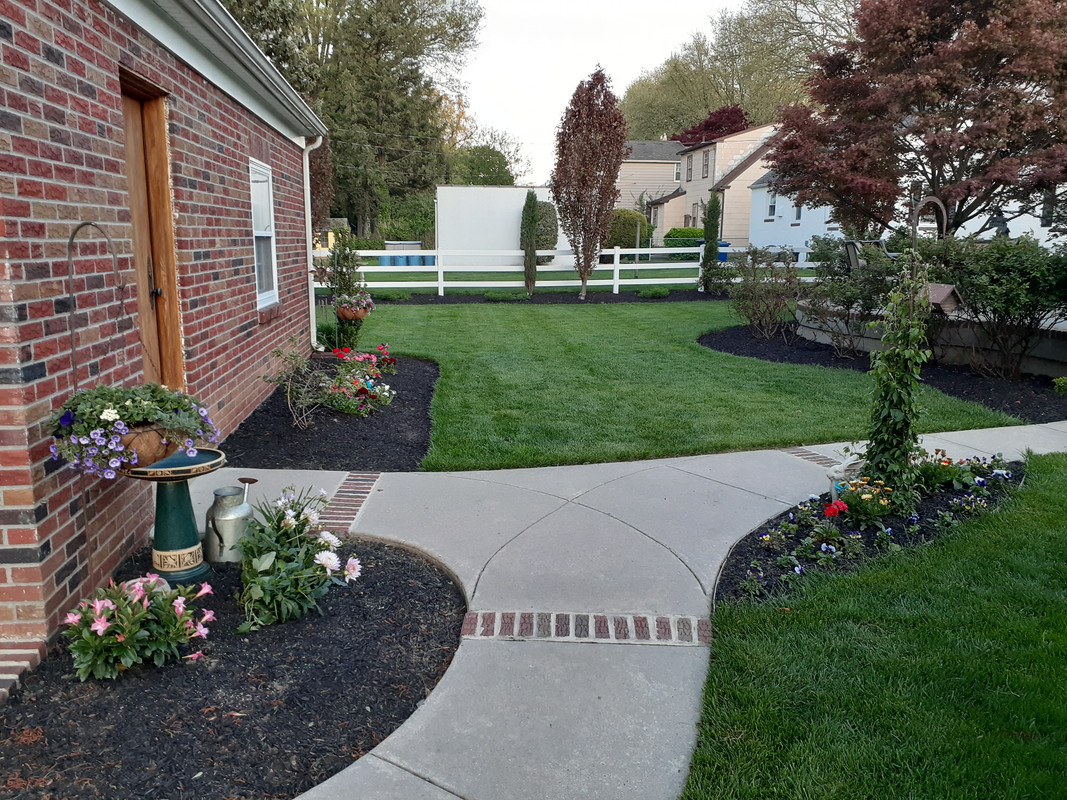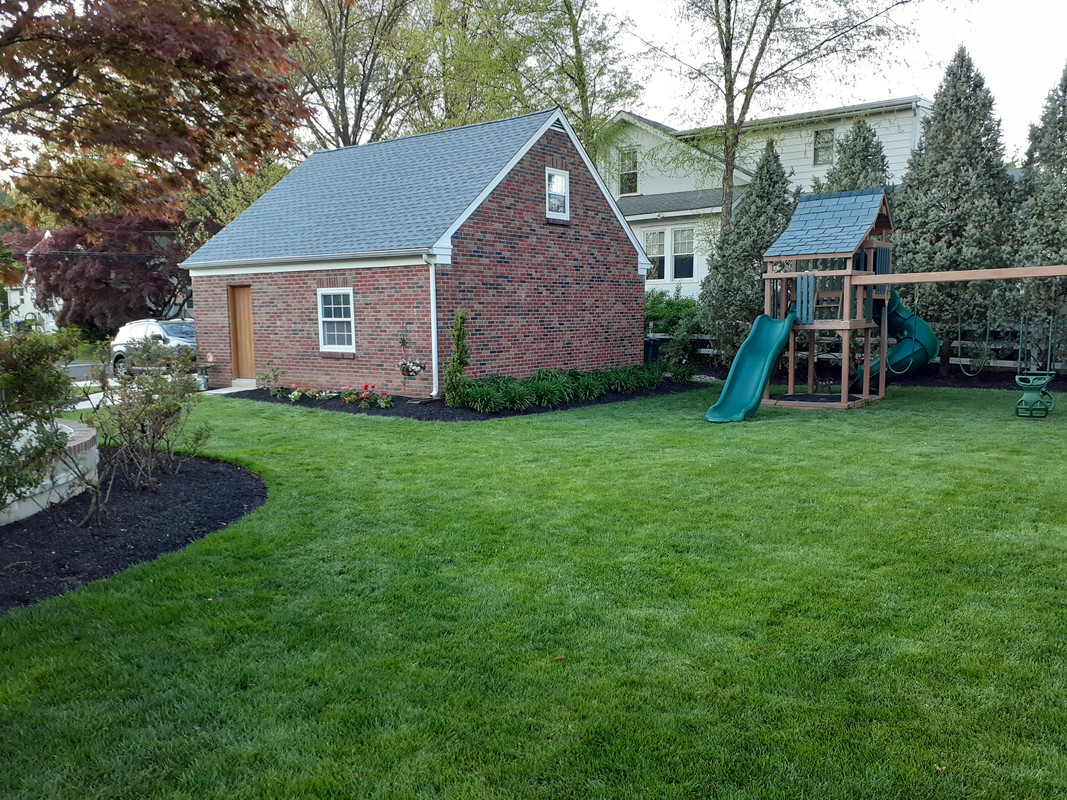 East Lawn, roughly 1300 sf
This also happens to be the most shaded area, however the whole property is pretty unshaded, so it's relative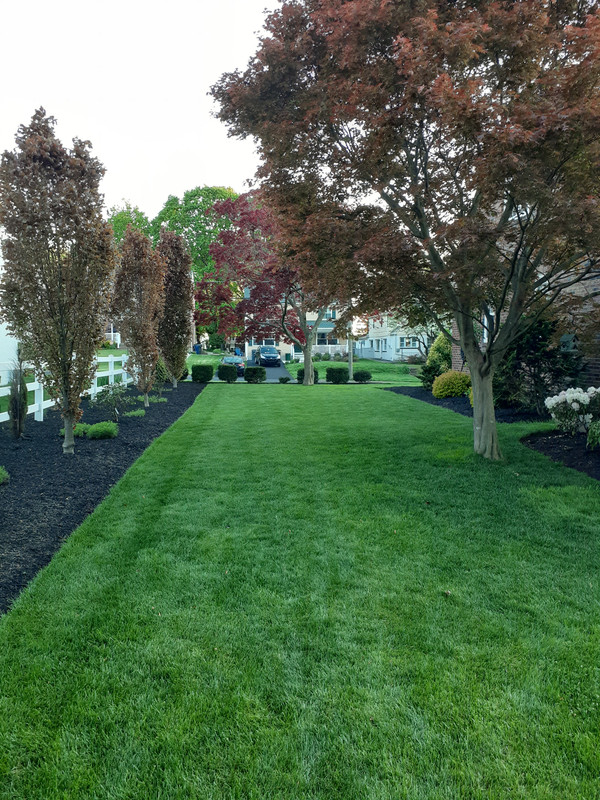 Finally, a little bit about what I know of the lawn's history. The previous owner was a lawn care nut, so by my judgment he really established an excellent lawn. He bought the property in 1999, and apparently the property was extremely overgrown with large areas devoted to overgrown vegetable gardens and rodent infestations. Obviously he completely overhauled the lawn, presumably in the early 2000s. I am told by neighbors that he destroyed the entire existing lawn to renovate it, and brought in mushroom soil and did alot of leveling and fine grading. When I mow, I do find the lawn very level overall aside obviously from the slope dropoffs which generally define the property edge, the grass areas against the street technically are within the right of way.
So there she is. I'm proud of her, even though I didnt build her. I still don't quite know how to react to frequent comments and compliments from passersby. I do love the fact that it's admired throughout the neighborhood, but still working on a repertoire of responses to avoid conversation becoming awkward, haha.