So my wife went outside this this morning to go to work. She had our 2 year old daughter with her. The 70 year old lady next door started yelling at her. Saying that I was killing her grass and digging up her yard. She mentioned she had to put bricks by there back fence so I would quit digging in her yard. (A dog or something was digging by mine also.) My wife told her I haven't been digging around in her yard.. She called my wife a liar. My wife was done by then since we had our 2 year old.
Last year my wife said something to them because their son was mowing their grass and cut like 3 or 4 ft into ours. They cut theirs really low. Their grass is about 80% weeds. I cut mine around 3 inchs. So I wife very nicely told them, I'm trying to grow grass and I would like to cut it higher. She took it ok or so it seemed.
I figured she was talking about the bare spots. I do over spray my weed killer about a ft maybe. So I figured I would go talk to the neighbors. Figured I would offer to seed the bare spots. Not wanting a feud with the neighbors. I always got a long with them.
Before I went over there my wife noticed a decently sized hole was dug in the yard. So the wife and I head over after I cooled off a little. Knock on the door and I hear her and her husband in the living room. They got quiet, never answered the door. Their kids come by on the weekends, I figured I would speak with them about it.
I'm pretty blown away by the whole situation. I moved my security cameras so I could catch anything.
You can kinda see the bare spots here in the upper right. I'm standing in my yard here.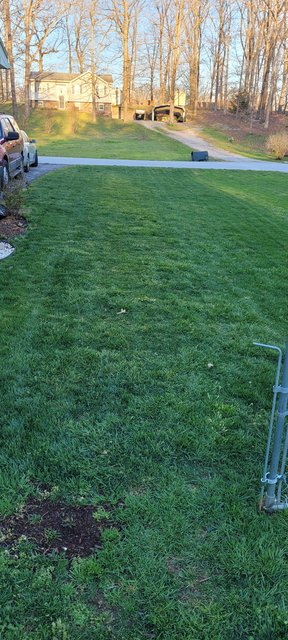 Here's the hole she dug