OK, so let the games begin...
First thing is to service my Flex21. It leaks oil from the transmission, and the 11 blade reel will have to be replaced. It is worn down and it's not really a good match for my 1/2" HOC goal, let alone the 5/8 HOC I mowed at in 2020.
So, I insulated the garage last summer but it has really filled up with junk during the winter months. I've been looking for a decent 2nd hand workbench that is built like a tank, but I ended up buying a new one. A bit more expensive than I would have liked and perhaps a little smaller too, but it is sturdy and it was in stock so I bought it.
Next step was to assemble the darn thing (it weighs in at 230lbs so I had to ask my neighbour for help holding the parts in position).
After that I spent 2 hours making room for the workbench and paving way for the Toro, and then again asking the neighbour to help me move the workbench into its final location. Did I mention I borrowed my neighbours trailer to get the workbench home? No? Good thing I also aksed him to help move the refrigerator to its final position in the garage (in very close proximity to the workbench). As it happens it was full of beer, and now it is pretty much empty. But I can borrow that trailer whenever I want.
So, the idea is that the Flex21 will arrive through this canyon of junk, and be positioned somewhere between my 4 golf bags and the treadmill, for disassembly: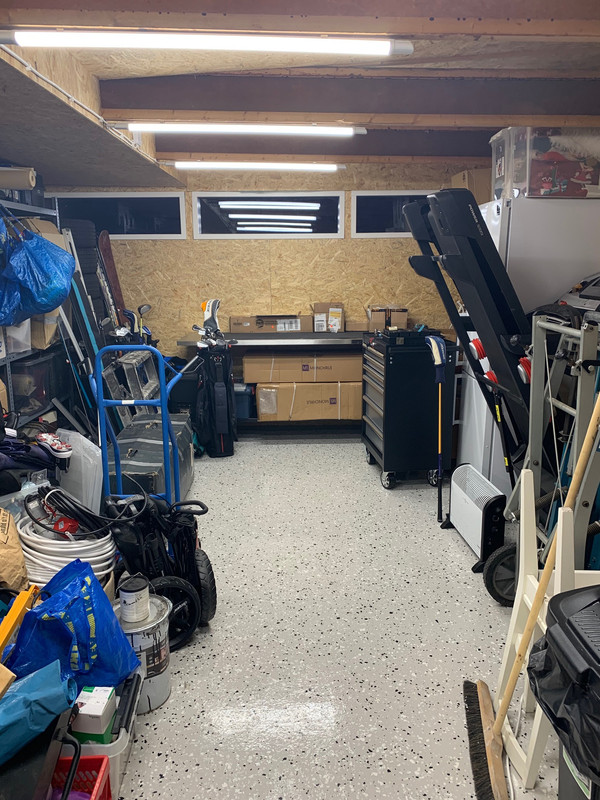 Then I will (actually I'll ask my neighbor
) lift it onto the workbench for disassembly. I'll have to pull the gearbox apart almost completely to be able to replace the worn out parts... After that I will charge on with replacing the reel. Going from a worn donwn 11-blade to a brand new 8-blade will complicate things. I'm planning to remove the groomer assy initially and use the extended HOC kit for the first mows. Plan is to start with high HOC (+1/2", and then mow the lawn @ 1/2" and groomer attachment).
Anyways, there's lots of parts that I have ordered to convert from groomer to High HOC, and at the same time fix the leaking gearbox, and I realized today that I am missing a vital part that will cost me an additional 50 bucks...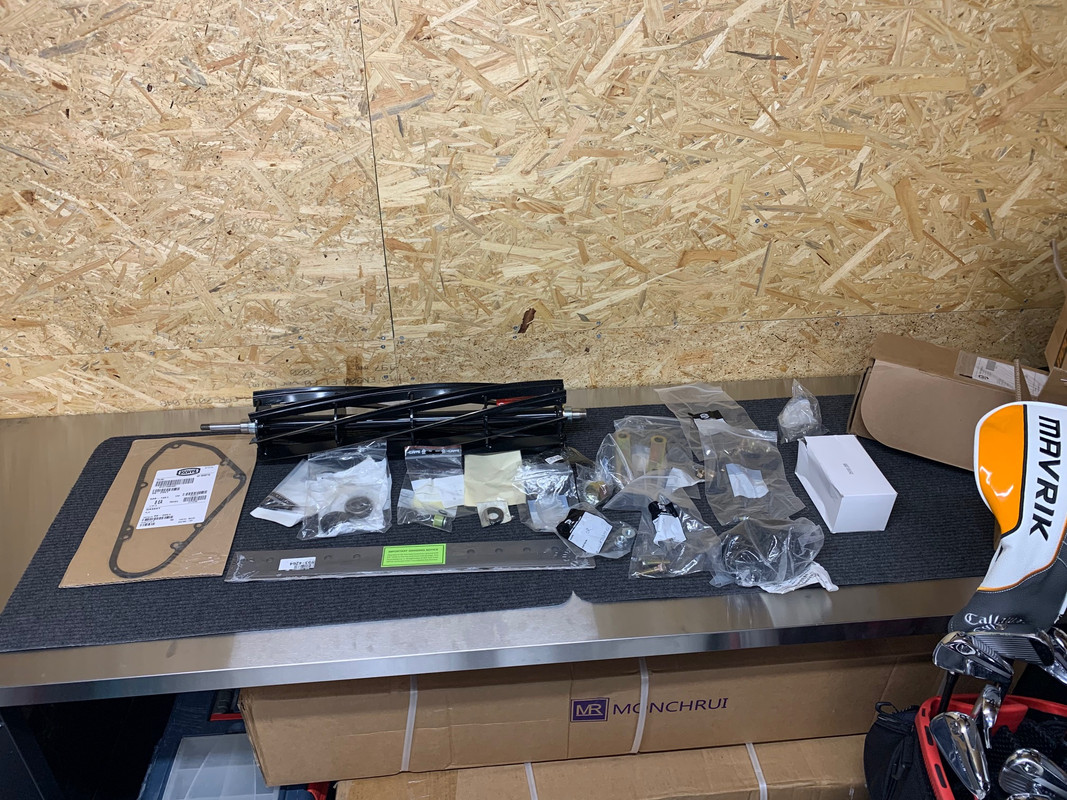 Besides that, I've invested in a grow tent for
cannabi
chilli... Anyways the chillis are sprouting and growing as well as some pumpkins and herbs.