Hello all, first post here. I just finished reading the Bermuda Bible: The New Testament and that answered a lot of questions that I had. I want to start at thread about my project and hopefully do it right the first time. I practice golf in the yard behind my shop which has a mix of st. augustine and whatever grows naturally in the Houston Texas area. The st. augustine is too thick for golf and the other stuff is too thin and sparse. I want to build a 400 square foot area with grass like you would find in a lush fairway.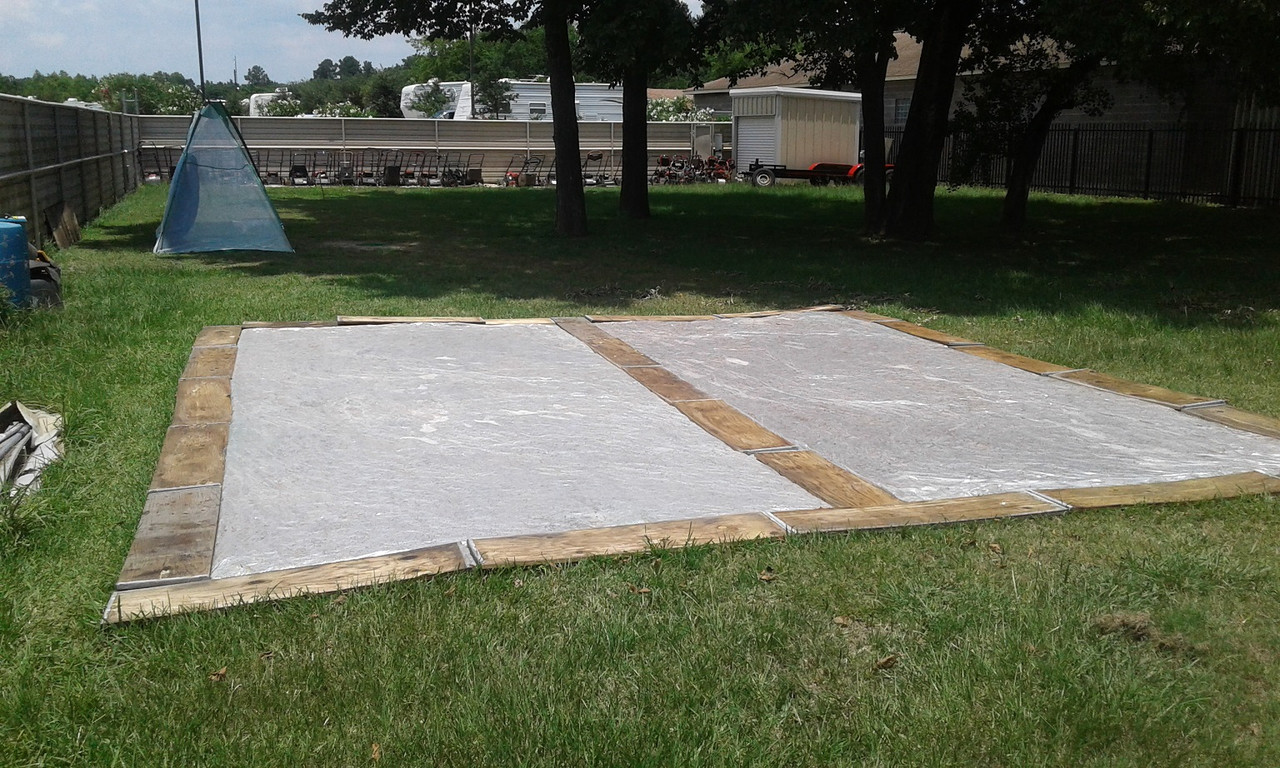 The picture above shows the current state of my project. I have a 20 x 20 area that has been covered in clear plastic for seven days in the Texas sun. It is all brown and starting to smell like decaying grass. I am planning to leave it covered for another 10 days or so to completely kill what is underneath. I do not have a game plan yet for the next steps so that is the reason for my post.
My most immediate concern is to level the area. In my limited research I learned not to till the soil but I need to fill in some ruts that are 3 - 4 inches deep. I think this is too deep for sand so what kind of soil should I add to the top? It is only 20x20 so I would probably buy soil in bags at HD or Lowes for convenience. I am not going to raise the area much but I am thinking about an inch on top of the whole area and that will fill the ruts and holes nicely. Something that has a lot of sand to make leveling easier and will promote good growth.
Grass seed? I am wanting something that will look and play like a nice fairway but will grow and survive in the Houston heat. I believe that most of the golf courses in the Texas gulf coast region use bermuda but I do not have a preference as long as it plays like a golf fairway. Can you recommend a variety I should try?
I want to put a barrier between the existing lawn and my golf patch. Should I use metal or plastic edging to keep weeds from invading?
Is there an online guide for a project like this?
This area sees sun almost all day and I can leave the hose and sprinkler laying out to make this project easier. I have done some research on this but it is hard to find anything golf specific or local to Houston. I will start with a rotary mower but I will eventually get a greens mower. I own and operate a lawn equipment dealership so finding a fixer upper should not be a problem later on.
I want to do all of the work myself and keep the budget low. If this does not work out it will just be a giant hole in my yard, not my wallet HA!!
Dan