I am undergoing a lawn renovation and am in the middle of fallowing and spraying a spot treatment of glyphosate on my lawn. I had a soil test done and had a 4.7 PH, which isn't a surprise as the lawn was neglected for a decade before I moved in.
Following the application rate below for ~8,000sf, I applied 180 lbs of Pennington Fast Acting Lime and am working it in with water and trying to grow weeds to kill them before the seeding.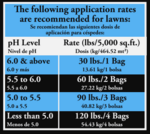 My question is what should I do in the spring? I don't want to send off to the lab for another soil test. Should I buy one at a big box store and reapply, or should I apply at the 6lbs/1,000sf if the PH is unknown?

Bonus question. I'm using the glyphosate and it worked wonders in the front yard, but it's only half-assed working in the back where it's a little more shaded. I understand it blocks chlorophyll from working like it's supposed to, but is this common? Could it be a resistance of the weed?