Hello all from Ottawa, Ontario.
Time to start a journal here instead of just on my phone. My journey into giving a crap about my lawn only started this year. I've always fertilized, watered, de-grubified, and weed picked in the past. Now I am armed with some better tools, better products, and an interest in lawn care.
The turf we're dealing with here is sod laid just over a year ago(new construction). I have a nice little green(city) space behind me with a little creek going through. Total lawn size is just about 3900 square feet. Sod laid was mix of KBG, PRG, and TF. I don't mind the mix for now and will be sticking with it for now.
I have a smaller frontage and a larger backyard in this house.
Going into the fall I will be doing an overseed of my narrower side yard with some fine fescue as that side gets barely any sun and little water(might be an issue in summer). I am giving it one year to wow me then I am looking at some soft landscaping.
This year has seen me grow by:
-Using real weed killer instead of the crap in stores here
-Caring about core aeration and getting that done to break up my clay soil
-Started applying FAS
-Started spraying Kelp and Humic
-Spraying at all! I had never owned a sprayer.
-Learned more about fertilizer besides following the Scott's/CIL program blindly
-Measuring how much water I put down
-1/3rd rule and proper mowing height
-Soil testing!
General goals:
-Denser lawn
-Greener lawn
-Fix soil issues like compaction
-Pre-emergent strategy dialed in
-Pest deterrance
Here's a couple photos to start it off...
Side yard which I'm not too upset about besides needing a in-ground garden: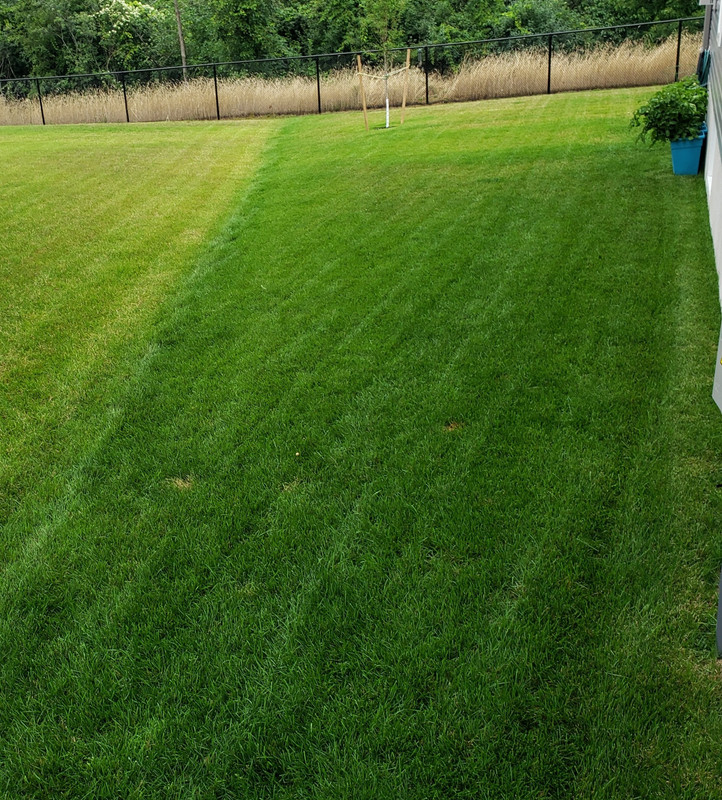 Back part that struggles with sun and soil:

Need a good front yard pic...