Posts: 249
Joined: Sun Apr 29, 2018 8:42 pm
Location: Marietta, GA
Grass Type: Titan Ultra TTTF
Lawn Size: 18000
Mower: Hustler Raptor
Damn
@OnTheOxbow
you're such a tease
Come on let's see some more pics
---
Posts: 19
Joined: Sun Jan 27, 2019 10:45 am
Location: Lunenburg Va
Grass Type: TTTF & KBG
Lawn Size: 13,500
Mower: Honda HRX
Patience grasshopper, patience.
@Grass Clippins
Watcha want more picture of ?
---
Posts: 19
Joined: Sun Jan 27, 2019 10:45 am
Location: Lunenburg Va
Grass Type: TTTF & KBG
Lawn Size: 13,500
Mower: Honda HRX
I'm not one to believe in weird science or unexplainable events but this one certainly made me scratch my head. I called a local well driller to inquire about his process and rates. I asked him how exactly he knows the spot he picks will produce water. He politely told me that I was responsible for picking the location because "he wasn't going to be responsible for digging an expensive hole that may not produce water." With a rye smile and chuckle, he added it may benefit me to give Billy a call. He promised me that Billy has a talent for finding spots that produce good wells. Ok, I'm intrigued. What special powers does Billy have that allows him to pick good well spots? I called Billy to find out. He didn't want to give away too many of his secrets. The only thing he would tell me, he's been "witching wells" for about 40 years and he finds water roughly 98 out of 100 times. He charges 100 bucks to locate a well site and if that site doesn't produce water he would refund part of my money. Google witching wells or witching sticks. Alright, now that we are on the same page. I'm thinking, i'm paying this guy to walk across my land with two sticks and they are going to "magically" move when he finds water aka hahah yeah, ok i'm about to get ripped off for 100 bucks. Nevertheless, I decided the entertainment from this will be worth the money even if he doesn't find water. I'm there waiting when Billy pulls up. Out steps an older gentleman, probably late 60's, shorter in height, plump in build, full beard, santa clause-ish, with a deep raspy voice. Lets find you some water, he says. He steps to the rear of his van, grabs his withcin' sticks and starts walking east to west across my property. Softly humming and slowly strolling along, looking at the ground. He walks approximately 100 yards and his sticks never flinch. In my mind, I'm thinking Ha! I knew it, he's a fraud just trying to take my money, although I never said a word. As if he heard me doubting him, he says water veins only run one direction, I must be walking between the veins let me turn and walk north to south and ill find water. Yes sir, I replied. He takes about 12 steps and his sticks start to move. This is the edge of the vein, he takes about 3 more steps and his sticks really start to flutter back and forth, this is the center of the vein, this is strong water source! He takes 3 more steps and the sticks calm back down, this is where the vein ends. He turns around and walks the same path back to double check, I assume. He gets the same readings this time. He stops in the middle and sticks a flag in the ground. Dig here and you'll have plenty of gallons per minute as he nods his head up and down.
When they backed the well drilling rig in, they stopped directly on top that flag. Promptly dug down 225 feet and hit water! 10 gallons per minute!
Just like Billy said. I called Billy that same day. He answered the phone by simply asking how many gallons? 10 I told him. Yep, I knew it was a good source he replied. I confessed to him I wasn't so confident in him until I saw the results. He just chuckled, and said "son you aren't the first one to doubt me and you won't be the last, just remember my name when people ask how you picked your well spot." Yes sir, I replied. Maybe it was special skills, maybe it was pure talent, maybe it was dumb luck, all I can say is it worked and I now believe in Billy.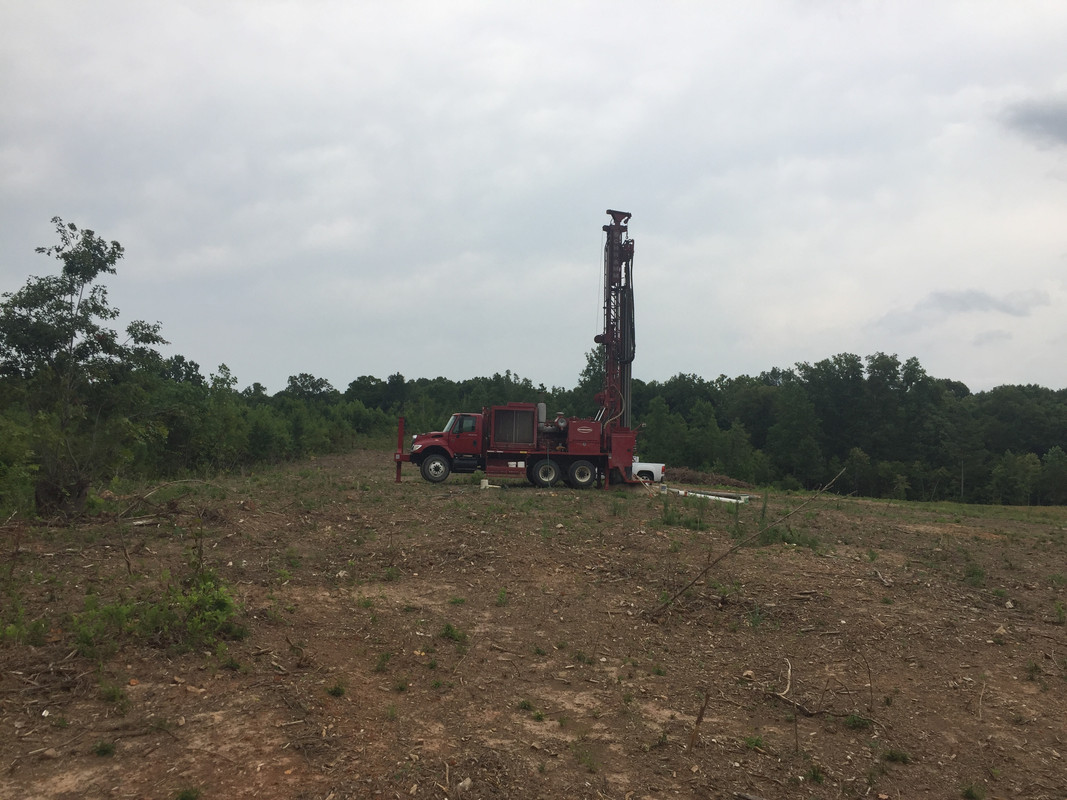 ---
Posts: 9
Joined: Tue Jul 17, 2018 5:35 pm
Location: Appleton WI
Grass Type: KBG/PRG
Lawn Size: 18000sq/ft
Mower: Exmark 30
Saw something almost exactly like you described on one of those "Building off the grid" shows on tv. I thought what a crock of s$*t! Now hearing your first hand experience really makes me think. There has to be a more reasonable explanation..right? Haha
---
Posts: 31
Joined: Sun Jun 03, 2018 1:21 pm
Location: Gennep, Limburg, Netherland
Grass Type: Perennial ryegrass
Lawn Size: 30m2
Mower: Rotary mower
What a beautiful journal. Love reading this! First all the bad luck and then how everything turns good. Can't wait until the next post and your final post when you show us a beautiful house with a great lawn!

Sorry not a native speaker. Correct me if my sentence isn't right
---
Posts: 19
Joined: Sun Jan 27, 2019 10:45 am
Location: Lunenburg Va
Grass Type: TTTF & KBG
Lawn Size: 13,500
Mower: Honda HRX
@jdselig
Yeah I hear ya, I saw it with my own two eyes and still didn't want to believe it. There has to be some logical explanation. Just a complete guess, maybe water in the ground creates a certain magnetic field? Im sure someone smarter than me could put reason to it. Final note: I recommended Billy to three other people in the area, and he found water on their property first try, using the same method. As far as I know he is 4 for 4!
@Robberthoffman
Thank you for following along. Yeah, its been an up and down ride but it has all worked out, in the end. Well done on your English, I understand you perfectly!
---
Posts: 19
Joined: Sun Jan 27, 2019 10:45 am
Location: Lunenburg Va
Grass Type: TTTF & KBG
Lawn Size: 13,500
Mower: Honda HRX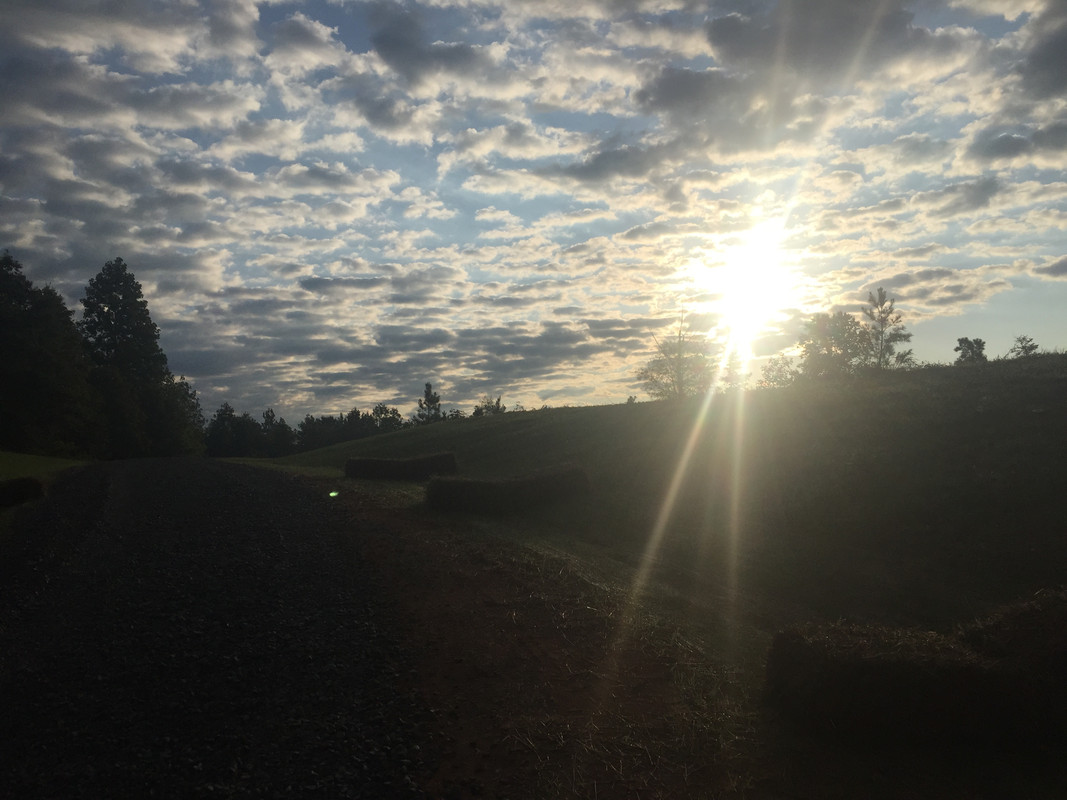 I took this picture just to capture the beautiful sunrise and the clouds in the sky but if you look closely you can see the ground has a slight green hue to it. That was my second attempt at grass on the entrance. I looked through literally hundreds of pictures looking for another shot of the entrance after I reseeded but there aren't any. They don't exist. But I take pictures of everything, why don't I have any others......and then it dawned on me. September 5, 2017 we broke ground on the house!
That grass had quickly relocated to the absolute bottom of my priority list. Mother nature, the grass is your baby now, i'm focused on the house!
After a year of looking for the perfect property to build on. After a year of searching through house plans and blueprints and layouts. After a year of meetings with an architect, a builder, county officials, banks and loan officers, utility providers, and insurance companies. (plus the other 50 meetings I have forgotten about by now) After a year of touring houses and picking out flooring and appliances and colors and finishes. And lastly, after a year of physical labor to prepare this property for a house. It's freakin' go time! Let's do this!
We chose Tony Hayes to build our house and it was hands down the right decision. I would recommend him to anybody! If you're building in Southside Virgnina or Northern North Carolina and want to hear more about Tony and his team, i'd love to share my experience. Please don't hesitate to ask!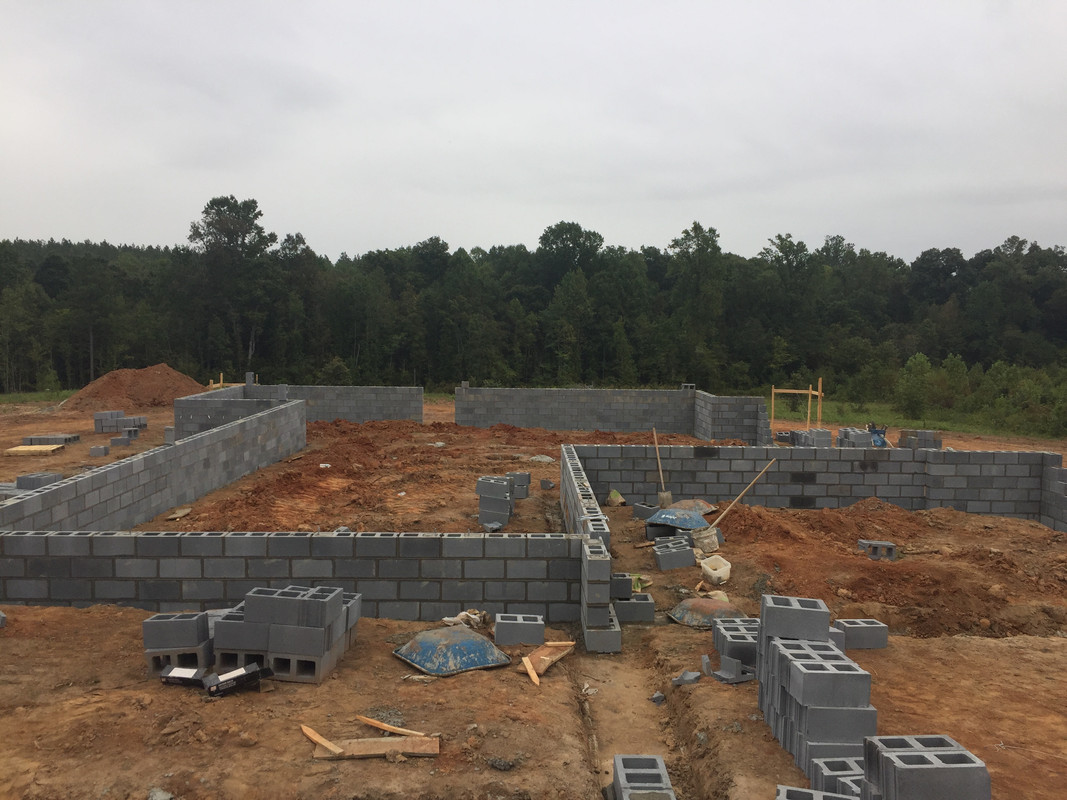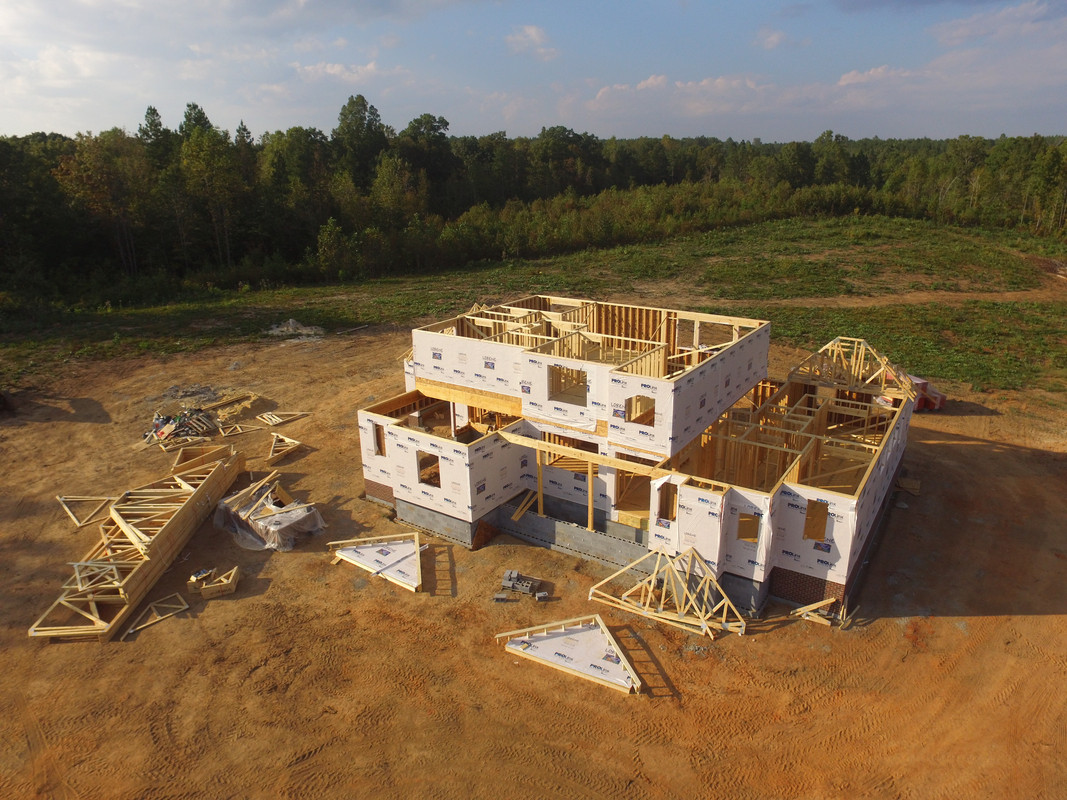 And in the blink of an eye, there stood a house! Less than 30 days after breaking ground, Tony and his guys set the roof trusses.(October 2)
---
Posts: 19
Joined: Sun Jan 27, 2019 10:45 am
Location: Lunenburg Va
Grass Type: TTTF & KBG
Lawn Size: 13,500
Mower: Honda HRX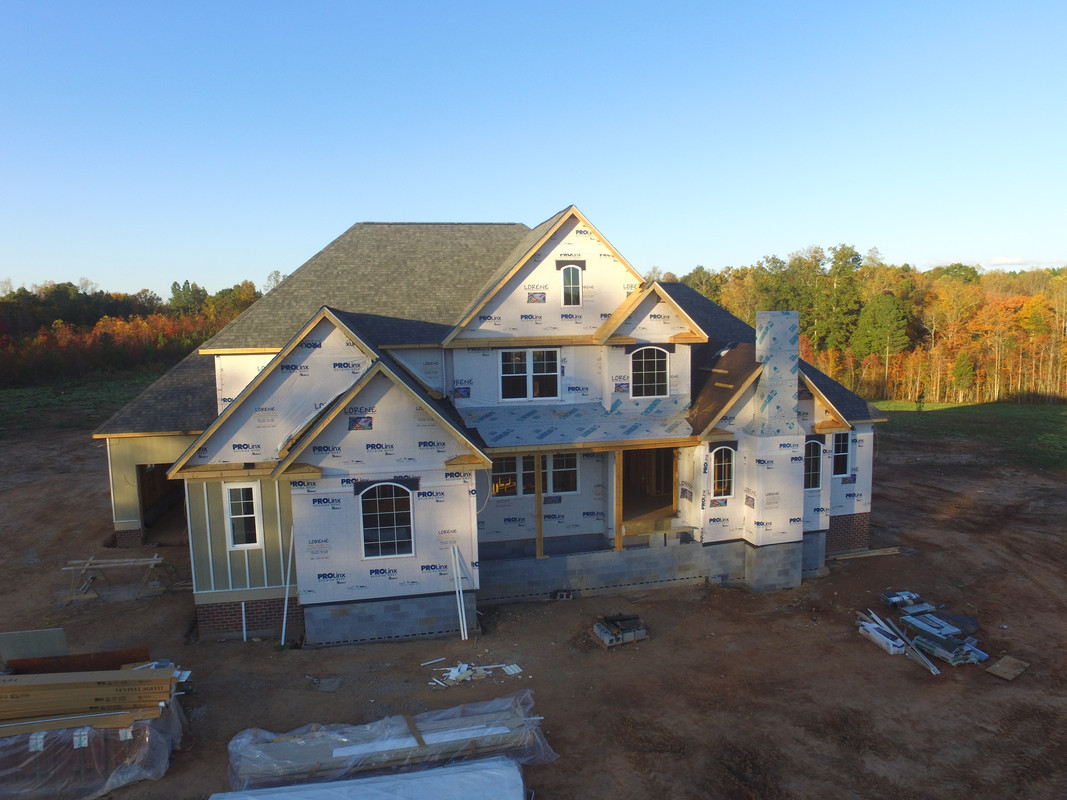 Tony had the house under control. His guys were knocking along, making good progress; all the while winter was knocking on our front door. I don't do well with winter. I like to be active and cold weather hinders that. My girlfriend, Jessie, ordered me a couple of lawn care books. She had heard me mention I wanted to learn more about grass, and this was her subtle way of agreeing.
I couldn't stay cooped up in the house all winter reading though, I needed a project to occupy my time.
When we built the entrance to the land, we had to remove four mature trees. I had no idea what I would do with them but I didn't want to waste them. I decided to send them to the local saw mill to have them sawed into lumber. I'll build something out of them one day, I said, and that winter was the perfect opportunity. A dining room table is what I decided on. Not just any dining room table. I wanted a true craftsman style trestle table. No nails, no screws, just old school joinery. I'm talking a mortise and tenon, dovetailed, draw bore, breadboard end trestle table with a sturdy base, built out of the lumber off my land! My friend, Colin, offered me the run of his wood working shop. Come and go as you please and if you need a hand, just ask. Side note: I don't have may close friends in this world, but they don't get any better than the ones I do have!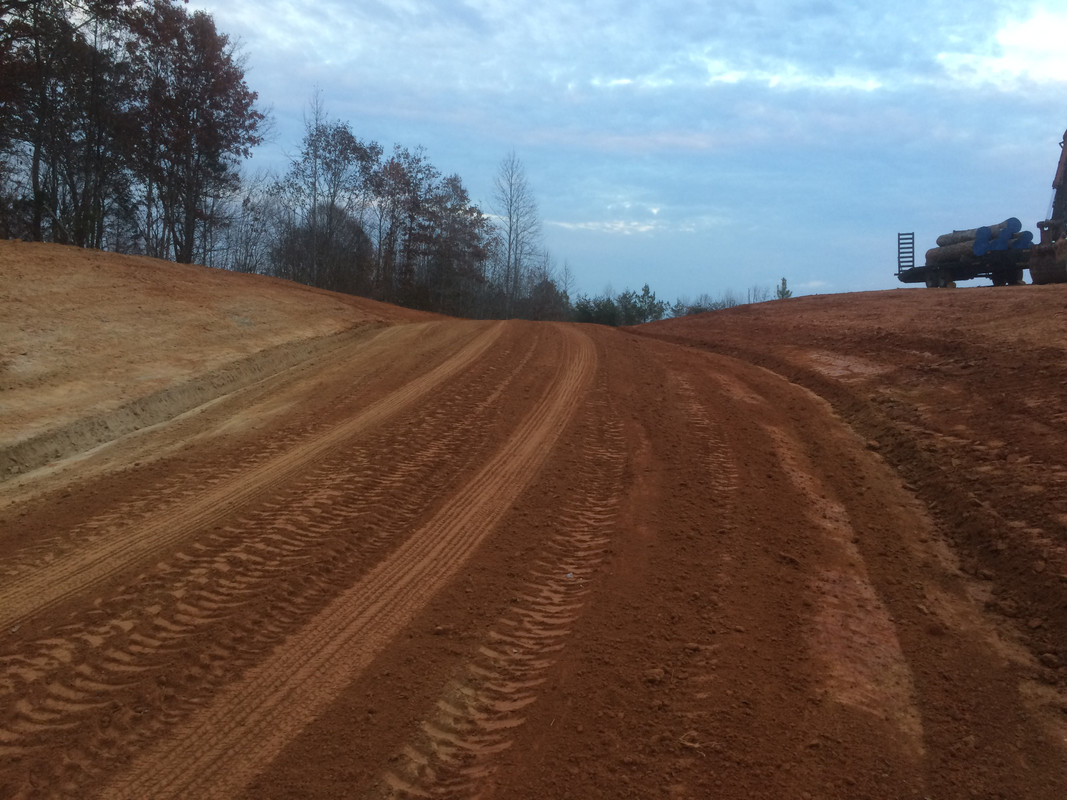 Look to the upper right side, this is a picture of the logs on the trailer headed to the mill.
There was only one minor problem to overcome. I've never built any furniture. Thats alright, you can learn anything on the internet. Youtube is your friend. I spent the next couple of weeks researching my project. Yeah, I watched hours and hours of guys building this style table. I gained experience with each minute. I built this table in my mind from start to finish. Now lets build it out of wood!
It took the entire winter to build this table. Working with 10 foot long, inch and half, Virginia white oak, quarter sawn boards was a tall task for one person. I asked for Colin's help early in the project and he helped me every step of the way.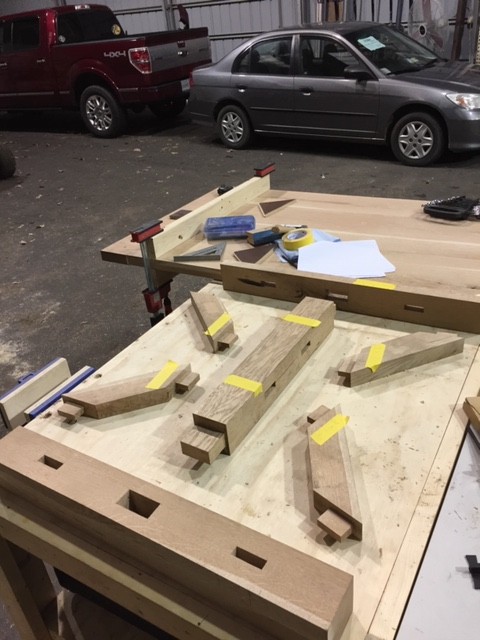 Cutting all the mortise and tenon joints took forever. Cut one then test fit. Shave a little off, test fit again.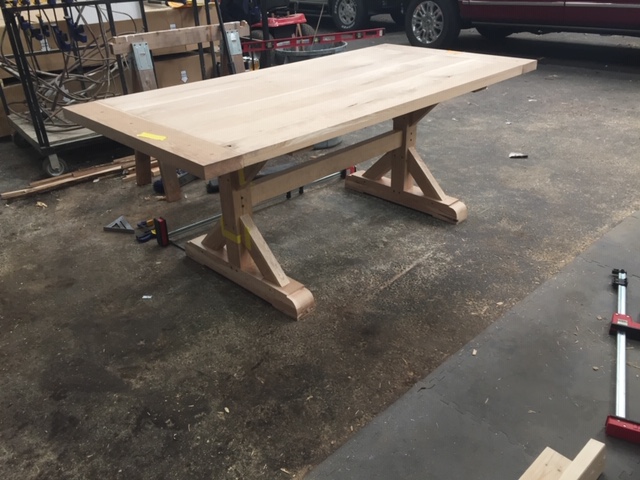 Assembled together for the first time. Essentially holding itself together.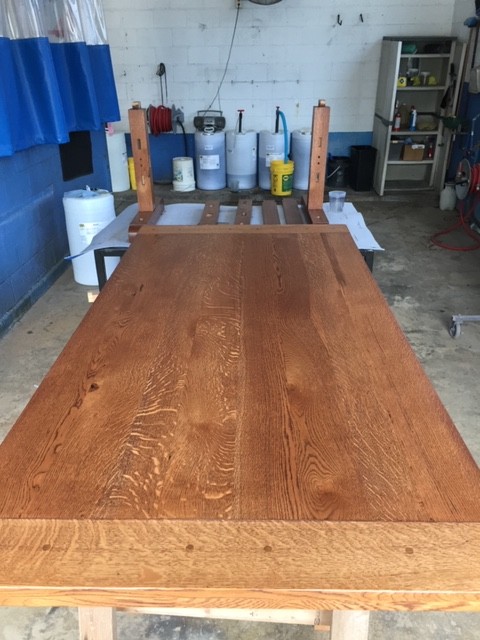 To make the grain pop, I used a dark gel coat stain. The gel coat would fill the "pores" without altering the color too much. I top coated with Arm-r-seal. It's the most natural looking finish I could find. And if you're counting, thats 11 coats.
Oh yeah, I read those lawn care books cover to cover. I now knew the basics of lawn care. Nothing anywhere remotely close to "thelawnforum" level of knowledge but I had the basics down and thats a good start.
---
Posts: 19
Joined: Sun Jan 27, 2019 10:45 am
Location: Lunenburg Va
Grass Type: TTTF & KBG
Lawn Size: 13,500
Mower: Honda HRX
If you remember wayyyy back in my first post, I told you guys that my girlfriend and I had purchased this land. Through the computer I could hear some of the moaning and groaning about how that was a bad idea. Never buy anything, especially land, with a girlfriend. You're crazy for doing this. It's going to be such a mess to sort out if you guys break up.
Hey, I hear ya. I've got pretty good gut instincts though, I rely on my gut feelings quite often and rarely do they let me down. Kind of like Gibbs on NCIS.
I knew deep inside, when I started dating Jessie, she was the one. She makes my life easy, and fun. She is beautiful and silly and compassionate and I knew I wanted to spend the rest of my life with her. Spring of 2018, it was time she knew that, I asked and she said Yes!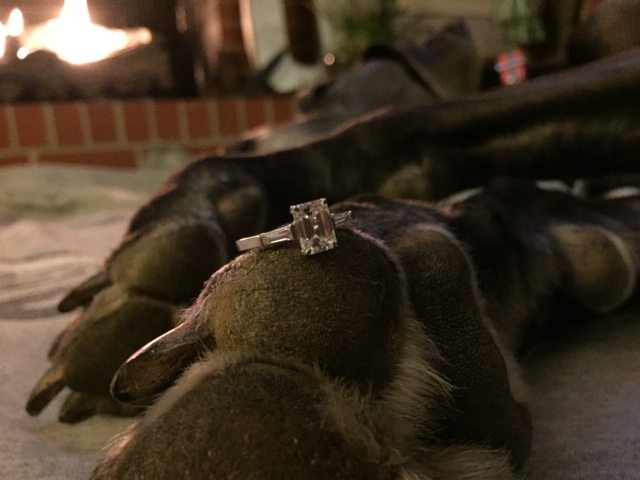 I talked it over with her dad first, and then I ran the idea by her Great Dane, Arnaz, they were both excited to have me in the family.
Jessie is a big I love Lucy fan, so her animals are all named in that theme. Arnaz, the dog, and two cats, Ricky and Desi.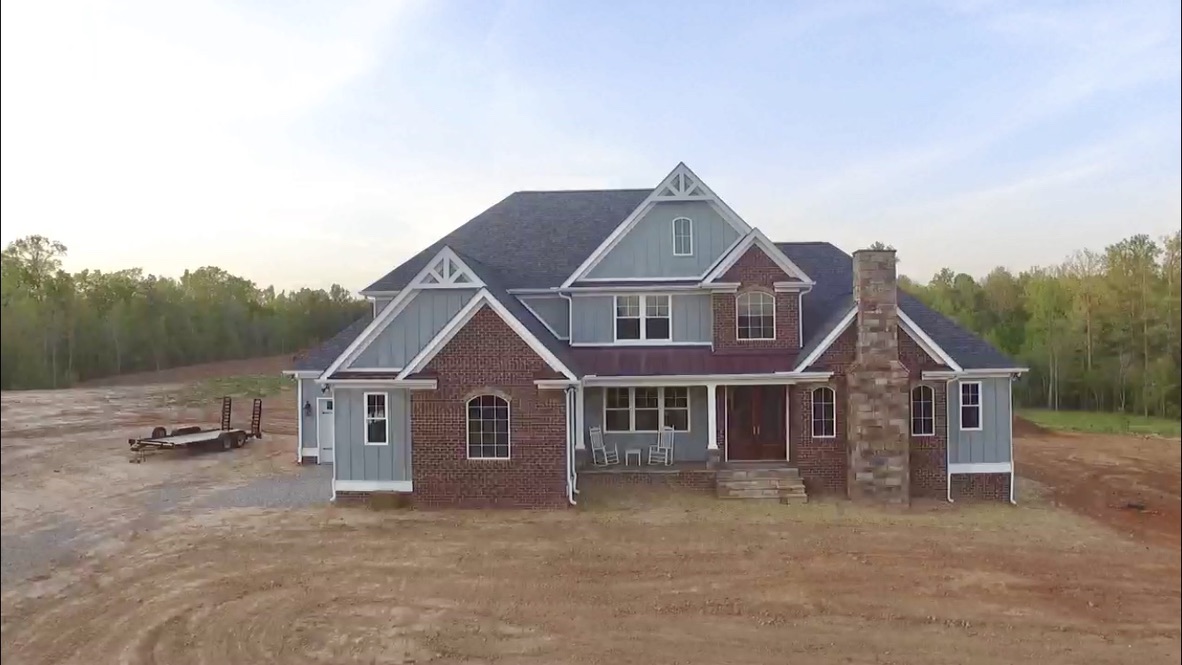 Around April 15 2018, Tony and his guys finished up. The house looked incredible, the yard however was a completely bare canvas. It's time to put all my new found lawn knowledge to the test.
In Virginia, it starts to warm up pretty quickly in May. Yet again the wrong time to plant grass but I had no choice. I wasn't hoping for much, but for now I just wanted a somewhat green yard, mainly to keep from tracking mud into the house. I would see how this seeding turned out and that would decide my fall plans. I hopped on the tractor & tilled the yard up in three different directions to loosen the soil. I didn't have time to wait for a soil test. Lets throw some seed down and see what happens. Southern States Contractor Mix was my seed of choice. It was the closest and cheapest seed I could get. I seeded at 7lbs per 1000 sf. After broadcasting the seed, I lightly raked by hand. Covered everything with straw and started to water.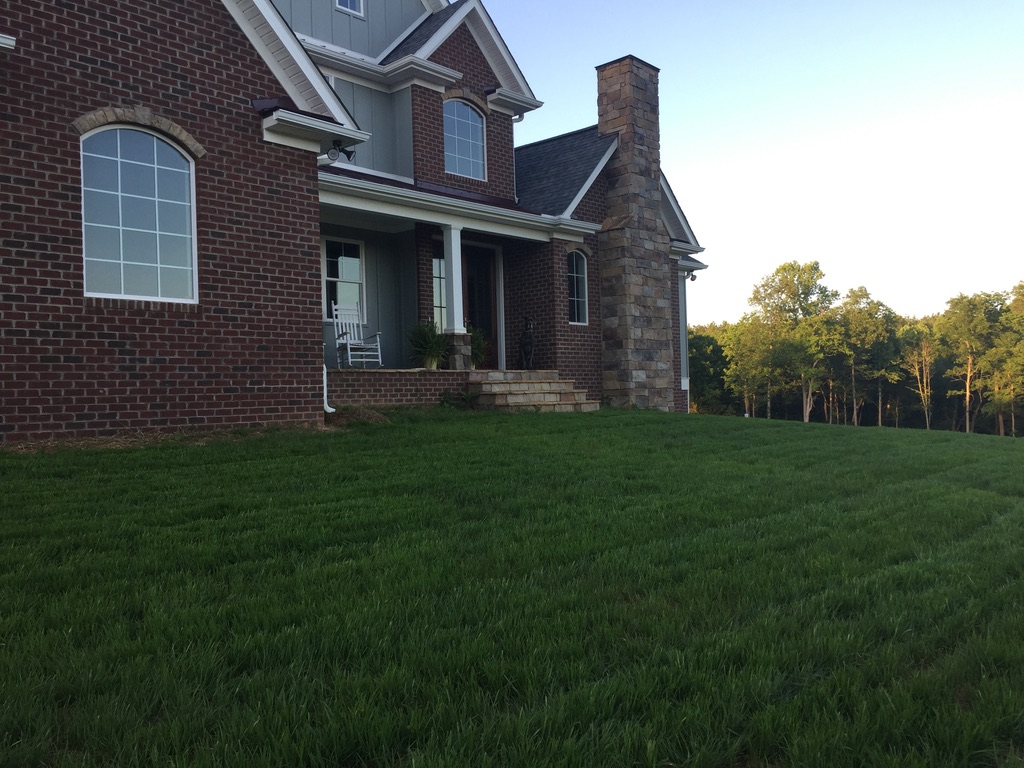 I got better than I expected results. Grass jumped out of the ground almost immediately. I had good coverage, I had good color, I had good density.
Now can I just keep it alive through the brutal transition zone summer?
---