Hello Everyone,
My name is Legz, I am new to TLF and I am being dominated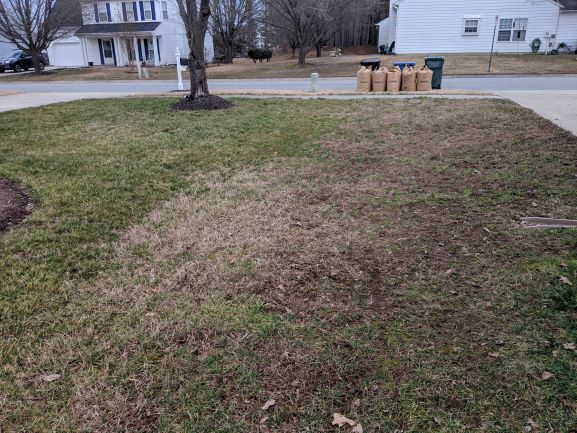 My wife and I moved into our house last summer, first time homeowners and lawn caregivers so I have a lot to learn. I found LCN over the winter and have been studying his videos and was happy to recently find this forum/community to be able to dig into further detail as I learn. Do to my ignorance I unfortunately missed the window in the Fall to seed so I am having to begin my restoration plan with this Spring. In the Fall, the lawn was covered with crabgrass (I didn't even know what crabgrass was at that time)which spurred my desire for a healthier lawn. I sprayed some Post-Emergent late Fall but didn't make it any further than that. The hurricanes and heavy amounts of rain quickly began to fall and didn't seem to let up until only within the last few weeks. Much of the yard in the photo above has been completely saturated with water (poor drainage) until the warm spell we had last week.
Here is a walk around my house to show you what I am working with: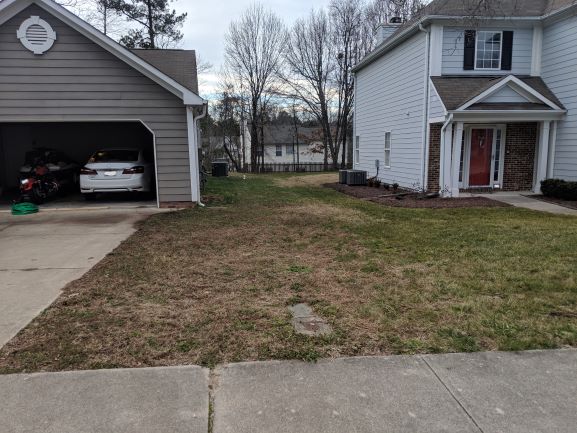 Lots of moss built up over the last few months, runs all the way down past the A/C unit: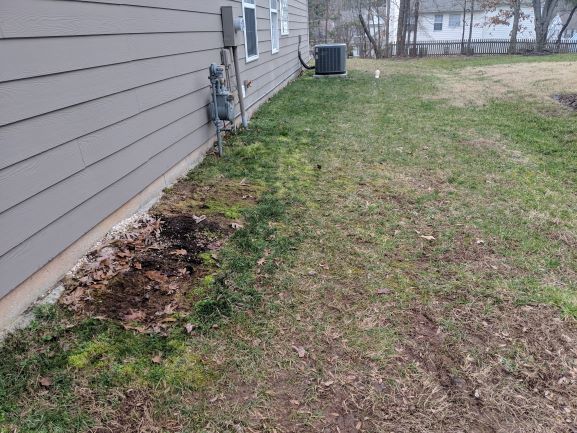 More moss along the back of the house as well: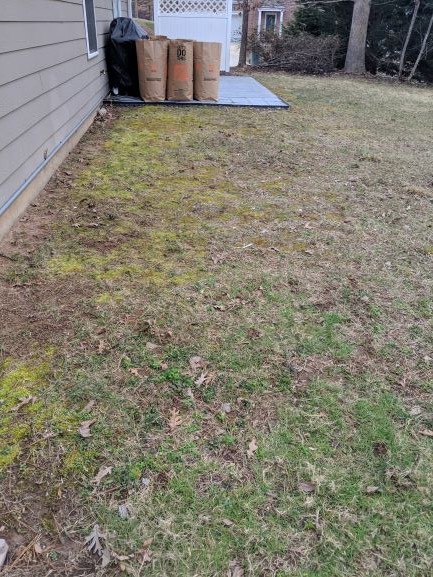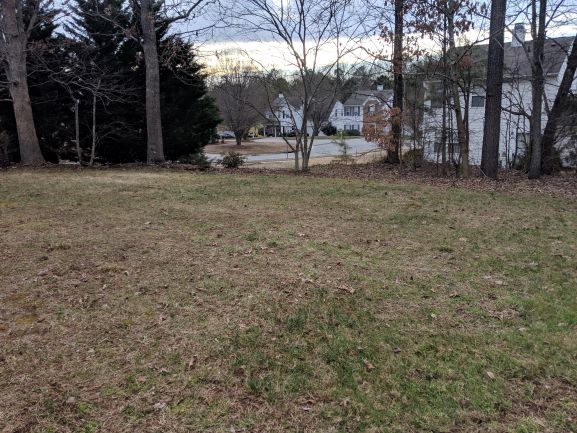 Front left side of house, more moss in front of the bushes by the front door. And more poor drainage in the top middle of the photo headed towards the side of the house: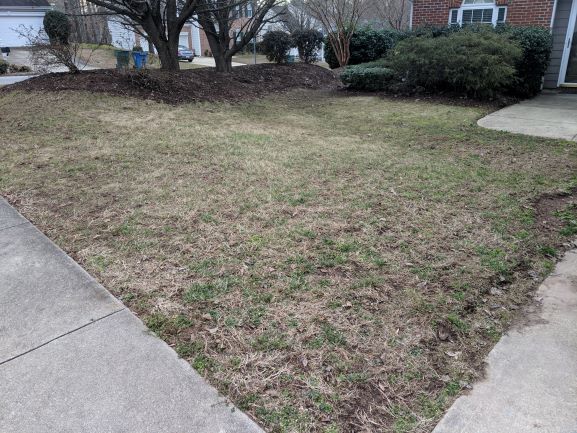 Not much growing in the front: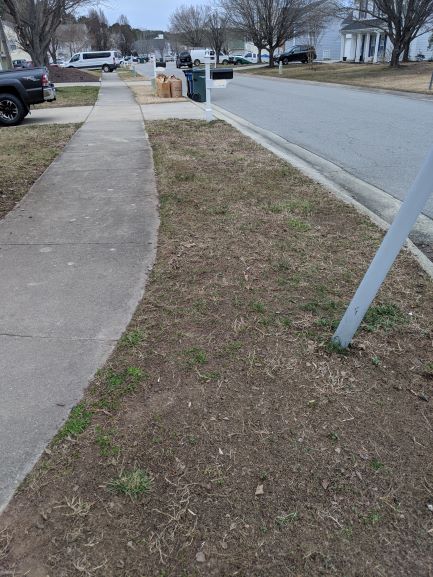 Or along the left side: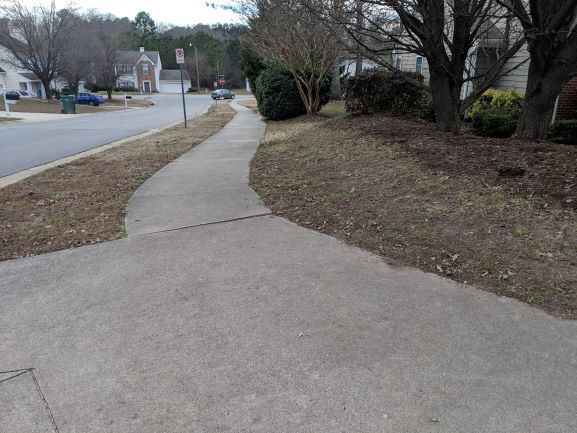 Friendly neighbor tried to help with my weed problem with a non-chemical solution
: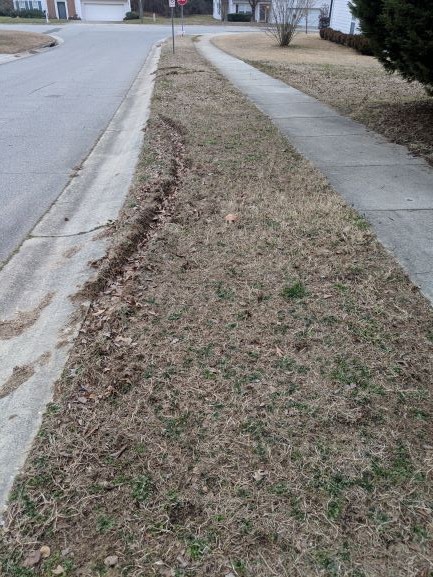 And then back to the back yard: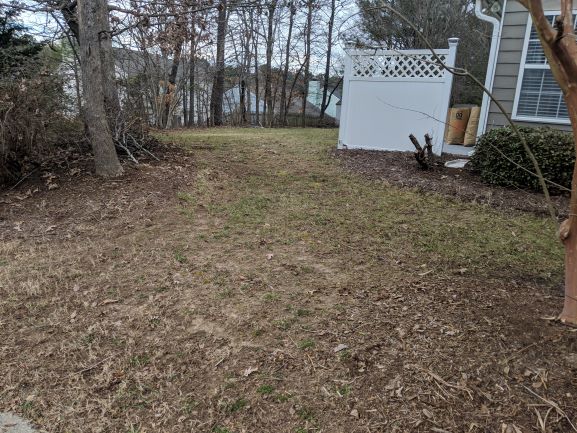 So there it is. I have no real gauge of how bad/salvageable the yard is so figured I would use this year as a learning year, do what I can to improve the lawn and see how things look next Spring and go from there. Here is what I have been up to so far in 2019:
- I have sprayed moss killer and raked up most of what I could around the house. There is definitely still spots of moss around but with there being so much it is difficult to get it all but will continue to work on it.
-Sprayed Ortho weed-killer around the yard. Henbit started popping up everywhere so wanted to spray it before it began to flower along with the other weeds around the yard that I am working to identify.
-Weather temps got very warm last week so that pushed my plans to put down pre-emergent a month earlier than I had originally planned. But thanks to g-man, I got it figured out and applied the first half of the split rate this afternoon. Rain expected the next few days to soak it in.
-I pulled my soil samples on Friday and will take them in for testing on Monday, though there is currently a 6-week wait time for results.
Looking to the future, unless anyone anything to add, I think I'm on pause for anything major to my yard for a couple months. Current plan:
- Continue to stay on top of moss/weed removal
- Fill in tire tracks
- When weather warms back up begin work on improving the landscaping
- Wait for soil results and review for probable lime application
- Another user recommended reading up on Fungicides in my region, so going researching that.
- I did find 2 grubs when raking up the moss, so research grub control further
- Put down an application of Milo in late April
- Apply the second half of PreM application in May
- Finish up plans for Summer goals
Looking forward to getting this lawn under control. Thanks for any input/advice anyone is willing to give!