Spraying Concepts
Spraying costly and powerful herbicides like
Celsius
,
Tenacity
and
Certainty
require precision. You don't want to harm your turf by using a tip that produces drips or puts out too much product, even when spot spraying. You've invested in your turf, take care of it.
Important:
Start by watching these excellent videos
on the important principles of spraying. It's a fantastic series that explains the steps to getting this right. It talks about the different tips available that make the difference between spraying 4 gallons over 5k or 10k. Don't like to refill so often? Watch the videos. Droplet size directly affects coverage, and that comes from selecting the proper tip for the job.
Once you know the proper concepts of spraying, get setup on the business end of your sprayer. This setup, with the nozzle body, will allow you to swap tips and caps, depending on what rate you want to spray. Eventually, you'll have a whole set of tips and swapping them out to spray something different each day of the week will be easy.
Read the
TeeJet nozzle thread
to get a good idea of how the different spray tips work.
Parts
Pick a TeeJet spraying tip and place it into a TeeJet cap. The cap will hold the tip in place.
It is

important

to pick a cap that fits the tip you are buying.
The tip and cap will fit onto a nozzle body. The nozzle body will stay on the end of the wand and the tip and cap can be quickly removed and changed for different spraying projects. Buy as many tips as you have spraying needs and then just connect them to the nozzle body as needed. A strainer can be placed inside the nozzle body to prevent clogs.
The nozzle body can then connect to either a CF valve or the wand itself. I like using a constant flow valve to prevent drips after releasing the trigger. With high powered herbicides, drips can be deadly.
The nozzle body or CF valve screw into a brass wand. The wand needs a trigger, handle, and swivel barb to connect to your existing sprayer hose. Use pinch or screw clamps to keep the hose connection tight.
Putting It Together
Drop the tip into the cap, and the strainer into the nozzle body. Screw the cap into the nozzle body and connect the body to the CF valve. Screw the CF valve onto the wand and screw the wand onto the trigger. With Teflon tape, connect the trigger to the handle, and with more tape, connect the handle to the swivel barb. Clamp the barb to your hose and you're off to the races.
Again: Hose and Clamp->Swivel Barb->Thread Tape->Handle->Thread Tape->Trigger->Wand->CF Valve->Nozzle Body->Filter->Cap->Tip
Purchase Links:
Spray Smarter
~ $75
Sprayer Depot
~ $100
CF Valves*
~ $15
Pictures
Here is a look at the finished project.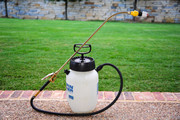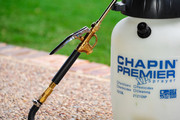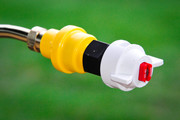 Instructional Video
Enjoy your new wand,
dfw